The opportunity to train and compete indoors at Highfield at Howe has proved a godsend to local riders over the winter.
Dressage entries, in particular, have been exceptionally well supported, and the ealy 2015 unaffiliated contests proved no different.
Taking a double of wins across the prelim leaderboard was local rider Carla Ryce on her Hanoverian warmblood Hanleen McFly.
Carla bought McFly a little over a year ago from showjumper and instructor Lisa Hood, for whom she works full time.
The rising six-year-old gelding, by Sir Shutterfly, was bred by Harry Aird of the Hanleen Stud, Harelaw Farm, Rumbling Bridge, out of Macklin Callista.
"I bought him just after he was broken in at Lisa's, and I have been producing him ever since with her help and training," explained Carla, who is also kept busy in her spare time at her family's livery yard of Burnside of Cassendilly. This was their first win at this level.
"We have also just started competing at British Showjumping, so I'd like to work my way up the levels in both disciplines," she said.
Their initial win, ridden over the prelim 7 test, provided the highest winning score of the day, an impressive 76.5%. This was a clear 6.5% ahead of the rest of the field.
Adding another rosette to her prize haul, Carla also achieved a third place in the high-scoring Novice 28 arena. This time she was partnered by another of her geldings, Diamond Jim, which she has had for the last two seasons.
Also notching up two top podium finishes was Catherine Cousar from Saline. She led each of the novice competitions (28 and 34) on Millie and Archie respectively.
As the day progressed Louise Ritchie, founder of Forfar-based horse and country retailer Lochlands Equestrian, took to the top of the leaderboard in the Elementary 42 test.
"I've not managed to do too much with Coco recently as I've been kept very busy since I launched Lochlands back in 2013," said Louise, who bought the eight-year-old KWPN, sired by Lingh, four years ago from Emma Woolley of WSC dressage.
"She was the first horse I tried. I fell in love with her instantly but kept telling myself that I couldn't buy the first horse I tried, so I tried around three others and then bought Coco."
Louise, who lives in Forfar and liveries Coco and her other horse Special nearby, trains regularly with dressage specialist Jo Hamilton. Competing as regularly as work will allow, Louise has amassed numerous affiliated wins and placings at Novice level, and Coco currently has more than 110 BD points to her credit.
"We qualified for the PetPlan finals at open novice level last year," she said.
Reflecting on her test at Howe, she added: "This was her first elementary test and I went wrong, twice something I never do but I was really happy with her score.
"Coco is a lovely horse. She's really talented, with such a good brain."
As the season progresses Louise hopes to qualify for the novice regionals, while also testing the water at elementary level on an affiliated basis.
"My ultimate goal will be to reach Prix St George level with Coco," Louise said.
The final test of the afternoon, the elementary 50, was won by Anne Maclennan of Maclennan Dressage, Roscobie.
She partnered eight-year-old Dutchbred gelding Lincoln, which she has been riding for the last year, to breach the 70% barrier and take the win on a score of 71.79%.
"He came to me as a last resort as he had made quite the reputation for himself in previous homes," said Anne.
"I love his wicked sense of humour and don't pay too much attention to his naughtiness!" she added.
Anne and Lincoln are working towards medium-level competition: "We have not been able to be consistent until now due to my hectic work schedule," she said.
"His winning test was lovely, but he can have a tendency to become strong and a little overbent at times.
"There is a lot more in there, though, so hopefully this is the beginning of good things to come."
The tests were judged by Karen Dewar (intro and prelim 7), Ros Kirkman (prelim 13), and Victoria Flynn (novice and elementary).
equestrian@thecourier.co.uk Results Intro B: 1 Natalie Yung, Touch of Class, 71.09; 2 Gail Bonthrone, Jay, 66.3; 3 Deborah Deveney, Guinness, 66.3. Prelim 7: 1 Carla Ryce, Hanleen McFly, 76.5; 2 Rebecca Bond, Peggy Sioux, 70; 3 Morag Snow, Swordale Lady Luck, 69. Prelim 13: 1 Carla Ryce, Hanleen McFly, 71.46; 2 Emma Reid, Kizzy, 67.71; 3 Allison Oakes, Creggan Red, 67.71. Novice 28: 1 Catherine Cousar, Millie, 72.92; 2 Steven Monaghan, Master at Arms II, 72.92; 3 Carla Ryce, Diamond Jim, 72.5. Novice 34: 1 Catherine Cousar, Archie, 72.08; 2 Catherine Cousar, Millie, 70.21; 3 Alwyn McLain, Excellent, 68.75. Elementary 42: 1 Louise Ritchie, Coconita, 70.41; 2 Anne Maclennan, Lincoln, 66.41; 3 Emma Defew, Oraya, 66.41. Elementary 50: 1 Anne Maclennan, Lincoln, 71.79; 2 Emma Reid, Hanleen Brisco, 65.71; 3 Karen Dewar, Sam, 63.39.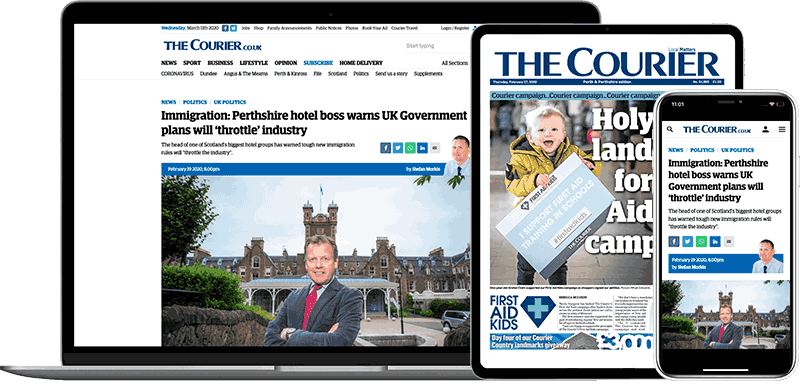 Help support quality local journalism … become a digital subscriber to The Courier
For as little as £5.99 a month you can access all of our content, including Premium articles.
Subscribe