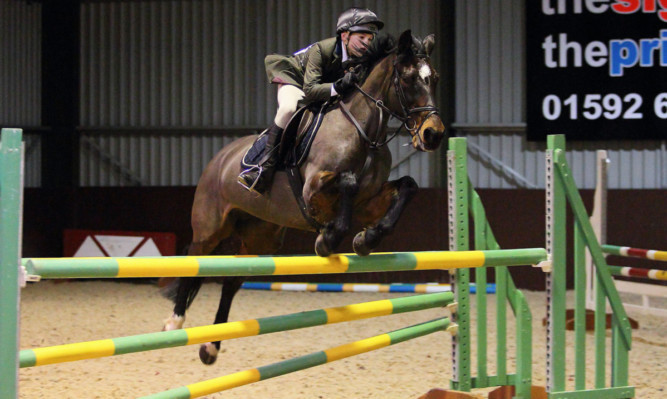 Fierce competition for the Fife Hunt Pony Club's annual Sprot Cup team competition built to a nail-biting sudden death climax for 2015.
Ultimately, the home team successfully defended their title for the fourth year in succession. But a strong challenge from the neighbouring Pony Club Strathearn took the result right down to the wire.
In a re-run of last year's contest the supreme plaudits for the interbranch jumping contest were Strathearn's for the taking.
However, they conceded the win courtesy of all important placings from the very last class of the day.
"We had huge entries this year from lots of clubs," said Karen Harley, who acted as event secretary for the day. "It was also absolutely fantastic to be back at our local venue at Highfield at Howe and, given the level of support
we received from all the other club entries, I think everyone agreed," she added.
Indeed, in addition to the squad from the Fife Hunt, pony and rider combinations came forward for competition representing Strathearn, West Perthshire, Kincardineshire, Linlithgow and Stirlingshire, Glenrothes, Dalkeith and District, Perth
Hunt and East Lothian Pony Clubs.
From the outset of the early classes Strathearn surged ahead in the points race with a commanding lead. They snatched four wins from the first four consecutive height classes with Strathearn team winners including Eilidh Robertson (wibbly wobbly), Kyla Grieve (10 and under), Rowanne Westwood (12 and under), Jessica Zajda (85cm) and Miles Westwood (Dengie 90cm).
"Points are decided by the individual class placings and, come class eight, Strathearn were well in the lead," said Karen.
With the momentum going their way, they held a six-point margin until the final class, for 1m05 riders.
But here as with last year the tipping point came.
"The rules state that if a horse/rider combination compete in more than one individual showjumping class, they must declare prior to the start of contest which class they want to count towards the cup," said Karen.
Crucially, the final 1m05 class riders representing Strathearn Jessica and Isabella England had declared at the start of play to use their result points from the 1m height option. When only Jessica, riding Eleanor of Aquitane, and Fife Hunt rider Rowan Laird, riding Little Cliffe, jumped clear, Rowan automatically secured six points for the class win and Fife and Strathearn were tied on the points tally for the whole day.
"The jump-off between the two riders would decide which team took the Cup win. It was sudden death," Karen said.
"It was incredibly exciting."
First back into the arena at Highfield at Howe, there was no stopping Rowan. With the pedal to the metal, he again pulled out all the stops for the crucial clear scorching around the fences to stop the clock on 27.47 seconds.
Jessica, determined to secure a Strathearn team win, also left all the poles intact but with all eyes on the timing board, her time registered just 0.4 seconds in arrears.
Bringing home the spoils, 12-year-old Strathallan pupil Rowan Laird has been a member of the Fife Hunt for the last three years.
He rode both his own pony Top Dun and his sister's Irish Sports Horse Little Cliff throughout the day, but it was the latter that took him around the final throes of the competition, having already been placed second in the 90cm Dengie Qualifier together.
Lily, an Irish Sports Horse by Golden Cliff, has been with the Lairds for the last four years, having been carefully selected for the family by trainer Sandra Low-Mitchell of the Balcormo Stud. Rowan has been riding her more
regularly of late as he is outgrowing 13.2hh Top Dun a 17-year-old gelding known at home as Simon.
Over the course of their years together Rowan and Simon have won across all disciplines. They topped the leaderboard for cross country at Gleneagles' hunter trials, and during the Fife Hunt Cup Day won both the senior showjumping and the novice dressage trophy.
They also represented Fife Hunt in the novice interbranch eventing team for area competitions, taking team third to qualify for the national championships and individual fourth for their arena. Their success has inspired Rowan to follow in the footsteps of Olympic riders.
"It's eventing and cross country that he really loves," explained his mother Cameron.
Now, with an eventing background, 19-year-old Lily is proving a great next partner for Rowan in competitions. "They seem to be getting on really well, although he has only been out on her a few times," added Cameron.
Most recently, they won the Discovery class at Highf ield at Howe's BS competition in December, again nailing a cracking jump-off time to prevail over a field of over 40 entries.
"We have been really fortunate to have an exceptional pony and now horse for Rowan to progress on," she added.
equestrian@thecourier.co.uk Results
Overall1 Fife Hunt; 2 Strathearn; 3 West Perthshire.
Pairs Wibbly wobbly pairs: 1 Eilidh Robertson, Gilfach Zani and Ellie Coutts, Seamus; 2 Lucy Craighead, Rose and Charlotte Jeffrey, Monty; 3 Anna Wallace, Pebbles and Amber Mackenzie, Oakville Juliet; 4 Joanna Lockhart-Gardner, Rustums Hasty and Brodie Robertson, Gilfach Zani; 5 Rebecca Hooley, Barney and Maisie Fosset, Lorna; 6 Anna Brown, Merlin and Beth McCrickard, Pippin. 10 years and under (50cm): 1 Kyla Grieve, Milo and Sarah Forgan, Rushfield Vice Versa; 2 Esther Lang, Custard and James Houlden, Sidan; 3 Esther Lang, Custard and Sophie Mcmillan, Ballyredmond Boy; 4 Teigan Cameron, Fraggle Rock and Libby Clark, Gorgeous George; 5 Georgina Haywood, Luner and Freya Hiddleston, Passford Rosina. 12 years and under (65cm): 1 Emily Black, Polly and Rachel Haywood, Dakota; 2 Freya England, Kenny and Emma Leslie, Lenny; 3 Kyla Grieve, Milo and Issie Jeffrey, Kinshell Storm; 4 Hannah Young, Razzle Dazzle and Ellie Wotherspoon, Silver Moon Spirit; 5 Tess Wylie, Passford Showgirl and Freya England, Noah. 80cm pairs: 1 Anna Casasola, Just Dennis and Catherine Fraser, Ben; 2 Tia Himpson, Sunny and Brodie Buchan, Cinders; 3 Paige Mcdonald, Peter Pan and Robyn Black, Buddy; 4 Heather Halley, Oats and Amy Bryce, Freddie; 5 Jemma D'ath, Ultima and Kate Dalglish, Mr Mcgregor; 6 Hannah Aitken, Maydown Star and Flora Wilson, Pippin.
Individuals Wibbly wobblies: 1 Eilidh Robertson, Gilfach Zani (Strathearn); 2 Ellie Coutts, Seamus (Kincardinshire); 3 Lucy Craighead, Heidi (Kincardinshire); 4 Lucy Craighead, Rose (Kincardineshire); 5 Anna Wallace, Pebbles (Fife); 6 Rebecca Hooley, Barney (Fife). 10 and under (55cms): 1 Kyla Grieve, Milo (Strathearn); 2 Rachel Lang, Beauty (Fife); 3 Esther Lang, Custard (Fife); 4 Kyle Forgan, WHW Dennis (Fife); 5 Rowanne Westwood, Yealand Granville (Strathearn); 6 Daisy Humpheries, Too Cool (Strathearn). 12 years and under (70cm): 1 Rowanne Westwood (Strathearn); 2 Millie Wilson (Strathearn); 3 Tess Wylie (Fife); 4 Tia Himpson (Glenrothes); 5 Anna Dalglish (Fife); 6 Amelia England (Strathearn). 85cm: 1 Jessica Zajda, Tally (Strathearn); 2 Anna Casasola, Just Dennis (Fife); 3 Joanne Cook, My Black Night (Linlithgow and Stirlingshire); 4 Miles Westwood, Seapatrick Buddy (Strathearn); 5 Anna Smallwood, Morgans Toff (Fife); 6 Robyn Black, Buddy (Fife). 90cm Dengie Qualifier: 1 Miles Westwood, Seapatrick Buddy (Strathearn); 2 Rowan Laird, Little Cliff (Fife); 3 Pollyanna Smith, Lion Rock (Fife); 4 Louise Hill, Paddy (Angus); 5 Jessica England, Eleanor of Aquitane (Strathearn); 6 Debbie Mcgregor, Mega Jackpot (Glenrothes). 1m: 1 Katie Smith, True Blue Marco (Dalkeith and District); 2 Jessica England, Eleanor of Aquitane (Strathearn); 3 Rowan Laird, Top Dun (Fife); 4 Hannah Brisbane, Duke (West Perthshire); 5 Pollyanna Smith, Cookie (Fife); 6 Abbie Taylor (Fife). 1m05: 1 Rowan Laird, Little Cliff (Fife); 2 Jessica England, Eleanor of Aquitane (Strathearn); 3 Isabella England, Get Set II (Strathearn); 4 Jane Brisbane, Barney (West Perthshire); 5 Hannah Brisbane, Duke (West Perthshire); 6 Kit Buchan, Arctic Prediction (Linlithgow and Stirlingshire).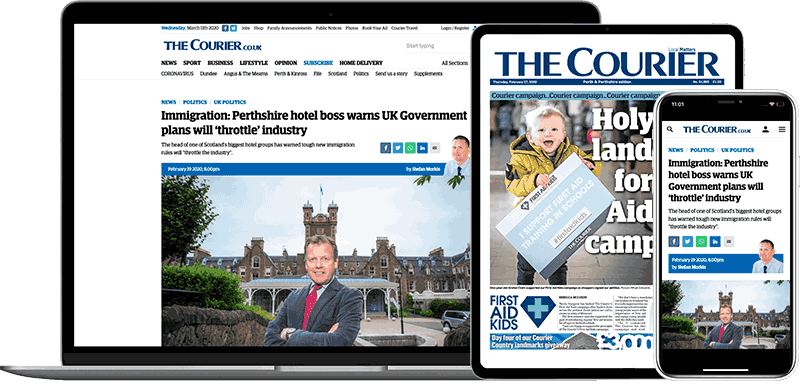 Help support quality local journalism … become a digital subscriber to The Courier
For as little as £5.99 a month you can access all of our content, including Premium articles.
Subscribe