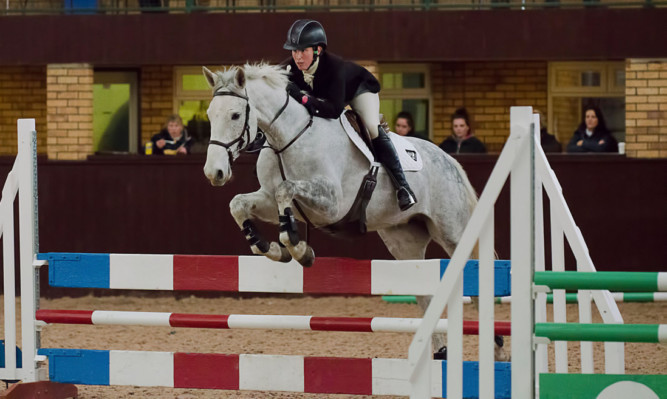 The first adult weekend British Showjumping competition for 2015 at Highfield at Howe attracted riders from across the country.
Taking the win from the final class at the culmination of the competition was Cupar rider and trainer Lisa Hood with her regular partner Crailyn Clover Bay.
The 14-year-old gelding, by Obos Quality, originating from Ireland and bred out of the Clover Hill daughter Olympic Clover, is Lisa's main ride.
This was their first outing of the season and their first trip to compete at Howe since BS previously ended at the centre in 2011.
"We haven't made it out too much recently as my riding has taken a little bit of a back seat," said Lisa, who dedicates much of her time to getting out and about with her daughter Alana and her successful string of ponies.
"It's so great to have the centre at Howe back up and running," she added.
"The team are doing a great job."
Lisa and Crailyn Clover Bay won the 1m10 national amateur class as one of only two first-round clears jumped to table A10, which sees fences rise from 1m10 to 1m20 as the course progresses.
"He really covers the ground well, but I wasn't holding back in the jump off and made sure I allowed him to move forwards," she said.
Last year the partnership collected qualification for the Royal Highland Show, for the Grade C Championship, and now Lisa says she'd like to set the goal of getting back to the Highland as well as progress with amateur championships.
"1m20 really is well within his comfort zone," she added.
"But this was a great first time back out for the year and has given us a good starting point to go forwards."
In the previous classes local young rider Rachel Hamilton was a force to be reckoned with, forging a strong new partnership with Shannondale Somax.
The 15-year-old Strathallan pupil, who lives in Dairsie, bought 'Bear' as her first horse five months ago from event rider Katherine Lindsay, who had successfully taken her to novice level eventing including a win last season at Central Scotland Horse Trials venue Dalkeith with training from Sarah and James Oakden at Dunbog.
From this base the eight-year-old mare made her BS debut, taking five wins from her first five classes in the affiliated arena with Katherine early last year.
Now owned by the Hamilton family and partnered by Rachel, Bear continues to be produced from Team Oakden.
"They are using the winter months to find their feet together with the aim of enjoying their first season at British Eventing this year," explained Rachel's mother Angela.
Through her former ride Rachel, a Fife Hunt PC member, developed a love for showjumping qualifying for and competing at the National Pony Club Championships last year. Bear has let her progress from where she left off on ponies.
At Howe they were second in the 1m open before taking the 1m05 win.
"Bear is so very nimble and Rachel loves the challenge of a jump-off," added Angela. "They gain confidence in their combined ability all the time."
On their previous outing to Howe together in December, Rachel and Bear notched up double clears in the British Novice and Discovery classes, but this latest outing marked their first affiliated top podium finish as a partnership.
On an unaffiliated basis they also formed part of the winning Strathallan School squad at the Gleneagles team showjumping.
In the 90cm open, Hurricane Annie stormed to the win for Callander's Pamela Guthrie.
Pam bought Annie, a 12-year-old mare which was bred out of the Secundus daughter Glenauld Flair and sired by Tornado FCS, in September: "She hadn't been out competing for about three years," she explained.
"I bought her as my other two horses were lame at the time, so we got back up and running together."
Pam now hopes to aim towards the bronze league final at the Horse of the Year Show this year.
"I will be going south in April to the Welsh Masters with Annie and another younger horse," explained Pam, who is a sponsored rider for both Forth Valley vets Struthers & Scott and also Ballachallan Feeds, of Callander.
"Annie jumped really well with all new jumps at Howe. This was only our second competition together," she said.
Early in the morning the show at Highfield at Howe began with a 70cm club class, won by Linlithgow rider Aileen Jeffrey and her 12-year-old gelding Black Tan.
Aileen has owned Irish-bred Freddie for two years: "I affiliated to British Showjumping last May with the aim of competing at Blair Castle International Horse Trials," she said.
Having fulfilled her dream, she added: "We finished fourth in the British Novice on the Sunday."
This year Aileen who works for Edinburgh-based Nucleus Financial hopes to qualify for the amateur finals, having already qualified for the second rounds at 85cm, and would like to progress up the grades to Newcomers level during the summer.
"I try to get out competing as much as possible at the weekends and attend regular lessons with Mark McGowan. He has help me enormously over the last six months," she added.
equestrian@thecourier.co.ukResults
70cm: 1 Aileen Jeffrey, Black Tan; 2 Catherine Forest, Dens Delight; 3 Joanna Storrie, Cool Water.
85cm national amateur qualifier: 1 Craig Hamilton, Hawthorn Flight Path; 2 Craig Hamilton, Aprico Candy; 3 Sharon Elgood, Zarathon.
90cm open: 1 Pam Guthrie, Hurricane Annie; 2 Catherine Cousar, Super Nova; 3 Hazel Hiram, Artiest D.
95cm national amateur qualifier: 1 Catherine Cousar, Super Nova; 2 Rowan Laird; Little Cliff; 3 Craig Hamilton, Jack The Lad V.
1m open: 1 Jenna Brown, Sissis; 2 Rachel Hamilton, Shannondale Somax; 3 Ryan Leavey, Mandalay III.
1m05 national amateur qualifier: 1 Rachel Hamilton, Shannondale Somax; 2 Holly Haig, C Zorrina; 3 Katie Stenhouse, Agoranta VDL.
1m10 national amateur qualifier: 1 Lisa Hood, Crailyn Clover Bay; 2 Susan Robson, Barra Hill; 3 Jamie Raeside, Buddaire.