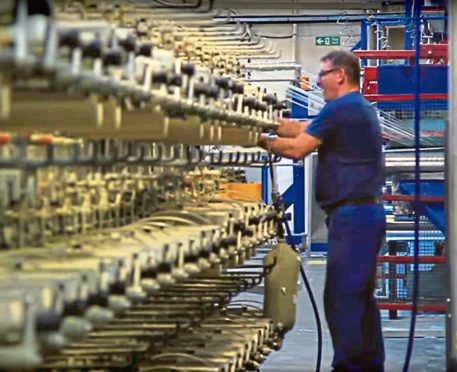 Dundee-founded technical textiles group Low & Bonar was delisted from the London Stock Exchange yesterday after its £107 million sale to a German firm completed.
Global technology group Freudenberg has acquired 100% of the shares in Low & Bonar, which is headquartered in London but still has a carpet backing manufacturing facility at Dundee's Caldrum Works.
The move closed the chapter on 73 years of trading on the stock exchange as the company will now be integrated in the Freudenberg Performance Materials Group.
The German firm made its move after a series of profit warnings by Low & Bonar last year that send its share price plummeting to single digits.
Dr Frank Heislitz, chief executive of Freudenberg Performance Materials, said the two companies shared the same views on quality and sustainability.
He said the acquisition would allow the German firm to expand its product range operate in new markets.
"As a pioneer in spunbonded nonwoven production, Freudenberg has offered its customers materials manufactured with a one-step production process since 1968," he said.
"Thanks to the two-step process solution from Low & Bonar, we can be even more flexible and individually tailor products to customer specifications.
"We are also opening new fields for Freudenberg with new applications thanks to Low & Bonar's complementary technologies."
The origins of Low & Bonar can be traced back to 1903 when John C. Low and George Bonar entered into a partnership to merchant jute goods in both home and foreign markets.
The enlarged Freudenberg group will now have 35 facilities in Asia, Europe and North America and 5,500 employees.
The acquisition required the sanction of the Court of Session in Edinburgh, after receiving competition clearance from the European authorities.
The sale is the first Scottish Scheme of Arrangement to be sanctioned by a conference call.
Stephen Chen, a partner at law firm Harper Macleod which advised Low & Bonar, said: "This was a complex transaction made more challenging by the Covid-19 pandemic and it was certainly a unique experience in trying to come up with solutions to overcome issues that would ordinarily not be a problem.
"I am also particularly grateful to the courts and Companies House for their help in adapting to the circumstances."
rmclaren@thecourier.co.uk