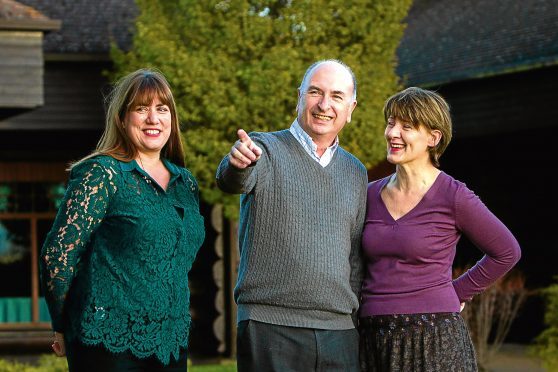 More than £2 million has been invested into Piperdam in the 12 months since being purchased by new owners.
Coppergreen Developments Limited have added eight lodges and are hoping to complete a further 14 by April.
The Sheffield-based firm said it still had an investment pot of £5m to spend on Piperdam and its sister Woodland Lakes facility in Yorkshire.
Recently published company accounts show the company recorded a £2.5m turnover in the 13 month period to December 31 2016, a significant jump from the previous year's sales of £1.4m.
However, an increase in administrative expenses from £594,000 to £1.5m caused the firm to post a pre-tax loss of £145,000 compared to a £114,000 profit in 2015.
"The results for the group are in line with expectations, though as Piperdam Golf and Leisure Resort and Blacklaw Estates Limited were acquired very late in the financial period their impact is minimal," director Donna Copley said.
"The new businesses were acquired on November 4, 2016.
"These acquisitions were made to form the basis of a group of parks that all have high quality accommodation and facilities specifically aimed at families with younger children.
"Since the acquisition there has been £2m of investment into the parks developing 16 new lodges and a significant number of additions to income streams.
"More lodges are in the process of being built at Piperdam.
"At both Woodland Lakes and Piperdam work has commenced on further planning applications to increase lodge numbers and facilities.
"There is still over £5m investment available for future development of the parks.
"The company Blacklaw Estates Limited owns 350 acres of amenity land, which immediately adjoins Piperdam's land, is therefore an extension of area available for lodge guests to use for leisure purposes."
Separately filed accounts show that Piperdam Golf and Leisure Resort Limited made £2.9m of sales and a pre-tax profit of £272,000 in the six month period to December 31, 2016.
In the previous 12 months to June 30 2016, the resort made £5.1m sales and a pre-tax profit of £835,000.
Coppergreen acquired Piperdam and Blacklaw Estate in a £25m deal which received support from the Business Growth Fund and HSBC.