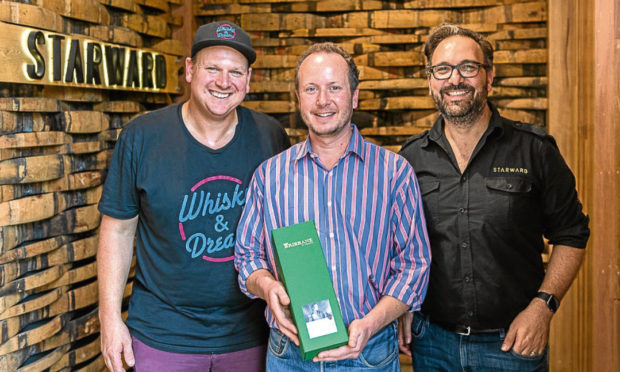 A Fife whisky blender is to use the technology that underpins Bitcoin and other cryptocurrencies to prove the authenticity of its new tipple.
The Brisbane is the fourth international blend to be brought to market by Fusion Whisky of Edinburgh and Fife-based Adelphi.
The drink – named after Thomas John Brisbane, a pioneering Scottish scientist who founded the Australian city which bears his name – was launched at Melbourne's Whisky & Dreams festival at the weekend and is believed to be the first blend to be released featuring both Scotch and Australian-derived whiskies in a single product.
However, the system being used to demonstrate The Brisbane's provenance is also thought to be a first for the whisky sector.
The blenders have adopted Blockchain technology to produce an irrefutable digital record of the whisky.
Blockchain is best known as the platform on which cryptocurrencies such as Bitcoin are built.
Each time a new Bitcoin is 'mined' by computer users around the globe, a digital record of the transaction is added to the currency's blockchain.
In Bitcoin's case it is almost impossible to hack given the computing resources that would need to be deployed in order to effect a change to the entire digital record.
Kieran Kelly of arc-net, which is providing the online platform and ongoing digital support to the whisky project, said it was the perfect platform to use to demonstrate provenance.
The customer is able to find out everything they need to know about the dram in their hand from the Blockchain record by scanning a QR code label.
"Our aim is to establish the global standard in product and supply-chain transparency, authentication and security, providing the consumer with 100% traceability, provenance and product authenticity," Mr Kelly said.
"The arc-net platform offers both brand and product protection and provides brands with a voice on the global stage.
"All the team at arc-net are very proud to be the first company to use Blockchain technology with a whisky."
Adelphi managing director and master blender Alex Bruce added: "Thomas Brisbane was a great champion of science, so it's entirely appropriate we pioneer this new technology with a whisky made in his honour; the first whisky in the world to do so."
Fusion and Adelphi have previously launched blends fusing Scotch with whiskies from Japan, the Netherlands and India.