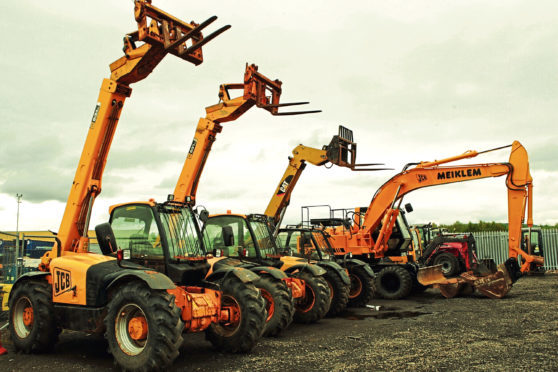 A major Perthshire industrial plant hire group has expanded its nationwide network after completing a major acquisition in south east England.
Errol-headquartered Morris Leslie Plant Hire Ltd has bought over Surrey-based Chertsey Plant Hire.
Financial details of the deal were not disclosed.
The move extends the group's presence in the English market, where it already has a strong offering.
The group said Chertsey was a "natural choice"as both companies had similar profiles, having been founded in the 1970s and built up a modern fleet of industrial vehicles.
The deal will see a further 500 pieces of industrial plant – including telehandlers, dumpers, rollers, excavators and other access equipment – added to Morris Leslie's now 5,000-strong vehicle fleet.
Graham Ogilvie, managing director, of Morris Leslie Plant Hire, said he was pleased to have got the deal done.
"We are delighted with the purchase as Chertsey are a long established and well-respected industry name.
"The move consolidates our position as one of the leading hirers in the country, expanding the core fleet by a further 500 assets, 250 of which are telehandlers, and adds another great location to our national footprint.
"Chertsey's fleet is younger than industry norms but over the coming months there are plans to further refresh their fleet in line with our overall profile which sees an average age of below two years."
The deal follows a series of bolt-on acquisitions by the company in recent years that has seen it grow to be among the UK's largest plant hire companies.
In 2013, Morris Leslie moved to purchase three depots operated by Ambrose Plant Hire and last year acquired four year Hewden hire sites.
Chertsey managing director Gary Balle said joining Morris Leslie Group was a great opportunity for the business to grow.
"I am relishing the opportunity to work with the new management and pleased to see that Morris Leslie already have an investment plan in place to replace and expand our fleet," Mr Balle said.
"We are confident that this will enhance our existing high-quality fleet and Morris Leslie's larger infrastructure will allow us to support our customer's nationally."
Accounts lodged for Morris Leslie Plant Hire Limited in February show the company generated sales of £27.5 million in the year to April 30, 2017, up from £21m in the prior year.
The company is wholly owned by parent company Morris Leslie Limited.
The parent group has plant hire, trading and vehicle auction interests as well as being involved in the commercial and residential property market.