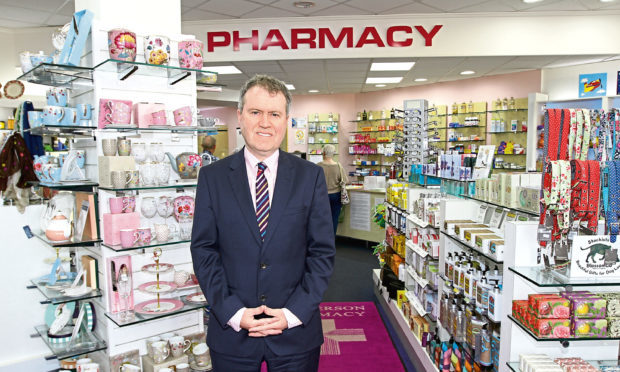 Perthshire based chemist chain Davidsons saw profits push ahead last year.
New filings at Companies House show Walter Davidson & Sons Limited generated sales of £38.41 million in the year to January 31, an improvement on the prior year's £37m revenue return.
Gross profits pushed ahead from £11.53m to £12.3m, while pre-tax profits for the year were also significantly higher having risen from £2.51m in the prior year to £3.44m.
The company has its headquarters at Wellmeadow, Blairgowrie.
Last year it employed a total of 374 staff across its primarily Tayside-focused network of retail pharmacies and veterinary chemists.
The workforce figure had jumped from 345 in the prior year, partly due to the acquisition of a new pharmacy operation in the Highlands.
The accounts state the company has a strong net asset position and "is considered to be financially secure" and it continued to upgrade its retail outlets and roll-out the use of robotic automated dispensing systems.
Managing director Allan Gordon said the firm – which holds two Royal warrants – had made significant progress in the period and he noted the company's continued appetite for growth.
"The directors are delighted with another good financial performance," Mr Gordon said.
"We acquired one pharmacy last year, Garelochhead and that gave us a presence in Highland Health Board area for the first time.
"The company has substantial cash resources and the goal remains to grow the group to 50 pharmacies within the next few years.
"Ideally, Davidsons Chemists would aim to acquire a medium sized Scottish group.
"As with all businesses, we are planning ahead for Brexit and other similar related issues."
Last month the group completed a multi-million pound deal to purchase the popular RS McPherson pharmacy in Broughty Ferry.
The move – the largest single outlay in Davidsons history – took the group's outlet count to 37.
Its addition is expected to push full-year turnover for the group beyond £40m in the current financial year.
Unlike with past acquisitions, the RS McPherson's outlet will not be rebranded under the traditional Davidsons operating banner as a result of its strong local reputation.
ghuband@thecourier.co.uk