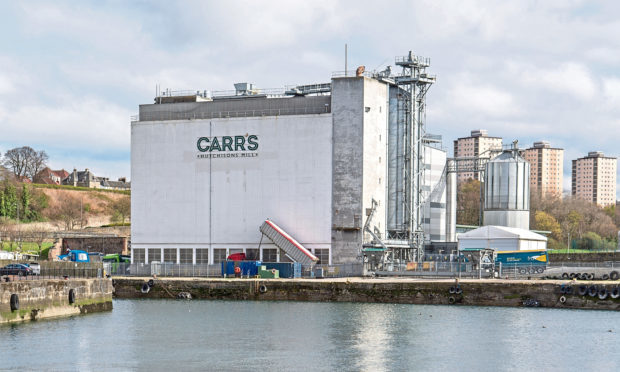 Fife-based Carr's Flour Mills saw sales rise strongly as global wheat prices increased last year.
The company, which was founded more than 180 years ago, has a building at Kirkcaldy harbour as well as sites in Cumbria and Essex.
At the Fife site grain is shipped directly to the mill for processing.
Newly filed company accounts show sales of £81.7 million for the year to March 31, with a pre-tax profit of £2.1m.
This compares to a £42.9m turnover and £2m profit for the previous seven months.
Whitworth Holdings – the UK's largest flour miller – acquired Carr's in September 2016 in a £36m deal.
Its customers range from large commercial food manufacturers and supermarkets to small bakers and biscuit markets. The parent company's accounts show an increase in sales from £258.7m to £321.7m in the first full year of trading since the takeover.
Pre-tax profits rose from £9.6m to £10.3m during the period.
In his strategic report Carr's chairman Roger Butler said: "Volumes increased by 2% on the corresponding 12 months due to the increased supply to a large food manufacturer.
"Gross margins per tonne of flour sold reduced 0.8% year on year due to sales mix.
"We continue to strengthen ties with a number of important customers and have seen growth in sales reflecting this.
"This is underpinned by consistency of product, high levels of customer service and good commercial relationships."
Carr's invested more than £17m into its Fife site in 2013. Its modern technology includes computerised flour blending and particle size control.
The Carr's acquisition was described as a success within the Whitworth Holdings accounts.
Whitworth chairman Martin George said: "Following the successful acquisition of Carr's Flour Mills Ltd from Carr's Group plc part way through the prior year, the group has seen continued growth in sales volumes, with turnover increasing to £321.7m which was also due in part to the increase in global wheat prices following the 2017 harvest.
"Despite record sales volumes, the uplift in turnover if largely a result of a continued increase in average wheat and other commodity prices during the year."
rmclaren@thecourier.co.uk