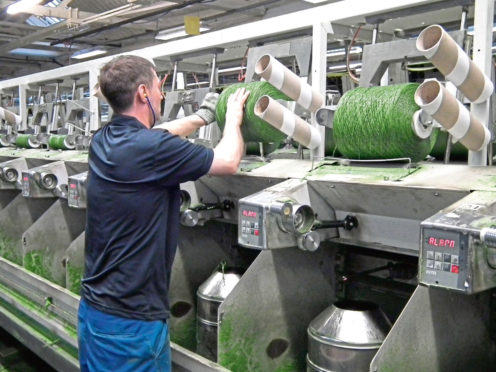 Shares in Low & Bonar slumped yesterday as the struggling performance material firm revealed it had lost more than £40 million in the first half of this year.
The group was originally founded as a jute merchanting business in Dundee and still has a carpet backing operation at Caldrum Works in the city.
In the six months to May 31, the international group's revenue was £157.9m, down from £174.1m in the same period last year. Pre-tax losses were recorded at £41.7m.
The firm said this reflected challenging conditions in a number of key markets and a slow recovery in customer confidence.
Net debt was reduced to £99m from £129m at the end of November following the firm raising £50m in equity in February.
This year Low & Bonar has disposed of its construction fibres business and the sale of the needle-punched non-wovens division due to complete at the end of next month.
These strategic moves will raise a further £20m to go towards reducing the debt pile.
Low & Bonar said that in total annualised cost savings of around £8m had been made since the start of its restructuring programme a year ago. Savings of approximately £3m are expected over the full year.
It said the large loss was mainly due to a £39m write down of the company's assets and that the underlying business was profitable.
Executive chairman Daniel Dayan, said he will consider "all strategic options" for the firm's future.
He said: "The first half of 2019 has been another extremely challenging period for Low & Bonar.
"As a result of the group's poor performance, I was appointed executive chairman at the beginning of July 2019, temporarily combining the roles of chairman and chief executive.
"Our priorities remain unchanged, which are to transform the group's operational performance and ensure a strong and sustainable financial position.
"Progress has been made, notably through the equity raise, the development and implementation of projects to improve facilities at Asheville (in North Carolina, USA) and the resolution of coated technical textiles' quality problems and the disposal of civil engineering.
"Whilst this performance improvement plan is being implemented, the board remains focused on maximising shareholder value and will consider all strategic options."
rmclaren@thecourier.co.uk