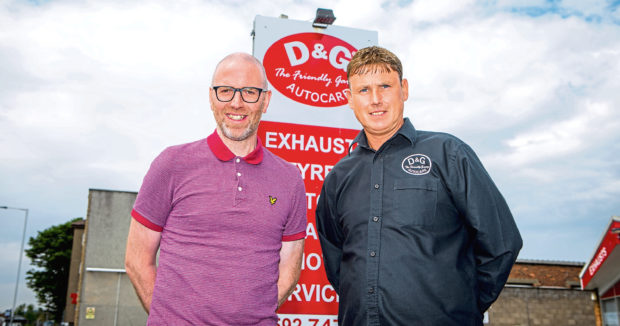 The owners of a Fife-based garage chain have no intention of putting the brakes on aggressive growth plans as they open their 16th site.
Formed in Dunfermline 15 years ago, D&G Autocare now employs 150 staff and has sales of £10 million a year.
Owners David Hunter and George Simpson — whose initials make up the D&G in the company's name — famously won a trademark battle with Italian fashion house Dolce & Gabbana.
The firm now has five locations in Fife, sites in Perth and Dundee, five garages in Edinburgh and the Lothians as well as Stirling, Falkirk, East Kilbride and Airdrie.
The company has spent £100,000 this year setting up a new garage in the South Gyle area of Edinburgh.
"We feel there's plenty of scope for further growth," said Mr Simpson.
"We are quite well known in the Central Belt and Edinburgh but we are intending to go further west and, after opening in Dundee a couple of years ago, there's a chance we'll go further north.
"It's costly opening a new branch – we know we probably won't any money in the first year and it would be a risk to open too many at one time.
"The pace of roughly one a year has suited us and we want to grow further."
D&G has put itself at the forefront of changes in the industry.
It has invested heavily in training and equipment to repair and service electric vehicles.
The firm has also developed an app to remind customers when their MOTs and insurance is due and is also a means of promoting special offers.
More people leasing cars has seen businesses from fleet become an increasingly important part of revenue, accounting for between 15-20% of sales.
"We think it's the personal touch that differentiates us," Mr Simpson said.
"A car repair can be a distressed purchase and is money people would rather be spending on something else.
"When we move to a new town and get that first chance we have to give top class service from a friendly, helpful garage and competitive on cost."
D&G Autocare found itself at the centre of a trademark row when it tried to register its name as a trademark in 2012.
Milan-based Dolce & Gabbana lodged a "notice of threatened opposition" claiming customers may be confused between the brands.
D&G fought back – asking the fashion firm for proof of their presence in the car industry. Dolce & Gabbana subsequently failed to lodge a formal objection to the UK Intellectual Property Office in time.
rmclaren@thecourier.co.uk