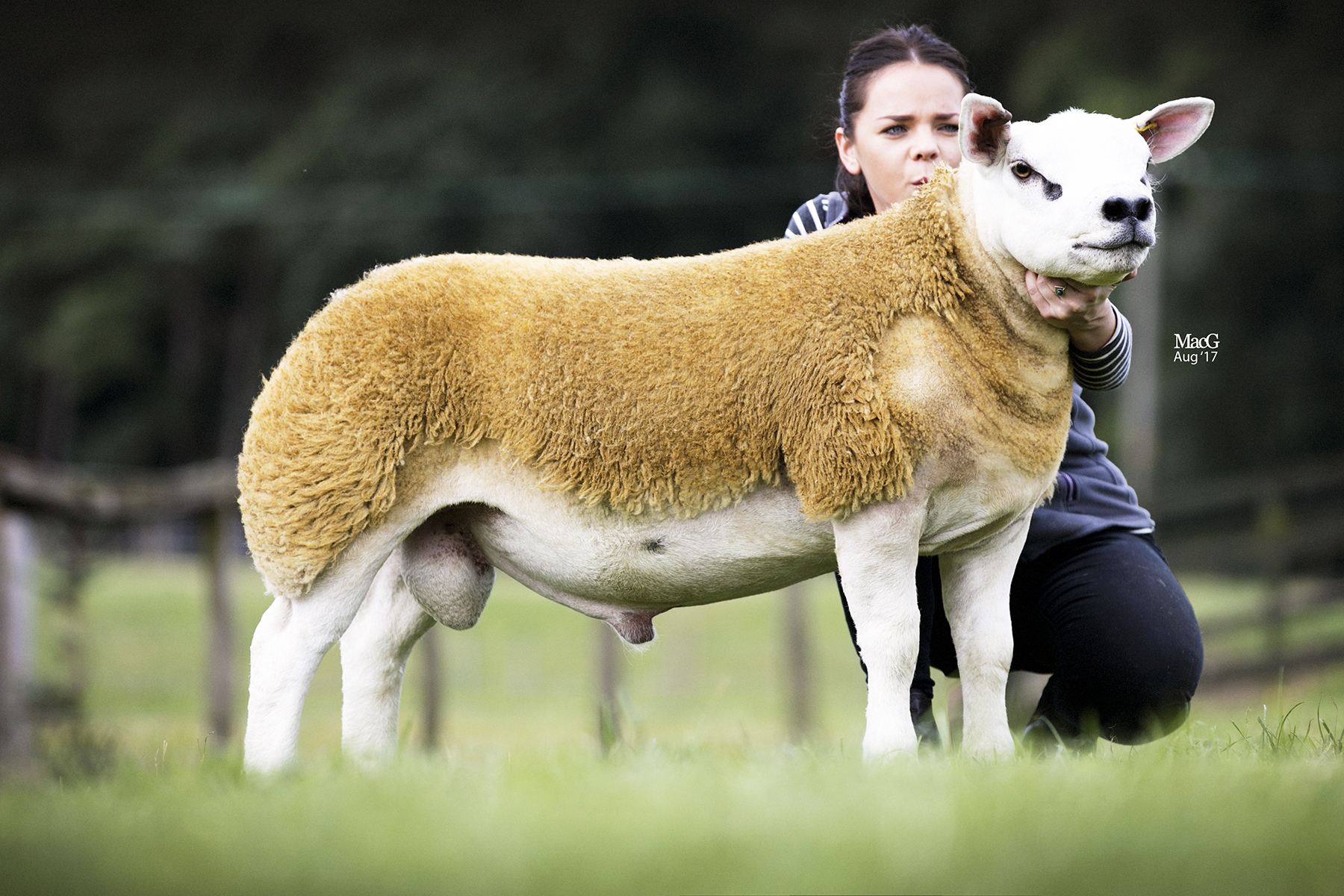 A phenomenal top price of 130,000gns was paid for a Texel ram lamb at Lanark at a sale where 415  averaged  £2,704.
The average is back by £100 on the year, but for 64 more lambs sold.
Setting the trade alight early on was Sportsmans A Star, the pen number
one from Charlie Boden's 60-ewe Sportsmans flock at Mellor, Stockport.
Securing the flock's best price in 40 years of breeding Texels, this one is a son of the 70,000gns Teiglum Young Gun, top price at Lanark last year.  The dam is a Cowal-bred ewe by Cairnam Talisman, which was bought for 9,000gns in 2014 and bred a son to 17,000gns last year.
He was knocked down to Hugh and Alan Blackwood, of Auldhouseburn, Muirkirk, and John Forsyth for his Glenside flock at Maybole.
Another from the same pen hit five figures, with Sportsmans Advantage, a son of the 52,000gns Clinterty Yogi Bear, selling at 20,000gns to Malcolm Coubrough, Hartside, Lamington, and Robin Orr, Halbeath.
Being last in the ring at 6pm did not curtail Graeme Morrison's trade for his Deveronvale lambs from Cornhill, Banff.
He received 50,000gns for Deveronvale Ace of Diamonds, a son of Millar's Windbrook, which bred the 60,000gns Strathbogie Yes Sir last year.
The dam is a 14,000gns Strathbogie-bred female by the 30,000gns Scholars Twenty Twelve.
The final bidder was Charlie Boden.
Two lambs reached 42,000gns, the first being Mullan Armani, an AI son of Glenside Willie Winkie, from Brian Hanthorn, Abbey Lodge, Tynan, Co Armagh.
Out of the flock's best show ewe, a Haddo Ringleader daughter, he sold to Jim Innes' Strathbogie flock at Dunscroft, Huntly.
Matching that 42,000gns bid was the reserve male champion from the Royal Highland, Knockem Abracadabra, from Bryden and Johanna Nicolson, Knock, Duns. He is by home-bred Knockem Yabba Dabba Doo, which was sold to Roderick Runciman last year and used back on loan.
The dam is a Castlecairn-bred ewe by Hull House Space Cowboy, bought two years ago when Bryden was establishing the flock for children James and Charlotte.
Selling for just the second time at Lanark, their topper went to Charlie Boden, Sportsmans, and Danny Sawrij, Swalesmoor.
Sandy and Isobel Lee returned back to Fraserburgh delighted with their trade, with lambs from their nine-ewe Fordafourie flock selling to 24,000gns.
Best there was Fordafourie Amalert, a March-born son of the 7,000gns Stainton You Bet, out of a Deveronvale ewe by Garngour Ultimatum, which was bought at Carlisle for 3,000gns. He was another to sell to Charlie Boden.
Another to make 24,000gns, far later in the day, was Allanfauld Am The Man, a son of the 20,000gns Knap You're The Man, from Archie and John MacGregor, Allanfauld, Kilsyth.
Out of a Garngour Ultimatum-sired dam, he sold to the Howies' Knock flock at Stuartfield, Peterhead; the Knox family's Turriff-based Haddo flock; and the Ingrams at Logie Durno, Inverurie.
The Wights sold their pen leader, Midlock Avicii, from Crawford, Biggar, at 22,000gns in a three-way split to David Houghton, Tophill, and Steven Symes, Anglezarke, both Lancashire; and the Campbells' Cowal flock at Drimsynie, Argyll.
Another March-born lamb, he is by the 60,000gns Clinterty Yuga Khan, out of a ewe by Teiglum Thunder.
Best for the Clark family's Teiglum consignment, from Lesmahagow, was 19,000gns, paid by Stephen Cobbald, Acton Hall, Sudbury, Suffolk, for Teiglum Admiral.
Earlier in the sale, John Leitch, Castlederg, Co Tyrone, sold Cornmore Ace at 16,000gns to Robert Laird, Cambwell, Biggar. His sire is the 16,000gns Sportsmans You're a Winner, while the dam was bought privately from Cambwell two years ago.
The sole entry from Donald MacPherson and son Ross, Castlehills, Berwick-Upon-Tweed, sold at 15,000gns to the Ridleys' Haltcliffe flock at Hesket Newmarket.
Hexel Apex is an AI son of Castlecairn Vavavoom, out of a ewe by Brackenridge Strongbow, which comes from the same family as the dam of the 32,000gns Hexel Wildcard.
Turriff's Robbie Wilson received 15,000gns for the best from his Milnbank consignment, Milnbank Alfonso.
A son of Halbeath VIP, out of a ewe by Strathbogie Untouchable, he was knocked down to a syndicate of Jonathan Watson, Brijon; the Arnotts' Haymount flock; Esmor Evans, Maerdy; Donald MacPherson, Hexel; Ted Fox, College; and Ian Murray, Glenway.
At 13,000gns, the breed champion from the Great Yorkshire, Nochnary Am Yer Man, from David McKerrow and sons David and James, Freuchie, sold to Archie Hamilton, Smyllum, Lanark; DP and RA Delves, Bridgeview, Powys; and Iain Barbour, Solwaybank, Annan.
He is by the 30,000gns jointly owned Knock Yankee, and out of a ewe by Ettrick Ura Winner, one of 40 ewes in the flock.
At 11,000gns was Plasucha All Star, another by Knock Yankee, from Robert Bennett's flock at Meiford, Powys. Out of a ewe by Connachan Sharky, he sold to the Cowal and Hexel flocks.