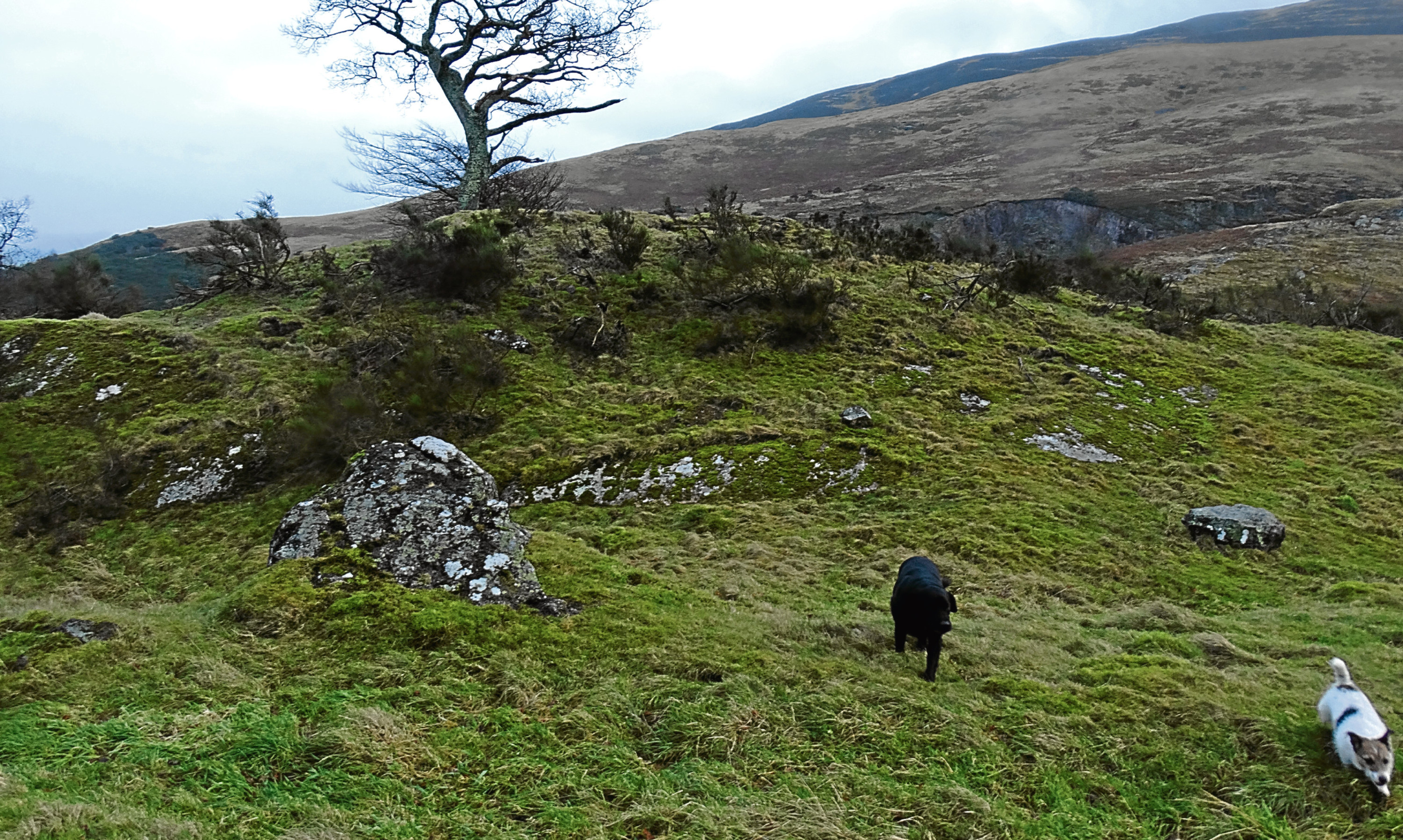 The low winter sun on Tuesday made driving home over the Cairn o' Mount difficult.
After three days of Storm Barbara and Storm Conor's tantrums we were delighted to see the sunshine and feel its warmth on our faces but there were moments when I practically had to stop I was so nearly blinded.
The Doyenne and I had taken advantage of the change in the weather to go across to our favourite Finzean Farm Shop for a coffee and buy a loaf of their delicious bread.
We spent Christmas with our daughter Cait and her family. They live on a hillside overlooking Auchterarder. When the weather is like Tuesday's the views up and down Strathearn can be what one writer described as "ecstatic".
But Barbara blew in very windy and overcast, shrouding the hills on the other side of the strath in mist. Conor was pretty coorse too, full of sleet rather than snow – although the worst of it had eased as it neared the east coast.
My greatest fan in the household is Rosie, Cait's roly-poly Jack Russell, who is the shape of a small biscuit barrel on legs.
She treats Inka with unconcealed scorn, snapping at him as he jumps out of the car and defying him to go into the house. He takes her seriously and instead of giving her a friendly nip on her well-upholstered rear end, looks at me imploringly as if expecting me to get rid of this small pestilence. He's about 10 times her size and I leave him to fight his own battles.
I, on the other hand, am greeted with squeals of delight and she rolls over on her back to have her stomach tickled. But it's all just cupboard love – I know that I'm associated with more walks.
True to expectations I took the dogs out through the fields.
Behind the house is what, in Gaelic, would be called a dun – a hill or fortress or, in this case, a hill fortress. It is connected to the Gask Frontier, which was a chain of Roman forts and signal stations established in the latter part of the first century AD and formed the invading Roman forces' most northerly frontier in Britain.
As the dogs and I got to the top of the hill we met the full force of Storm Barbara, which almost blew me off my feet.
The wind made my eyes water and I took off my cap and held it to the side of my face. I took away my hand and the force of the wind kept the cap firmly in place.
Sinful food
I had asked specially for a traditional Christmas dinner with turkey and chestnut stuffing, sprouts (yes, I love them when they are properly cooked) and lots more cholesterol sins.
We had everything I looked forward to, finishing with a steamed treacle pudding smothered in custard.
For Boxing Day breakfast Cait produced a scrummy toasted sandwich that the Doyenne and I both recommend.
Lightly fry the underside of a slice of bread covered with thinly sliced cheese until the cheese starts to melt. Add two (or more) grilled rashers of bacon. Add a fried egg and top with another slice of bread. Flip the whole creation over and lightly fry the upper, now the under, side of the sandwich. Cut into four and serve. It's a meal to set you up for the rest of the day.
Another year's end
At the foot of Cairney Brae, on the A9 from Perth to Auchterarder, there's a finger-post to Findo Gask which will also take you to the Auld Hoose of Gask on the banks of the River Earn, one-time seat of Clan Oliphant.
The house's significance for me is that it was the childhood home of Carolina Oliphant who, under her married name of Lady Nairne, is one of Scotland's much neglected poets and songwriters.
She was a contemporary of Robert Burns with whom, in my view, she ranks as every bit as good a poet. She is only less well known than him because it was considered improper for ladies of her social standing to draw attention to themselves through activities such as writing.
Under the pseudonym Mrs Bogan of Bogan she published Wha'll be King But Charlie, A Hundred Pipers, Rowan Tree, The Laird of Cockpen, Caller Herrin', Charlie is My Darling and a stream of poems and songs all so familiar we hardly think about their authorship.
I'll finish the year with a verse from her song Gude Nicht, an' joy be wi' you a'. It's probably a song of farewell to family and friends but the sentiments seem appropriate to the leave-taking of another year.
"O we hae wandered far and wide, / O'er Scotia's lands o' firth and fell, / And mony a simple flower we've pu'd, / And twined it wi' the heather bell. / We've ranged the dingle and the dell, / The cot-house and the baron's ha'; / Now we maun tak' a last farewell, / Gude nicht, and joy be wi' you a'."