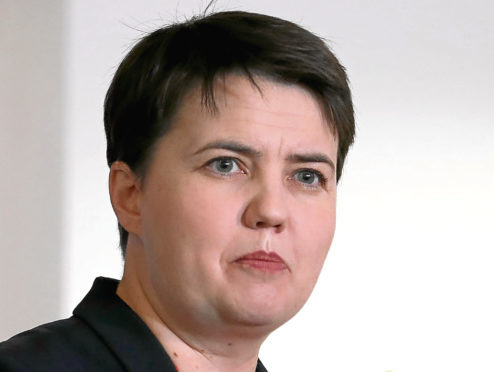 By the time the Scottish Tories hold their spring conference in Aberdeen, just under a month from now, who knows what state the party will be in nationally.
Given the almost-daily briefings against Theresa May by her enemies, and her inability to silence them, there is no guarantee that she will even be prime minister in four weeks' time.
However, as things stand at the moment, she is the only senior Westminster Conservative, apart from David Mundell, the Scottish Secretary, due to appear at the Scottish gathering.
Everyone else, it seems, has been banned by Ruth Davidson, leader of the party here and clearly still a force to be reckoned with.
According to reports over the weekend, the likes of Boris Johnson, Liam Fox and Michael Gove (who hails from the Granite City) will not be welcome because Ms Davidson fears their presence would be toxic in Scotland. In fact, she doesn't want any association with her London colleagues and Chancellor Philip Hammond, Cabinet Office minister David Lidington and Home Secretary Amber Rudd will also apparently be absent.
Some might argue, uncharitably, that the ambitious Ms Davidson wants all the limelight to herself. But she has more than proved she can spar with the big beasts – remember her television encounter with Mr Johnson during Brexit – so we must assume she genuinely believes her Westminster counterparts will damage her standing in Scotland.
Westminster
She is partly right. Ms Davidson has worked hard to repair the Tories' reputation north of the border, and her strategy to distance her brand of conservatism from the Westminster model paid dividends in the last general election.
While a disaster for Mrs May, the Scots increased their seats from one to 13, and Ms Davidson took most of the credit. Her pro-Europe agenda was in her favour and she won many new fans, as well as an enduring boost to her personal popularity.
In short, she has managed to turn around her party's fortunes since taking over the leadership, injecting youth and vitality and, crucially, making it markedly different from traditional perceptions of Toryism.
Why should she risk everything by importing the worst of the party, in the shape of bloodletting London Leavers and Remainers?
The infighting between one half of Mrs May's Cabinet and the other can only harm Ms Davidson's attempts to build on the gains she made last June, and is best left down south.
But there is a limit to what her ban will achieve. Delegates in Aberdeen may be spared the spectacle of a Gove-and-Johnson bid to undermine the PM but beyond the conference hall, voters may find it harder to make the distinction between Scottish Tories (good) and English Tories (bad).
The Conservatives have slipped to third place in recent Scottish polls, although there is plenty of time before the next election here to make up ground – and for the new Labour leader, Richard Leonard, to alienate the electorate.
Party line
But Ms Davidson still has her work cut out to beat the Scottish Nationalists and Labour and establish her party in power. Boris Johnson in Downing Street or Michael Gove – both unwelcome but not implausible – would likely set her back immeasurably, unless she can create a greater degree of separation.
She may have been a staunch Remainer but she has allowed her politics on Europe to become indistinguishable from Theresa May's. Toeing the party line is not an advisable tactic when there is no party line.
It would be much better for her electoral hopes in Scotland if she now used her influence in London to campaign more boldly for what she believes in.
Last year she was accused by opposition politicians of being a Brexit cheerleader when she seemed to embrace the vote to leave, and backed an "outward-looking, free-trading" UK.
She has since insisted she would vote Remain again in another referendum, but mostly she keeps her head down over Europe.
Europhile
She has got away with this by focusing on independence, thanks to Nicola Sturgeon, who doesn't have another tune. So long as the SNP leader clings to her constitutional preoccupation, Ms Davidson thinks she can avoid putting Brexit centre stage.
But politics moves on, even in Scotland, and it is all about Europe now. The Nationalists might keep their dream alive among themselves, but the reality is that Scots do not want to revisit 2014. Brussels is the focus for the next few years and politicians will be judged on where they position themselves in the argument.
The resurgent Scottish Tories, largely fashioned in the image of their Remain leader, cannot afford to be on the wrong side in the lengthy run-up to the 2021 Scottish elections.
Ms Davidson must re-engage with her Europhile instincts and make sure there is an ocean of blue water between her and the London Brexiteers before it is too late.