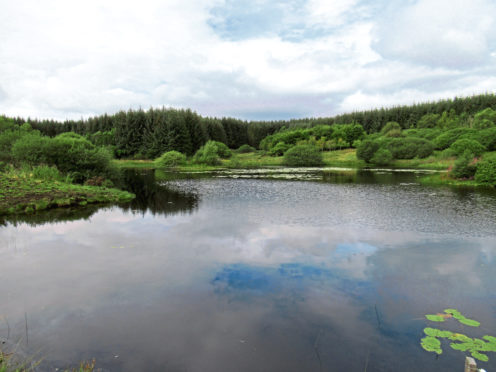 At first glance, Drimmie Woods appears to be just another regimented commercial plantation.
However, beyond the conifers, more recently planted native woodlands, old drove roads and a tranquil pond await the walker.
The forest lies between the Perthshire towns of Blairgowrie and Alyth, on upland slopes overlooking the River Ericht, and the approach from Blairgowrie is via Bonnington Road, a steep country lane that branches off the A93 by the Keathbank Mill car park, at the northern end of town.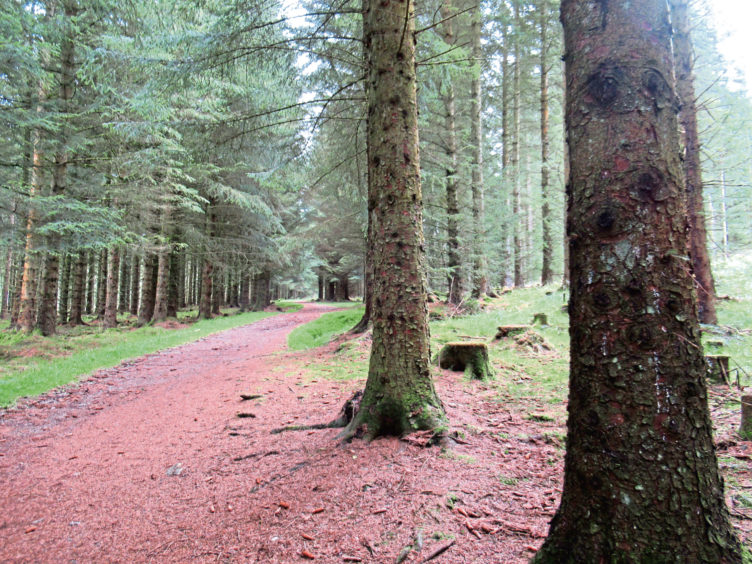 There is a small parking area by one of the access gates and it was from here I set off on foot, pausing briefly to study an information board explaining a little of the history of the area before wandering up through a gap in the trees.
The well-walked route through Sitka spruce is waymarked and, swinging left, I followed the bronze, needle encrusted trail as it rose steadily towards the remains of an old quarry beyond which the incline flattens off.
Passing a track branching left that I made a mental note to explore on my return, I ambled on to the next junction where arrow posts guided me along the fence line to a gate in the eastern perimeter of the plantation.
You may encounter grazing cattle here and, as such, the onward track can be muddy, but it is an otherwise pleasant grassy trail through bands of oak, ash and rowan, leading to a peaceful wee pool that attracts ducks, swans and the occasional heron.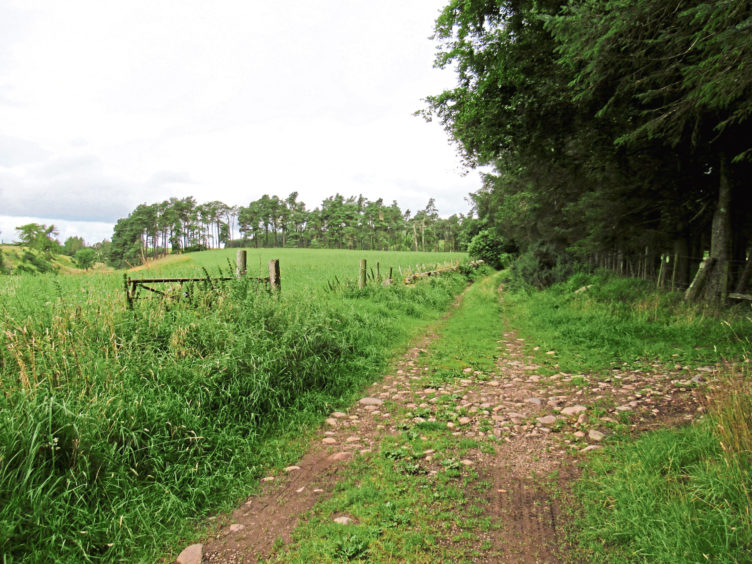 Flanked on three sides by mixed woodland, the eastern end of the water is more open, the hills of Glen Isla visible in the distance.
The terrain underfoot is much firmer beyond the pond, an old drove road once used by cattle farmers travelling to the markets of Perthshire climbing between bands of established forestry and plenty of newer planting on Tullyfergus Estate.
With views opening out across Strathmore towards the distant Sidlaw Hills, it rises to a large shed before weaving down past a couple of smaller huts towards a farm and cottages at West Tullyfergus.
Here I joined a stretch of 'walking and cycling friendly road', leading me south past a house at Tamarisk, where a red squirrel scampered across the lane, pausing briefly on the grassy verge before disappearing into the undergrowth, then west towards Forehill Farm, again a good spot for views over Strathmore with its mix of arable fields and berry tunnels.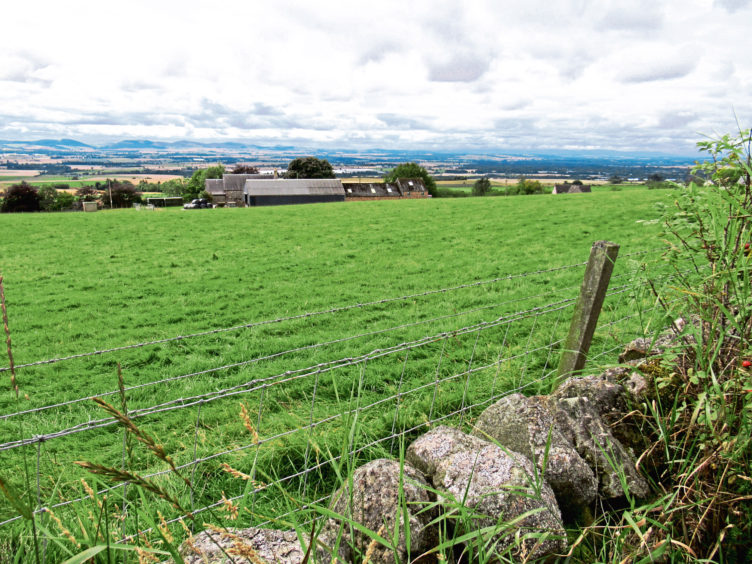 Above the farm, a track leaves the road, rising above a stream gully to the left known as McSourie's Den to a band of Scots pine trees. Originally a straight road, the track now curves left at the pines, but a grassy path continues ahead, re-entering the Tullyfergus Estate woodland at a gate.
Again, cattle had churned up the softer ground here but, stepping carefully to avoid the worst of the mud and a pat or two, I cut a course through the trees back to the pond where, with the sun shining, I sat awhile on a wooden pallet left by the water.
Retracing my steps into the plantation, I returned to the junction passed earlier and, striking north, set out to explore more of the forest, finding a pleasant path leading to a hidden clearing carpeted in blooming heather from where a break in the trees descends to the car park.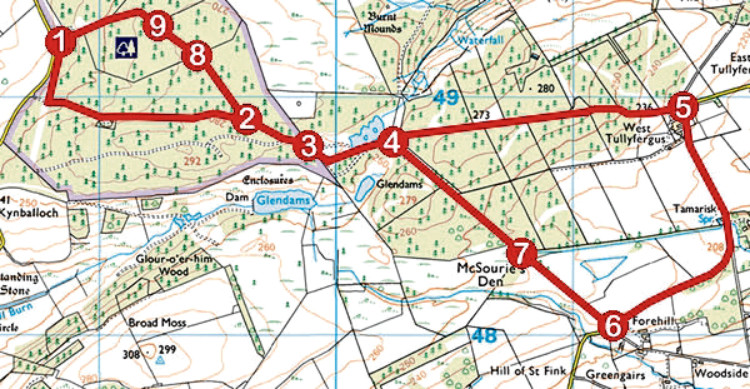 ROUTE
1. From information board, follow waymarked path, parallel with power line initially, south to junction. Turn left and proceed east through forest, passing disused quarry.
2. Ignore path branching left and continue ahead, following waymarker arrows at next junction to fence. Go right by fence, dipping to cross drainage channel, then bear left, ascending to gate.
3. Go through gate, bear right initially then go left through deciduous woodland, passing pond, to signed junction.
4. Go through metal gate and follow track (signed West Tullyfergus) east to meet road.
5. Turn right (signed Drimmie Woods) and follow minor road 1.28km to Forehill.
6. Turn right (signed Drimmie Woods) and ascend track.
7. Where track swings left, continue ahead on path, passing through gate, to signed junction at point 4. Turn left and retrace steps to point 2 then fork right.
8. At crossroads, go straight ahead to heathery clearing.
9. Bear left along edge of clearing then swing left, descending break in trees to car park.
INFO
Distance: 7.2km/4½ miles
Ascent: 160m/530ft
Time: 2 hours
Grading: Easy low-level route following paths, tracks and a stretch of minor road through forestry and farmland with some well graded ascent. Some sections can be muddy underfoot so stout, waterproof footwear recommended. Keep dogs under close control where livestock is encountered
Start/finish: Small track-end parking area 3.5km north of Blairgowrie (Grid ref: NO 188492), accessed by single-track Bonnington Road
Map: Ordnance Survey 1:50,000 Landranger sheet 53; Ordnance Survey 1:25,000 Explorer sheet 381
Tourist Information: Perth iCentre, 45 High Street, Perth PH1 5TJ (Tel 01738 450600)
Public transport: None