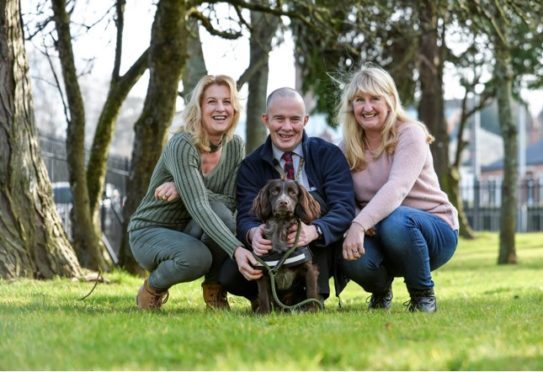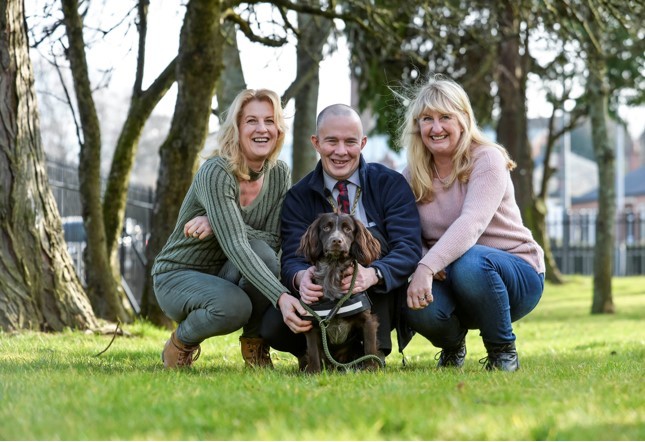 A young Angus pup has given a troubled former soldier a new lease of life.
The Kirriemuir sprocker spaniel was one of a litter of 11 puppies which surprised and delighted former Angus policewoman Jacqui Low when they arrived a couple of months ago.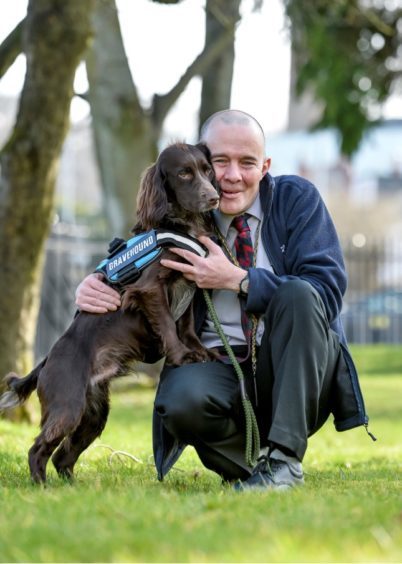 Jacqui was keen to help the Bravehound charity which trains companion dogs for veterans to help them make what can, for some, be a difficult transition into civilian life.
All the Bravehound dogs are named after recipients of the Dickin Medal – regarded as the animal world's Victoria Cross – and the Angus dog is to be called Antis, after a German shepherd which received the honour for Second World War gallantry.
The pup's new companion is Tommy Masters who has struggled since leaving the army and has battled alcoholism and PTSD after being medically discharged.
He said: "It's been really hard to adjust to society.
"You can't find the same comradeship when you come out, so I struggled for a long time, thinking that there was nobody to help me.
"We're going to have so many good times together — it's just given me a new lease of life."
Bravehound's work helps veterans who may be struggling with issues such as PTSD, and for whom canine companionship can be a huge benefit, promoting regular exercise and routine.
Jacqui said: "Hankies were required again when I saw the huge smile on Tommy's face and him saying he felt pride again which was something he hadn't felt since leaving the army.
"I also had the pleasure of meeting the daughters of Robert Bozdech who was the Czechoslovakian airman who found and cherished the original Dickin Medal Winner German Shepherd Antis who flew sorties in his war plane with him.
"Tommy had me in tears again when he presented me with a beautiful Welsh slate plague of a picture of Antis.
"I'm sure Antis will bring Tommy lots of joy and companionship with a bit of Sprocker naughtiness along the way."
How Antis got his name
Discovered as a puppy by two Czech airmen who crashed in no-man's land between French and German lines, the original Antis was in such an emaciated condition that they thought putting the dog out of its misery was the most humane thing to do.
But they could not bring themselves to kill the pup and took him back to their base.
One of the airmen, Vaclav Bozdech, then took the dog aboard his aircraft on combat missions, and Antis also later sailed on board the MV Northmoor, having been smuggled on board the vessel for a journey from Gibraltar to Britain.
The ship came under both submarine and aircraft attack, but Antis survived and was then also smuggled into Britain by his owner, where they joined No. 311 (Czechoslovak) Squadron and the German shepherd assisted in searches of air raid survivors, as well as continuing to fly in combat missions.
Bozdech and his faithful pet returned to Czechoslovakia, but when they had to flee persecution in 1948, the brave dog guided several people around searchlights and through machine gun fire to cross safely into West Germany.
Antis was formally recognised for his heroics in with the award of the Dickin Medal in 1949, two years before Václav Bozděch became a British national, and they remained loyal companions until the dog died at around the age of 14.