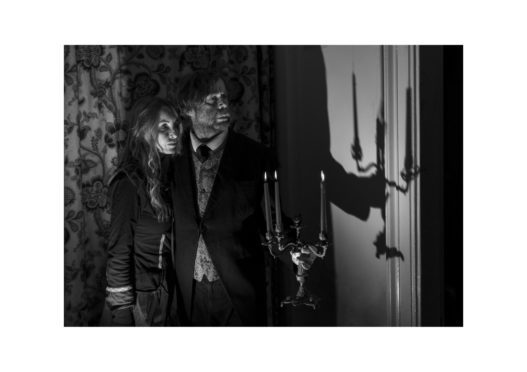 A husband and wife team have been uncovering first-hand accounts of the paranormal in Arbroath including stories of "inexplicable activity" and "disembodied voices".
Jilly Henderson and Neil Paterson have been researching the darker side of the town's past after announcing an extended run of Edinburgh-style 'Bespooked' ghost walks following phenomenal demand.
Bespooked will be running both their family friendly and their darker spooky walks through the year with a walk and meal at Bon Bon's in Arbroath planned for the Taste of Angus Food Festival in March.
"We have been uncovering first hand accounts of the paranormal in Arbroath," said Jilly.
"In some cases people have been coming forward with stories of inexplicable activity in their workplaces — in buildings which have turned out to have been built on older sites related to the ancient abbey.
"In a busy High Street store we have many reports of hauntings — staff being terrified by unseen children trying to grip their hands or clothes, products being thrown off shelves when the premises are closed overnight, disembodied voices and more.
"In another instance, a gruesome murder in Ladybridge Street that we had been researching has turned out to be the site of recent ghost sightings.
"A little girl standing where there once was a house but is now a pavement open to the skies."
Jilly said the town's historic abbey has also proved to be a hot-spot for supernatural occurrences.
She said: "Tales of ghost monks have been reported for years, but our investigations have turned up stories of unexplained lights, voices and terrifying poltergeist activity around the old Abbey precinct when the visitor centre was being built.
"We are very grateful to all our contacts for passing on their stories and we look forward to presenting our new 'adults only' extra-spooky night-time walks based on our new evidence.
"There will still be an emphasis on the history of our very important town, but also more tales of the paranormal."
Ghost walks planned for 2018 include a Solstice ghost walk in June, two ghost walks planned for golf's Open at Carnoustie, a Corn Moon ghost walk in August, and in November a 100th anniversary commemoration walk telling stories of the two world wars.
The couple have also been approached by the Alyth festival to produce a ghost walk for them while Monikie Park have been in touch about walks for their Halloween festivals and the Webster Theatre in Arbroath are interested in doing some collaborative work.
"We've been absolutely overwhelmed at the response to the Arbroath ghost walks," said Jilly.
Full details can be found on their website and Facebook page.