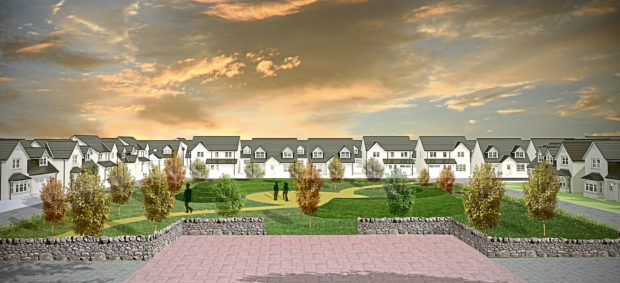 A housing development in Broughty Ferry is to be expanded by 100 homes after a decision to block planning permission was overturned.
The application for houses at Linlathen Road, an extension of a 150-home development already under construction, was rejected by Dundee City Council in January.
Developer Kirkwood Homes appealed and a Scottish Government appointed reporter has now overturned the refusal.
Concerns had been raised about a lack of community facilities around the development, as well as fears over increased pressure on local roads and schools, leading to councillors voting against planning permission.
Reporter Allison Coard visited the site and said the concerns did not justify a refusal as there was capacity for 250 houses.
She acknowledged there was an issue with traffic congestion but said this had been addressed in the planning application.
The report said: "I appreciate that the surrounding road network is congested and that bus provision would help mitigate the impact of further traffic.
"However the layout enables bus access,  safe routes linking to the existing network are demonstrated and the specified road mitigation measures are already secured.
"On that basis and having considered the conclusions of the submitted transport statement, I find nothing to indicate the proposed 100 houses would have an unacceptable impact on the road network."
Ms Coard did add a condition saying the developers must contribute financially to expanding school provision in Broughty Ferry.
She added: "My conclusions establish the need for a contribution to education provision.
"The council's guidance indicates a contribution based on £4,989.68 per house to address education constraints in the catchment.
"The evidence provided indicates that Forthill Primary School is potentially approaching capacity.  The local development plan requires financing of additional pupil places to enable education capacity to be increased accordingly. The appellants have confirmed agreement on this basis."
It comes after the first phase of the development was also rejected by the council, for similar reasons, then overturned on appeal.
Last week The Courier reported that budget supermarket Aldi had won an appeal to build a shop at nearby West Pitkerro Industrial Estate.
The original application was rejected by the council because the three-hectare site had been reserved for industrial use, rather than retail.
Concerns were also raised that the store would drive customers away from shops in the heart of Broughty Ferry. But the Scottish Government reporter said there are no preferable sites for the £4.25 million development, which will create 35 full-time jobs.