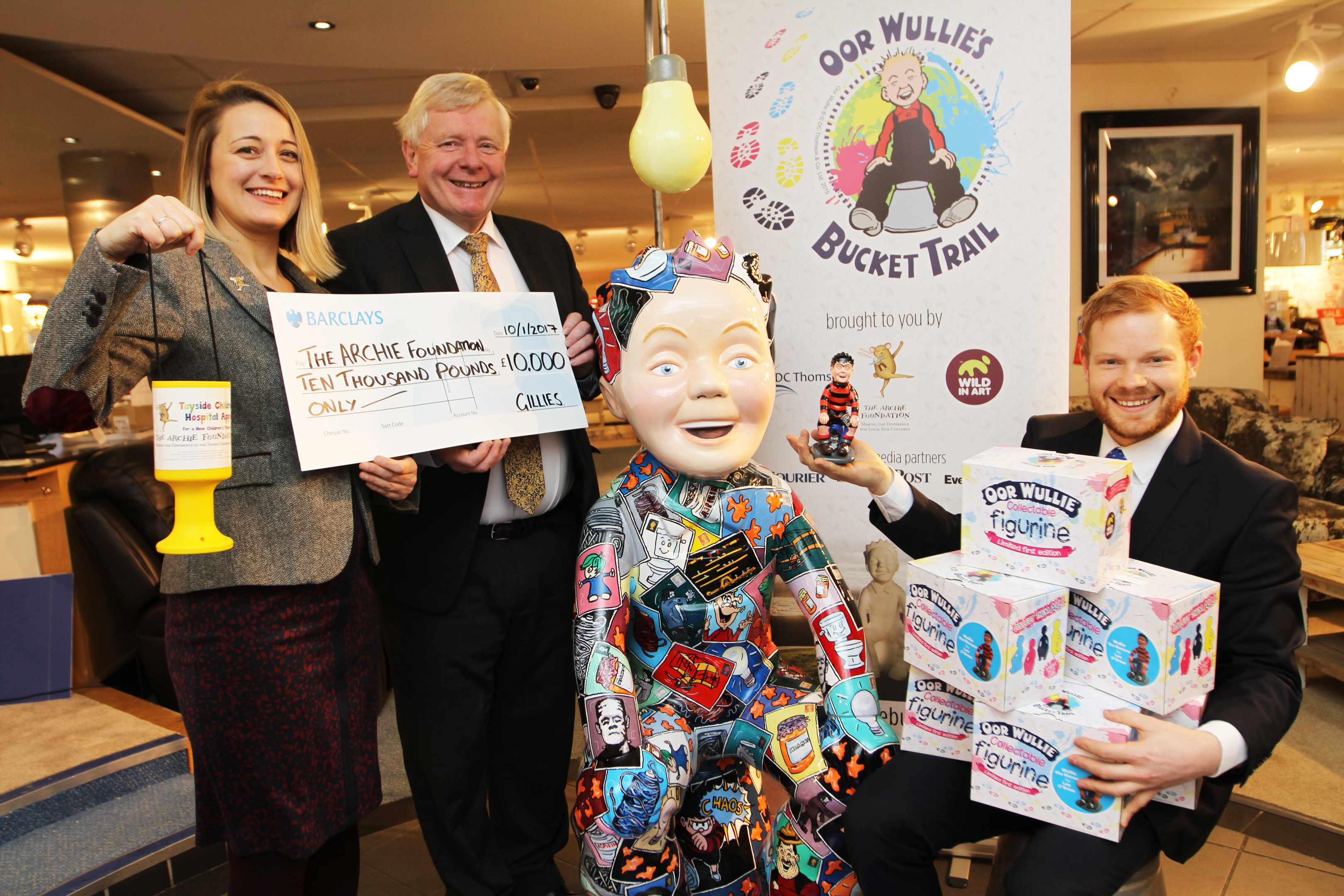 A Dundee family business has handed over £10,000 to the Archie Foundation following their Oor Wullie-themed Christmas window appeal.
Gillies furniture store, based in Broughty Ferry, presented the cheque on Tuesday morning.
Each year the firm decks out its premises in festive decorations, with the recent addition of a charity collection box for anyone wishing to donate.
In 2016, the appeal supported the Archie Foundation, the official charity of Tayside Children's Hospital, which is fundraising for a new children's operating theatre suit.
Gillies marketing director Ewan Philp said: "We have been doing the window display for many years now, and it was in the past eight years that it really started to get big.
"We have a different theme each year, for example in recent years we've had a transport theme with a Discovery boat, train and sports car display.
"This year we decided to go with Oor Wullie given the popularity of the Bucket Trail.
"We had an Oor Wullie statue on display and various merchandise for sale.
"The Archie representatives were delighted when we handed over the cheque.
"They were overwhelmed by the amount raised. This was down to the generous members of the public and the community.
"We would like to thank them for all their help and support.
"Altogether we raised £10,000 from donations and  merchandise sales, which we were really pleased with."
Ewan added that the window display tradition has become bigger and bigger each year, and that the company has already started working towards next Christmas's display.
He said: "Of course, it's top secret as it has to be a surprise.
"It will be revealed in mid-November but until then we can't say much."
Cassie Thompson, Director of Fundraising for the Archie Foundation, said that the amount raised surpassed all expectations.
She added: "We were astounded by the amount raised for the Tayside Children's Hospital appeal.
"It was far more than we expected, so we are delighted.
"We would like to thank Gillies and all of their customers who donated."