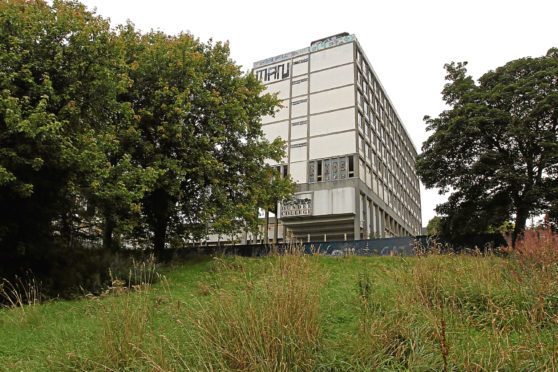 Plans to "revamp" the derelict college tower on Constitution Road in Dundee into high quality rented apartments have been given the go-ahead for the second time.
Permission to convert the high-rise building was originally granted in 2016. After the latest decision, it will be transformed into 111 single and double room serviced apartments.
Dundee City Council's planning committee – recently renamed from the development management committee – approved the proposal by 22 votes to five at a meeting last night.
Voxcap Investments, the Edinburgh company behind the development, hopes to attract young graduates and new professionals in the city – sometimes regarded as so-called "generation rent" – who would rent out apartments in the fully managed complex.
As well as offering secured entry and exit points, an on-site concierge and off-street parking, Voxcap representative Eve McCurrich said there were plans to convert the former lecture theatre into a space capable of acting as a private residents' cinema or even open art space.
Company director John Shepard, who was part of the deputation last night, explained that following the Brexit vote in 2016, investors for the former Dundee College campus site re-evaluated their backing, causing the planned works to stall and a redesign to be submitted in October last year.
The site has, in recent years, become an "eyesore", with graffiti sprayed on its external walls.
The developers have promised to keep the main concrete structure, but re-clad and rework the external features of the building as part of the work.
Mr Shepard said the development's core and target market would be: "Graduates and people in new jobs, people who the city wants to retain after they finish university."
Members voted in favour of the development after Councillor Mark Flynn put forward an amendment to refuse permission, citing the single bedroom properties as too small and inadequate parking provision, which was defeated.