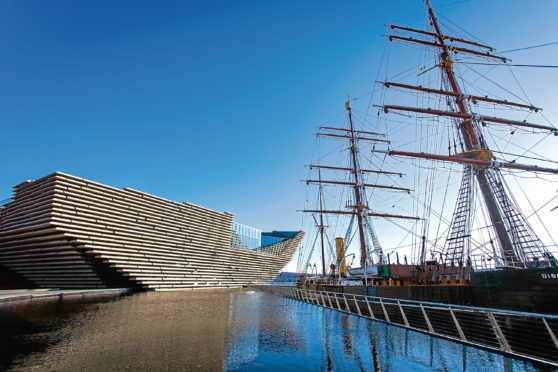 Anti-poverty campaigners in Dundee are planning to protest the opening of the V&A on September 15.
Around 20,000 people are expected to attend the two-day 3D Festival celebrating the opening of the museum – with hotels across the city already said to be almost fully booked.
Ten thousand people will attend a concert in Slessor Gardens on Friday September 14, the evening before the museum opens to the public.
The Kengo Kuma-designed museum has also been credited with creating a surge of interest in Dundee at home and abroad, with the city listed as one of the world's must-see destinations by publications including the Wall Street Journal and Vogue.
V&A opening festival promises to alter perceptions of Dundee
It has been predicted that the museum will bring an additional 500,000 visitors to Dundee each year.
This is expected to deliver a boost of nearly £6 million to the economy each year and support up to 900 jobs in the city.
But anti-poverty group Unite the Community Tayside is planning a series of protests across Dundee in the run-up to the museum's opening and on the day.
A spokesman said: "Economics based on bars, restaurants, cafés, museums and visitor attractions are firmly based on low wages in Dundee and across the globe.
"The meeting agreed to approach Dundee's Fairness Commission to ask it to conduct a forensic analysis of where exactly the money goes when the V&A museum opens."
He added: "It is not anticipated that wages and secure employment would suddenly be booming and this directly attacks the SNP council's arguments for this form of economy.
"To this end the meeting resolved to organise a protest on the day of the V&A opening.
"Banners will draw attention to the shocking levels of child poverty, food bank usage, benefit problems, low wages and drug deaths in the city.
"Anticipating attempts to restrict and limit our rights to so demonstrate, the banners will be raised in areas of the city associated with poverty in the build up to opening and we call for the fullest support for our protests."
Dundee hotels close to fully booked as city prepares to cash-in on V&A opening
The meeting of Unite the Community Tayside involved activists from groups including Dundee Against Austerity and the Radical Independence Campaign.
The body has previously campaigned against cuts to council budgets.