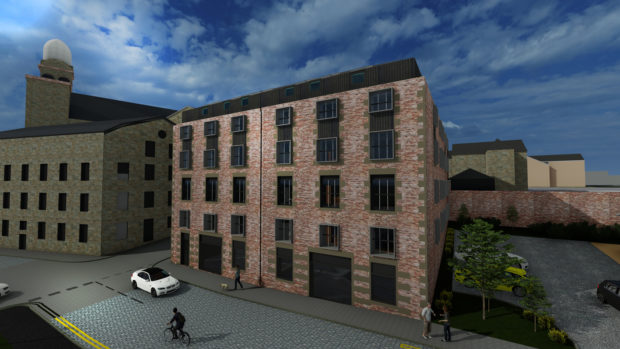 Stobswell residents have welcomed plans to turn one of Dundee's oldest jute mills into a luxury apartments complex.
The derelict Lower Dens Works, at the corner of Constable Street and Dens Street, will be turned into 24 flats if Dundee City Council gives the project the go-ahead.
Brunton Design have submitted a planning application to the local authority on behalf of Stables Development LLP and are awaiting the decision.
The new complex, beside Indigo Hotel, would comprise 19 private residential flats and five serviced apartments.
David MacDougal, vice-chairman of the Stobswell Forum, said: "We have had positive feedback about this and we can't see any grounds for objection.
"It is a very well-developed project and will complement the Indigo Hotel.
"At the moment guests staying there are confronted with a derelict building nearby, so it would be good to have it re-developed.
"It's great to see what can be done with an old building."
The building, dating back to 1828,  was originally a flax warehouse and formed part of Baxter Brothers' Dens Works, the biggest linen mill in the world.
It has since been used by a number of businesses, including Blackscroft Auto Centre, but has been in a state of disrepair for some time.
Frances Strachan-Friar of Brunton Design said: "We have worked closely with planning officials and Historic Environment Scotland.
"They were all keen to see the building re-used and could not have been more helpful.
"The proposals preserve the historic character of the building and aim to give it a new financially and economically viable use."
The five-storey building will have a central courtyard, parking and a new entrance hall featuring refurbished mill machinery.
Large "loft-style" units on the top floor will have uninterrupted views over the Tay estuary.
Ms Strachan-Friar added: "We have produced a proposal for a sustainable and viable conversion restoring a number of the original elements of the building which we believe will retain its historic character whilst ensuring that it remains a key part of Dundee's industrial heritage."