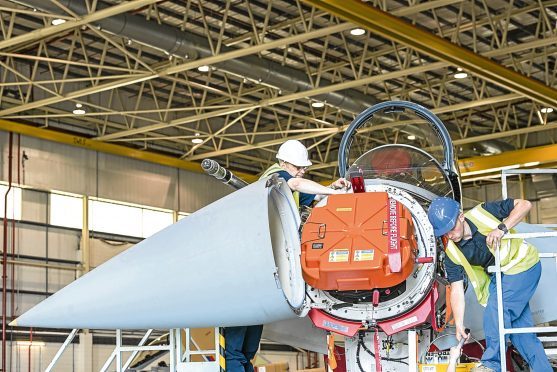 A number of highly skilled Fife jobs are under threat amid plans by BAE Systems to cut almost 2,000 posts around the UK.
It is thought 14 positions could go at the military contractor's Hillend site – a cut of around 10% in the 110-strong workforce.
The company has outlined plans to shed more than 1,900 jobs in its military, maritime and intelligence services as part of a programme to streamline its business.
Last night Kirkcaldy and Cowdenbeath Labour MP Lesley Laird called on the UK government to step in to save the Fife jobs.
She said: "BAE Systems is an important employer in Fife and a key player in the region's technology and engineering sector.
"At the heart of this announcement is the complete failure of this Tory government to produce an industrial strategy that invests in the talents of our workforce so that we are more self-sufficient and fit to meet the challenges of the future.
"The Government must urgently address the uncertainty that is clearly felt within the industry by coming forward with a coherent plan to save these jobs. This must include the possibility of accelerating orders to provide additional work for BAE's employees."
She said she would now be seeking clarification from BAE Systems and has asked the Scottish Secretary what further action he is taking to protect defence and manufacturing jobs.
BAE's biggest cutback is in the military air business, with 1,400 jobs set to go across five sites over the next three years, including Lancashire where the Eurofighter Typhoon aircraft are assembled.
Under the plans, jobs will also be cut in East Yorkshire and at RAF bases in Norfolk and North Yorkshire.
Around 375 proposed redundancies in BAE's maritime servicing and support business, mainly affecting Portsmouth, were also revealed.
More jobs will go from the company's cyber intelligence business in London and Guildford.
BAE's chief executive Charles Woodburn said organisational changes would ceate a more streamlined organisation, with a sharper competitive edge and a renewed focus on technology.
He recognised redundancies would be "difficult news" for some employees and said the firm was committed to supporting those affected.
Unite vowed to fight what it called a "devastatingly short-sighted decision", claiming job losses would undermine Britain's sovereign defence capability and devastate communities.