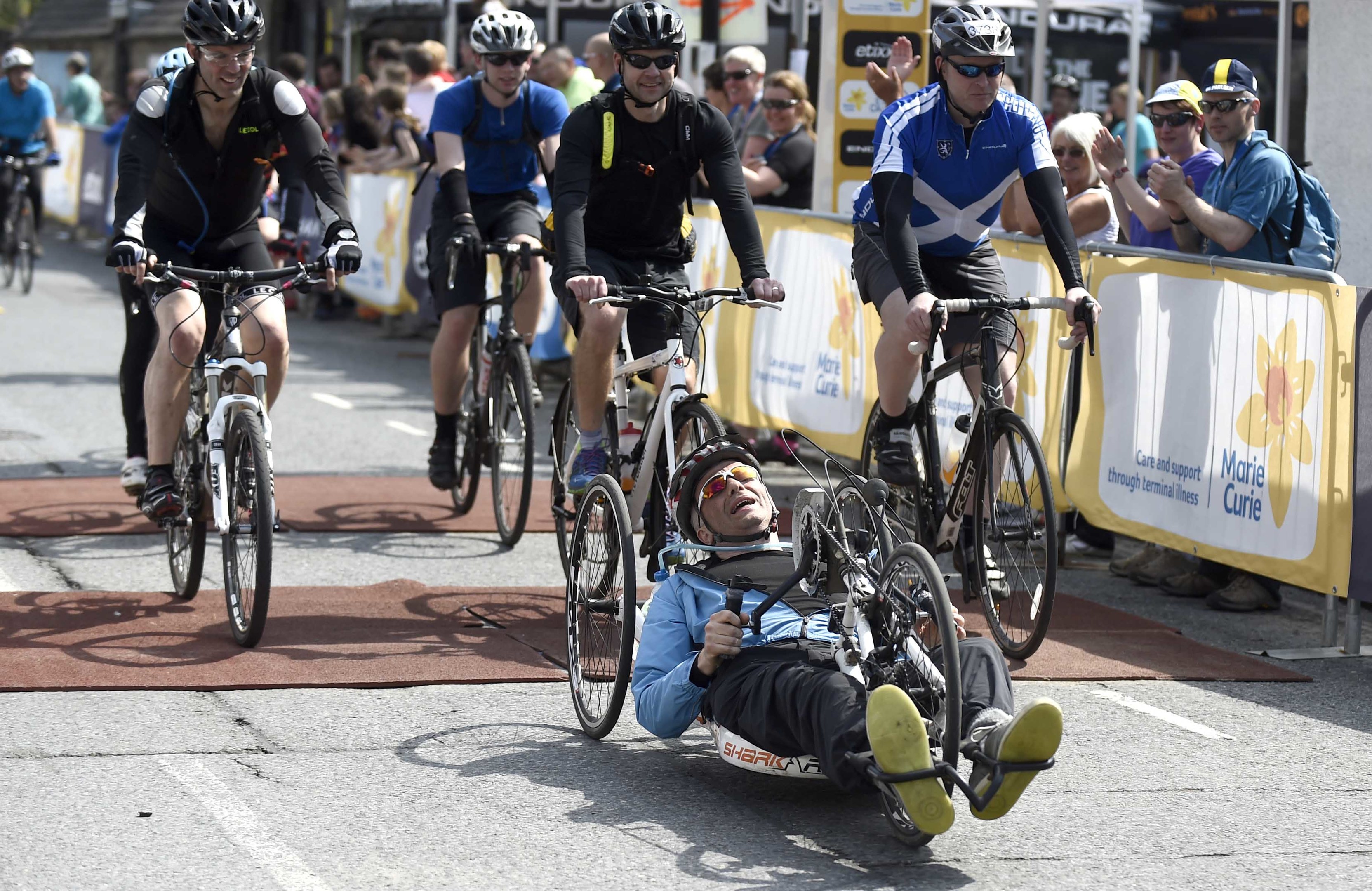 A cyclist who was paralysed from the waist down by a rare medical condition said crossing the Etape finishing line on a hand-powered bike was an "emotional" experience.
Marcus Brook became the first person to take part using a handbike, completing the course in a time of six and half hours.
Almost two years ago the 49-year-old lost the use of his legs after suffering a spinal stroke. He began using a handbike in October.
Marcus said he and the three friends who accompanied him – Crawfurd Hill, Kevin Hall and Nicholas Russell – had a fundraising target of £5000, but said he thinks they have "blown that out of the water".
Yesterday the father-of-two said there were times he thought he would never complete the gruelling course.
He said: "The biggest problem (in doing the Etape on a handbike) is the climbs.
"With a normal bicycle you are pushing down with your body weight on the pedals, so going up a climb it is still hard work but with a handbike you can't use any of your body weight – it's just whatever your arms can generate. And your arms are just tiny wee things compared to your legs.
"Schiehallion was hell but the worst bit was a climb into Logierait – there was just nothing left in my arms after that.
"At one point I nearly didn't think I'd make it. The pedal on the left hand side came off and one of the police bikers stopped and fixed it for me, so I'm very grateful to him, but when we got going I just didn't feel right – I felt tired because we'd stopped and I'd cooled down.
"I got halfway up Logierait hill and I had to stop – and I've never done that before."
He joked:"If anybody sees me in a pub in six months' time and I'm talking about cycling – because that's what happened six months ago – and we say 'let's do it again',  they have to remind me about today.
"I'm going to do it again though – I'm an idiot."