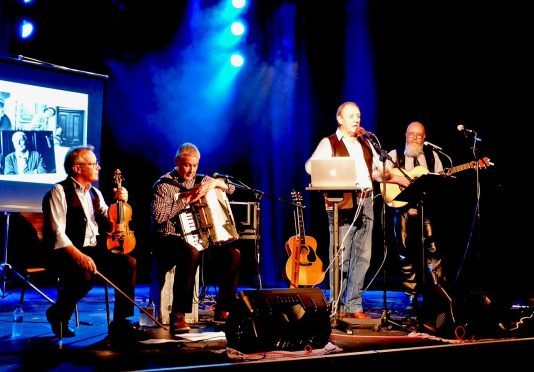 Four of Scotland's top folk singers and musicians are recreating the Scottish folk scene of the 1960s and 1970s with the return of an Auld Hat New Heids concert in Perth on November 21.
Pete Clark, Gregor Lowrey, Fraser Bruce and Ian Bruce took a chance with the venue last year and had a great night with a great audience.
Since then they've had considerable success at theatres up and down the country – including a sell-out concert at the prestigious Celtic Connections Festival in Glasgow in January and two 'full-house' concerts at the Edinburgh Fringe Festival.
In July they issued their first CD as a group, although between them they have well over 30 albums and have played on many more as support artistes.
Fraser said: "During the 1960s/70s there was a folk club in practically every town in Scotland , packed with people laughing and singing along to the songs they knew so well. These days have long past but folk music survives no matter what."
Fraser Bruce became involved in folk music back in the 1960s as both a performer and an organiser.
At one time he ran eight folk clubs and also a couple of festivals.
In the 1980s he sang with his brother Ian Bruce and this was very successful with the boys touring in many countries and releasing three albums as Mrs Bruces Boys long before the currently very popular TV series, Mrs Browns Boys  was even thought about!
However , the travel became too much for Fraser and , in 1986 , the boys did a farewell tour down the east coast of America and then Fraser gave up music completely to concentrate on running Specialist Concrete Repair Company.
Ian continued as a solo artiste and has now released well over 20 CDs .
In 2014 , Fraser took a step back from business and decided to return to music.
Firstly he worked as a solo artiste , then a couple of festivals with his brother as 'Mrs Bruce's Boys' , but the enthusiasm wasn't there. He had to find another challenge.
Neither were there the number of folk clubs running. So the boys had to find another outlet so they teamed up with two of Scotland's finest musicians:- Pete Clark (fiddle) and Gregor Lowrey (accordion) to form Auld Hat New Heids –  and it has been hugely successful.
"This year alone we have appeared at nearly 40 theatres/arts centres and released our album Auld Hat New Heids Volume One," added Fraser.
"The show will take you back to a typical early days Scottish Folk Club: lots of fun and humour , superb instrumental accompaniment and two strong harmonising voices.
"The audiences love it and join in immediately the show starts. There is a slide show to help illustrate the songs , their artistes and , fairly often , their words."
*Auld Hat New Heids, The Soutar Theatre, AK Bell :Library, Perth, November 21