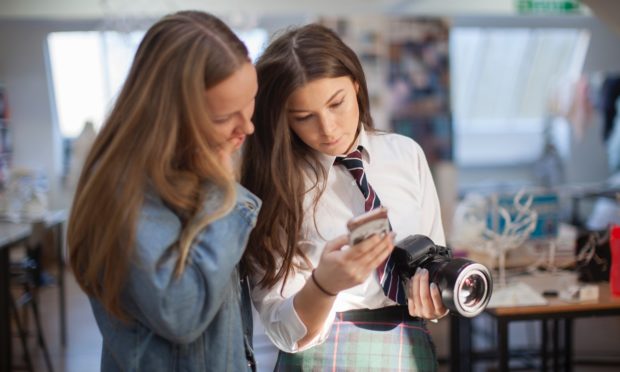 A top Perthshire school has rejected the growing trend of banning mobile phones in the classroom.
Morrison's Academy has decided to go in the opposite direction, encouraging students to embrace smartphones and digital technology, to promote "collaboration, curiosity and critical thinking".
It comes after Glenalmond College, also in Perthshire, announced last month that it would introduce a permanent ban on mobile phones, following a trial that showed it helped pupils concentrate on their work.
A similar ban was introduced at Kilgraston girls' school in Bridge of Earn last year. Principal Dorothy MacGinty said the move had been a huge success, "like going back in time".
But bosses at Morrison's – whose alumni includes actor actor Ewan McGregor and Olympic curler Eve Muirhead – say locking phones away would be a mistake.
The school's digital strategy coordinator, Pamela Boal, said: "Rare is the modern-day workplace without e-mail, social media, mobile phones and collaborative working apps.
"All the harms and distractions that technology presents inside school, exist outside it, and to remove devices altogether ignores the many undoubted benefits they bring."
She said: "These young people use technology to support and expand their real-life relationships. As teachers and parents, it is our responsibility to help them learn to navigate the risks and reap the benefits.
"Moreover, removing technology from our teenagers' pockets does nothing to ensure they are able to cope with using it once they leave our schools."
VIDEO: 'We're chatting more, having more fun' – Here's what pupils think of Perthshire school's mobile phone ban
Rector Gareth Warren added: "In our primary school we already collected mobile phones in at the start of the day, but we never considered a ban for secondary pupils.
"We realised some time ago that for our pupils to succeed once they leave school, they will need to know how to navigate a technologically-driven world.
"Rather than choosing to ban digital devices, we decided to focus on educating pupils to use technology in a responsible, proportionate way."
He said the school had invested "significantly" in its digital infrastructure, adding: "By effectively promoting the responsible use of devices and software, we can facilitate learning whilst preparing them for the technologically-driven world in which they will live, learn and work."
Kilgraston previously insisted that its experiment had led to positive results.
"It has been a great success," said Mrs MacGinty. "I was expecting a bit of backlash and for the older girls to ask for their phones, at least during lunchtime, but I've had no complaints.
"The girls are saying they have got to know girls in other years better and are talking more in the common room."