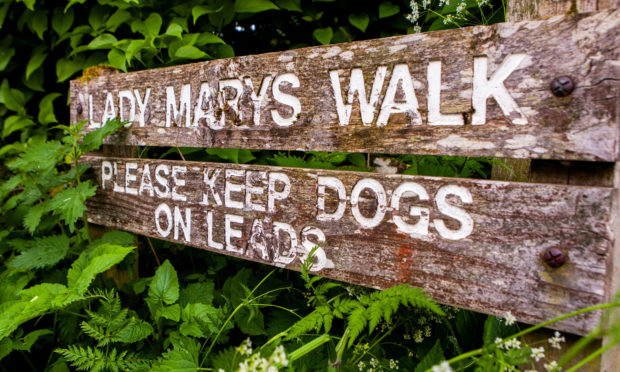 Sun-seeking drinkers have been accused of ruining a beauty spot in Crieff after leaving smashed bottles and cans in their wake.
A father and son from the town have complained that drinkers and dog walkers are destroying the environment at Lady Mary's Walk, by failing to pick their rubbish up after them.
Graeme Roy said he discovered a terrible mess last week when he was walking his dog along the riverside path.
Mr Roy said broken bottles had been left strewn across the path and by the water's edge, along with general rubbish and bags of dog waste.
"There were empty beer cans and bottles lying everywhere," he said.
"Some people in this place are disgusting, between rubbish, broken glass, bags of poo and general laziness regarding access points, walks are becoming much less enjoyable."
Graeme's dad, Chick Roy, said the problems had become so bad that he had taken it upon himself to carry out a litter pick in the area at least once a week.
Mr Roy Sr, who walks his dog in the area every morning, said: "It's unbelievable the mess that is left behind.
"I don't like to cast aspersions on the younger generation but they're taking down their barbecues, bottles and cans and turning it into less than a beauty spot.
"It's particularly bad after a nice summer night."
He said he had decided to start picking up the litter himself after accepting that the people who were leaving it behind did not care enough to change their ways.
And he urged others in the town to do their bit to protect the popular beauty spot.
He said: "I think it's indicative of society in general.
"I don't know what it is about the groups that are doing it – they just have no respect for the countryside.
"I don't think that there's anything that can be done apart from going around and picking up other people's litter."