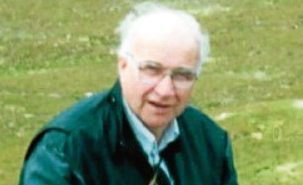 Forfar farmer Donald John Cameron Robertson has died at the age of 82.
Mr Robertson was passionate about farming, flying, the hills of Rannoch and sea swimming, and unlike many men of the soil he didn't farm the same land all his life.
His family had hill farms near Loch Ronnoch for almost 60 years and on leaving Breadalbane Academy he took over the tenancies of Aulich on the shores of the loch, and Dalreoch, where blackface sheep were the main enterprise, then in 1951 he bought Garrique and Burnfoot farms at Kippen in Stirlingshire.
He and his brother Willie started a drainage business and travelled the country draining and ploughing in preparation for commercial tree planting.
In 1969 he bought his own airplane and drew up plans to build a runway on Garrique.
In 1971 the family moved to the 300-acre Baldardo overlooking Rescobie Loch that had been owned by the Smedley frozen foods family.
His son Andrew said: "All his life my father had a thing about farming in Angus.
"He wanted out of the rain in Stirlingshire, so the first chance he got he moved over.
"He threw himself into learning about growing raspberries and strawberries and took over a herd of 80 hill cows that were kept outdoors all year round, and he'd go for a dip in the sea near Arbroath at any time of the year.
"He never regretted leaving Stirlingshire, but his heart was in the hills and Loch Rannoch, especially as he grew older."
Mr Robertson was predeceased by his wife, Pauline, in 2006 and is survived by his sons Andrew, Duncan and George, and daughter Mhairi. His funeral is on Monday at noon in Rescobie Church, Forfar.