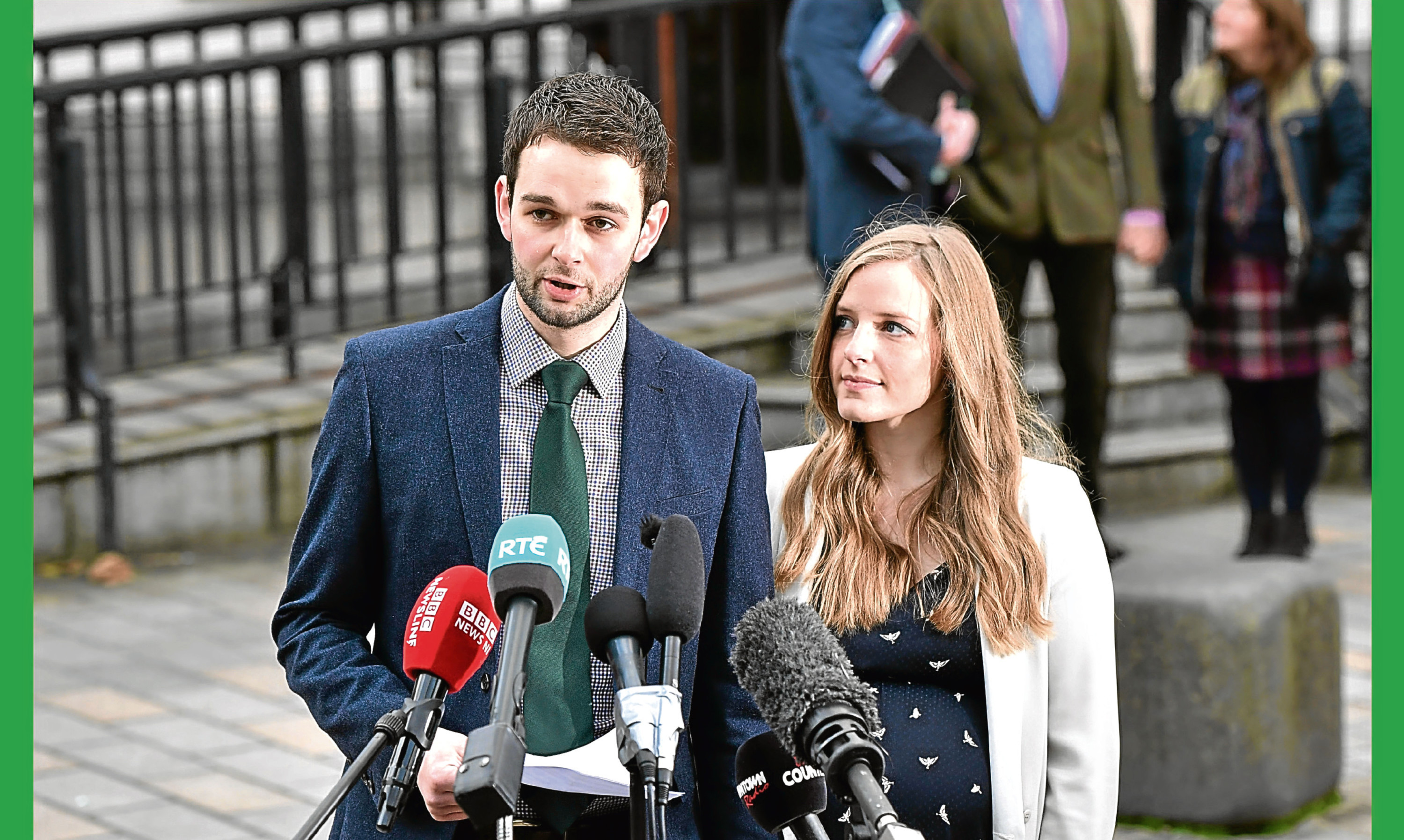 Sir, – I write with reference to the Ashers bakery court appeal. The Courier poll asked (October 25): should business owners have the right to refuse customers based on their sexuality?
But this question fails to address the serious issue of the court case.
The bakery was asked not merely to serve a customer with one of their products, but, at the customer's request, to produce a cake which promoted same-sex marriage.
Unless it is changed, the court ruling heralds a dark day in British history because Christians, for example, will be forced by law to supply products which promote a cause they oppose, based on their beliefs.
And history also tells us that many people do not comply. They choose to suffer prison or even death, rather than dishonour God and suffer the torment of a grieved conscience.
Such is their love for God, the power of their faith and of a well- developed conscience in a good person.
All this would suggest that, in today's moral climate, there is a danger that our equality laws are not leading in the direction of freedom at all, but rather to a highly- controlled regime.
Stuart Wishart.
12 Walnut Grove,
Blairgowrie.
Focus on local food security
Sir, – With reference to the letter, Diversification of Income (October 22) by the SRUC, I agree this has long been a necessity for successful and sustainable farming in order to survive.
Having access to a local workforce which has had some training in the diverse practical and manual skills required for working with the land and livestock is vital to achieving that aim.
The SRUC is the obvious place for our lads and lassies without academic ambitions to be given the tools which will allow them to take a different route and become the real stakeholders in producing quality food to sustain themselves in their own environment.
For 50 years now, billions of pounds have been spent on research projects which have taken place the world over with the lofty aim of providing global food security. Perhaps the mantra should now focus on local food security.
Marion Lang.
Westermost,
Coaltown of Callange,
Ceres.
An enemy of democracy
Sir, – Two tactics used by those wanting to overthrow constitutional democratic governments are to misrepresent reality and falsely to label as undemocratic actions which are clearly consistent with democratic politics.
In his letter (October 22) accusing the Scottish Government of trying to impose a dictatorship, Angus Brown, unwittingly, I hope, makes himself into an enemy of democracy.
First, his assertion that "the circumstances of the 2014 referendum vote have not changed", is a blatant denial of election results and, above all, Brexit.
Secondly, describing facilitating the possibility of another popular vote as "a serious threat of a dictatorship" is the sort of misrepresentation which undermines our political process.
I hope unionists will shun Mr Brown's points. They have plenty of substantial arguments to use without descending to the level of his.
Gordon Dilworth.
20 Baledmund Road,
Moulin.
Step up flights to Amsterdam
Sir, – I am glad to see the Dundee to Amsterdam flights are working.
Might I suggest that FlyBe introduce a mirror rotation so that as one flight leaves Amsterdam, another is also leaving Dundee and vice-versa. This would allow for a huge number of connecting flights through Amsterdam and avoid the Heathrow bottleneck. To make the possibilities even wider, go for Frankfurt as the second hub destination.
Perhaps Dundee could then be marketed as "open to Europe, open for Europe".
John Rigg.
Blackness Road,
Dundee.
Let all Britain pull together
Sir, – Is it not time for Scotland to give serious thought to the consequences of another independence referendum, or, alternatively remaining part of the UK?
The UK voted to come out of Europe for many reasons, among which was, primarily, to gain control of the running of our country. With Nicola Sturgeon proclaiming her intention to hold a second referendum, let us, instead, pull together as a United Kingdom of Great Britain, for which the rest of the world has great respect.
Theresa May has stated her intention to put right many of the injustices in our society, not least the frightful gap between the earnings of the rich and poor.
I am proud to be a Scot but this is not the time to even think about breaking up the UK.
Ian I Gordon.
Woodbank,
Riverside Road,
Blairgowrie.
Not all fault of London Tories
Sir, – A Labour councillor resigning to be able to fund her children's education and an SNP MP interested in buying a castle. But it's all the fault the nasty Tory Government in London, of course. Hypocrisy laid bare in my book.
John Justice.
20 Staffa Place,
Dundee.
Injustice in Kinnesswood
Sir, – When Deputy First Minister John Swinney MSP announced at the SNP conference that he was leading a local government review it appeared a breath of fresh air would soon be blowing through council chambers.
He said: "We believe the best people to decide the future of our communities are the people who live in those communities; we will trust the people to make the big decisions about their future."
How disappointing then was the planning decision to approve the part demolition of the Lomond Inn in Kinnesswood and replace it with five large new houses (October 25).
All three local members of the Perth and Kinross development management committee, including an SNP councillor, spoke out and voted against this project.
They reflected the opposition of Portmoak Community Council, other organisations and many local residents.
No representations were made in support of the application.
The committee convener, SNP Councillor Tom Gray, a farmer from Braco, many miles away from Kinnesswood, seemed unconcerned that the proposed new housing would breach various council policies and dismissed all suggestions that the open space adjacent to the inn, at the heart of the village, could be put to better use.
Dave Morris.
2 Bishop Terrace,
Kinnesswood,
Kinross.