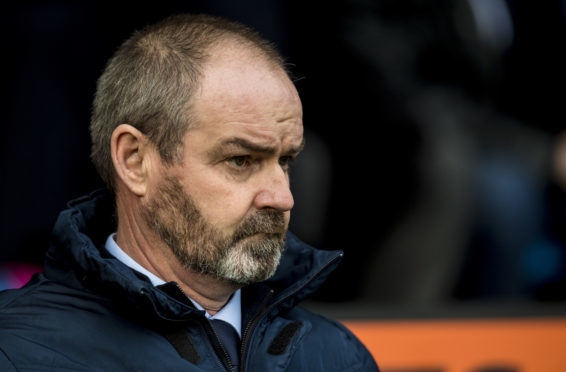 Madam, – Scottish society is indebted to Kilmarnock football manager Steve Clarke and his forward Kris Boyd for going where football authorities won't and daring to speak out against sectarianism.
For far too long now, those who govern Scottish football and who own Scottish clubs have shirked their responsibilities to get their own houses in order by deeming football ground sectarianism a societal problem.
Clarke expressed relief that by coaching Chelsea for years and laying roots in West London, his children and grandchildren are hundreds of miles from what he described as a "Scottish west coast stuck in the dark age of sectarianism".
And isn't it sad that Boyd, struck by a coin when warming up during a Celtic match, revealed he and other players are forced to regard derogatory comments as "banter which comes with the turf and the pay grade".
Surely, regardless of pay and nature of work, having hordes snarling sectarian abuse should not be seen as an occupational hazard?
If a person is quite rightly charged for a hate crime for using racist or homophobic language, then how on earth can this be acceptable?
I recall some years ago, when working in media in London, some colleagues travelling north to cover an Old Firm match. They would always comment on the passion but also on the poison and hatred. They were bemused and these were hard-bitten hacks who were rarely lost for words or opinions.
Before sectarianism brings Scottish society and particularly the west coast into even more disrepute, it's high time the Scottish Government stepped in.
Ban Orange and Republican marches from town and city centres and disrupting people from going about their normal business; if they must march, then let them do so around some corner of a country field well away from those who want nothing to do with what happened in Ireland hundreds of years ago.
Make sectarian chants and singing as taboo as racist and homophobic abuse.
And if football club owners and directors claim they are powerless to act then encourage them with sanctions.
I'm sure if teams were docked points, had their public entertainment licences withdrawn and lost television and admission revenue by being forced to play home matches behind closed doors, then it wouldn't be long before clubs found the power to tackle sectarianism, and started driving out the bigots.
Jamie Buchan.
Grove Road,
Dundee.
Look again at assisted dying
Madam, – I was saddened to read that Dave Finlayson has now got to the stage of sending his medical records to Dignitas (Terminally ill dad says 'I will have to die early', Courier, February 25).
When will our elected representatives decide to reflect the will of the population at large and legalise assisted dying here? If they would do so, people in Mr Finlayson's position could die at home, with their families around them, when their illnesses become unbearable.
Instead they have to travel to a foreign country – an ordeal in itself for someone who is very ill – and die earlier than necessary so that they are well enough to get there. It is ridiculous.
The SNP's Programme for Government, published in 2016, says that by 2021 everyone who needs palliative care will have access to it.
Sadly that is not good enough. Such care must be offered for as long as an individual wants it.
However, for those who have reached the point of having had enough, assisted dying should be available, as the final part of that care.
Moira Symons.
Tayside Group Coordinator,
Friends at the End.
SNP Budget alternative
Madam, – Re Graeme Strachan's Angus council budget report (Angus residents hit with council tax budget hike, Courier, February 22.)
To suggest the SNP put forward an alternative statement so as " not to be outdone" is quite frankly condescending. In truth the SNP group spent months preparing a fully-costed alternative budget.
Angus council's leader highlighted there were no plans to scrap parking charges in the SNP budget and this went to print unchallenged.
Did Graeme Strachan read the SNP budget? It clearly states the SNP refused to approve car parking charges until a full financial analysis of the scheme is available and they accept this is not a debate for today.
Angus Macmillan Douglas states he will not increase council tax by more than 3% as this is carrying out Scottish Government tax increases for them, again printed unchallenged.
The UK Government has cut the Scottish budget by £2 billion since 2011 and this is the real reason for cuts to council budgets.
Macmillan Douglas is passing on cuts from the UK Government as 80% of council budgets come from the Scottish Government budget.
Jim Stewart.
3 Croft Terrace,
Kirriemuir.
Brexit toll on food sector
Madam, – I was astounded to hear on the radio on Saturday of the problems possibly being presented by Brexit to our meat industry.
The Scottish British Veterinary Association President, Melissa Donald, informed listeners the £30,000 annual wage minimum demanded of foreign workers as a condition of residence in our country, is actually below the present wage achieved by the veterinarians working in our meat industry. Since 95% of them are non-British and, under current legislation ineligible to work here, a few weeks after Brexit our meat will have no veterinarians to supervise and certify all meat and fish products for export.
It all apparently means export meat and fish will end up being badly delayed at the exit ports and may become inedible in the waiting. Inevitably, these products are going to stop moving to our export markets, simply because of a lack of signatures from veterinarians who we will have forced to leave our shores.
I know there must be a plan within our political system to accommodate and solve this.
We have no shortage of MPs in Aberdeenshire and Angus, who are determined to ensure Brexit takes place.
Would one of them please allay my fears by outlining what arrangements have been made for meat farmers to get their products to Europe's markets? One solution is to accord these vets the protection of adding their names and occupations to the Shortage Occupation List and we could keep them. An even more radical suggestion might be to pay them enough for them to qualify financially for residence in the country they have served so well over the years.
Harry Bickerstaff.
35 Davidson Place,
St Cyrus, Montrose.
Jumpers for joy at honesty
Madam, – On Sunday February 24 I parked in Gellatly Street Car Park in Dundee.
While paying I must have dropped a bag with two items of clothing I'd bought in the town.
On returning home I discovered the loss and went back thinking I had seen the last of my purchases.
Imagine my delight to discover the bag had been handed in by a lady and her daughter. They did not leave their names so I am unable to thank them personally. I hope they read this and know their actions made this veteran very happy.
Ronald James MBE.
Golf Place,
Kirriemuir.