 Dundee United's Cammy Bell won't stand for any use of the "F" word at Tannadice right now.
No, not the four-letter variety that got your mouth washed out with soap if your mother caught you using it when you were a kid.
As United approach what could be a gruelling play-off schedule, the "F" Bell won't tolerate is fatigue.
It's been mentioned a lot as possible post-season scenarios are considered but, even if the Tangerines are in third spot come the end of today's final league outing at Morton and face six games in just 19 days, if they are to win promotion, he does not see why it should be a factor.
And, to be fair, the 30-year-old should know — he was part of the Rangers team that completed a similar schedule two years ago.
Yes, they lost the play-off final 6-1 on aggregate to Motherwell and spent another year in the Championship — but he insists that had everything to do with a disastrous first leg at Ibrox and not tiredness.
"At Rangers we were not tired. We had a terrible first leg at home and that really decided the tie, so I really don't buy people saying fatigue will be a factor," he said.
"Don't get me wrong, we want to finish second and have one less tie to get through and get a week-and-a-bit off before we play our first tie.
"If it doesn't happen, though, it's not a problem and we will be ready to go. As players we're used to having games coming close together and, at times during the season, there is so much at stake, adrenalin alone should keep you going."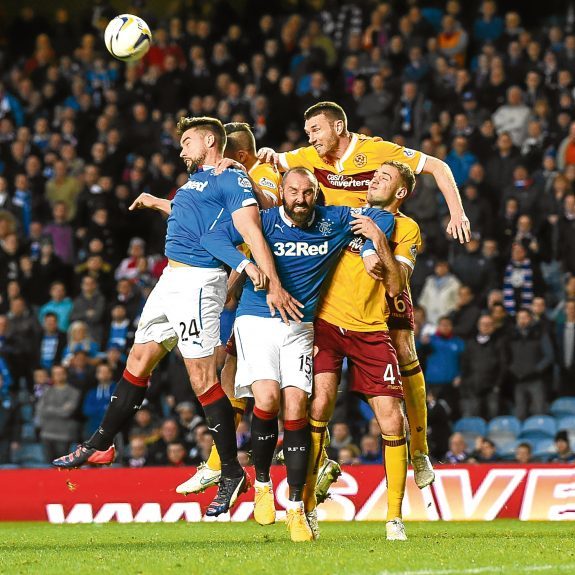 Bell points out, for all the teams involved, there could be more significant challenges than keeping legs working.
Going back to that experience with Rangers, he raises the fact while players and fans are used to watching ties played over two legs via TV coverage of European nights, not many have experienced them.
"You have to have a different mindset. We're used to going out and having a game decided over 90 minutes — you go for the win.
"Over two legs, the important thing in the first game is making sure you are still in with a chance come the second one. That's where Rangers failed against Motherwell."
And while he's already admitted second spot is where United want to be, in some ways finishing third would make what lies ahead simpler.
"Going back to Rangers two years ago, we finished third and went straight into a play-off against Queen of the South. Then we faced Hibs, who'd had 10 days off because they finished second.
"After we beat them, I wondered if that break had been a good thing for them. For the manager of the second-placed team he's left having to decide whether to keep his players working during their break or give them time off. What works, he's only going to know when the game comes round."
Bell even believes Morton, already confirmed in fourth place, could suffer because they've known for some time that's where they would be.
"They rested players last week and will probably do the same against us. That's an unusual situation for them to be in. It's the right thing to try because they know they're not going to go higher but it won't be something they're used to."
What encourages the man who's arguably been United's most consistent player is the momentum his team have been building.
"We should have won a few more games than we have but we've been unbeaten for a while now and, if we keep that going, it's in our favour."