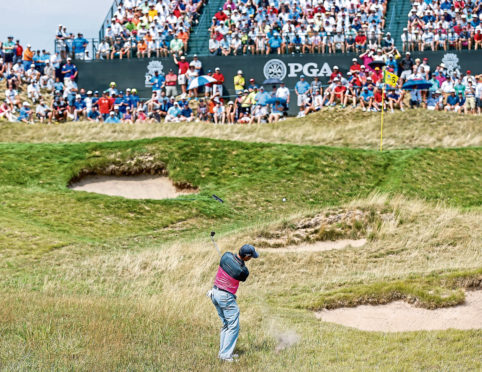 Even allowing for my wholly misanthropic worldview, I think we're all reasonably glad to see the back of 2019.
Not because it was all that bad – as we've mentioned in reflective T2Gs over the last two weeks, the Masters, the Open and the Solheim Cup were all engaging and even historic events.
It's because the promise of 2020 is so beguiling. There's a new decade and some freshness, of course, but also a feeling that golf – at least at the elite level- might be about to enter a period of real excitement and advance.
No, I only had the one glass of Chateau Musar over Christmas so have not entered a hallucinatory state that would inevitably result from a whole bottle. This quite unnatural giddiness comes from actual optimism.
Hopefully, this is reflected in T2G's annual "Hopeless Stab in the Dark" prediction column. Aye, right.
Last year saw the old staple of Tiger Woods not winning a major finally bite the dust after 10 years of unbroken success. We quickly started a new streak, however, with…
Rory McIlroy does not win a major
Well, I hope not. Every year we get all fuzzy at our major venues, regardless of where they are, but this year is fairly meh, as the young folks say. It's Augusta, obviously, TPC Harding Park in San Francisco for the PGA, Winged Foot for the US Open and the relatively unloved Sandwich for the Open.
Rory's best shot, most agree, is Harding Park, where he won a WGC Matchplay. That's if he can't get involved in the Alpha Male scrap between Brooks Koepka and Tiger I believe is brewing for the Masters.
Koepka should recover from his fairly routine knee surgery easily enough, and there's no sign his relentless consistency is about to tail off.
Woods, should he pace himself properly this time, could easily do better than 2019. Expect some sort of reaction from a down year by Dustin Johnson, Justin Thomas and Justin Rose.
Jon Rahm's first major is not far away. And Jordan Spieth, surely with his intelligence and ability, should start the climb back.
Where does Rory strike gold? Maybe at Sandwich, but that seems to me to be an obvious place for the English drought in the Open to be broken. There's enough good, time-served players and the law of averages leans heavily on it this year, surely?
A properly tight Ryder Cup
While invariably entertaining, the last three Ryder Cups haven't been close. We can't always have a Medinah, obviously, and victory is received joyously no matter how it's achieved.
Still, some gut-wrenching tension again late on Sunday would be great.
The portents are good at Whistling Straits this year. A course that can't be tricked up in favour of the home side and maybe some weather issues – the lakeside location is far from the typical bland parkland layout.
Europe can get a little more out of some of their veterans and the new blood is coming through, all imbibed with the passion the US struggle to replicate. And as recent Ryder Cups suggest, there may be no "i" in team but there definitely is in Tiger and Phil.
The US haven't won a Ryder Cup with Tiger playing since 1999. He got the touchy feely thing as captain at the President's Cup but let's see if he's still as grumpy being a footsoldier…this assuming he makes the team, obviously.
Phil may be struggling in that regard. Maybe it'll help the US to move on from their two premier egos.
All in all, it makes for an intriguing contest and I wouldn't be surprised if we got a bum-squeaker.
More rising Scots
Two Scottish tour wins last year and the emergence of Robert MacIntyre was great in 2019. But, although it's always harsh to say it, we have to ask "what have you done lately?"
Seriously, there's more than enough ability within the enlarged Scottish group on tour to kick on in 2020.
MacIntyre, obviously, must avoid the difficult second season syndrome but Grant Forrest, Connor Syme, Calum Hill, David Law and the resurgent Richie Ramsay and Stevie Gallacher make for a group of considerable substance that should be driving forward.
More course closures…a lot more
Okay, you knew the giddy optimism couldn't last. This has been threatened for years and never quite happened, but I'm getting more and more anecdotal evidence that many clubs, having fought manfully against the tide, are starting to slide.
As brutal as it sounds, with the way Scotland is over-provided for golf clubs and courses, a cull is inevitable, And it's not going to reasonable or democratic, and some of it's going to feel unjust.
Good golf clubs are going to close. Some have already. And even apparently thriving clubs like Aberdeen's Newmachar – with 1400 members – are not immune to difficulties.
I genuinely hope it doesn't happen to your club, and that everyone has a happy and peaceful 2020.