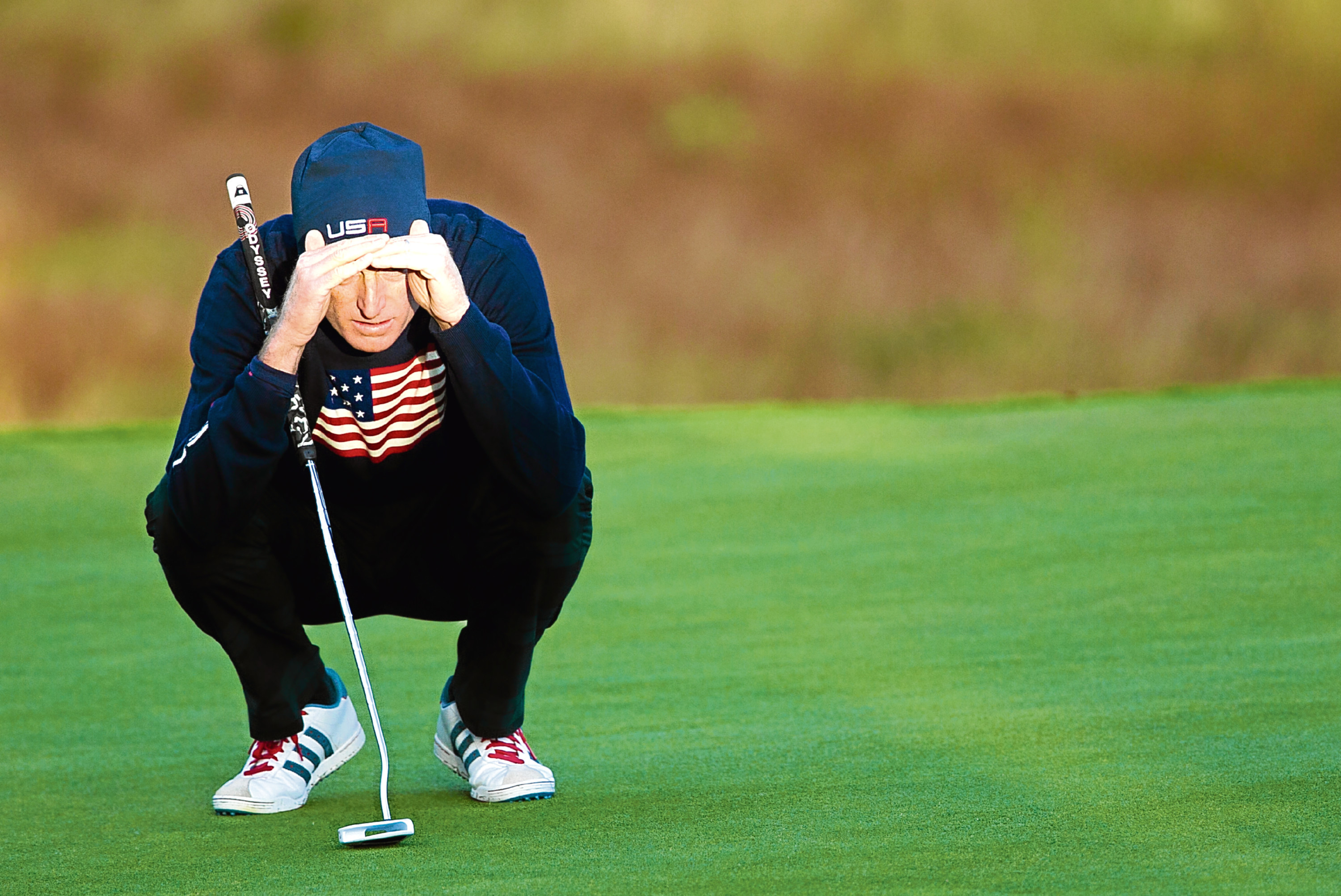 Aw, come on, where's the intrigue?
Don't we get a heroic final charge like Stevie Gallacher's in Italy two years ago, or Eduardo Molinari's eagle at Gleneagles in 2010? Sadly on our side it's all a bit mundane.
Matthew Fitzpatrick's fifth placed finish in Prague meant that all Darren Clarke's nine automatic qualifiers for the European Ryder Cup team have been confirmed a week before the final event in the race, this week's Made In Denmark tournament.
The only remaining deliberations in Himmerland and the FedEx Cup opener, the Barclays this week for Clarke are his wildcards selections. We'll deal with that in next week's T2G, on the morning of the skipper's grand revelation at Wentworth.
There will be five rookies – six if Russell Knox, as expected, secures a wildcard. Colin Montgomerie had five automatic rookies and picked a sixth in Molinari in 2010, so we shouldn't be so fraught about that.
The intrigue this year comes on the American side. Their eight automatic qualifiers will be determined after the Barclays, with Davis Love drip feeding his four wildcards over the following weeks, another bright idea from the US team's infamous Task Force.
Basically, the idea is that if someone goes on a nutty strain of form in the FedEx, they don't get left out as Billy Horschel was two years ago.
Which is fair enough Only one seriously doubts Horschel's presence would have made a difference at Gleneagles, and when they did have a wildcard open for the FedEx champion four years ago the $10 million winner Brandt Snedeker managed to contribute just half a point to the cause at Medinah.
Still, the Task Force are leaving nothing to chance. But four wildcards is surely overcooking it.
The big changes at the Wyndham for the US were Snedeker moving up to sixth and Patrick Reed taking the eighth and final slot. That probably makes the likeable Snedeker safe and leaves JB Holmes, Bubba Watson, Matt Kuchar and Rockie Fowler "on the bubble" as they say in the US.
But American eyes are already looking far beyond that quartet. After his 58 at the Travelers last week even Jim Furyk, bless him, is getting a mention again.
"Get used to the idea of Furyk getting a wildcard" declared one US journo last week. To which you must ask, why?
Jim's a top guy and was one of only three people I thought came out of the Americans' infamous valedictory press conference at Gleneagles with his reputation fully intact (the others were Reed and Jordan Spieth). But the fact remains he's one of the very worst Ryder Cup players in history, with just ten points won out of a possible 27 in seven appearances.
Last time Jim was a wildcard was Medinah, where he won half a point (playing with Snedeker) and worst of all lost a crucial singles to a hopelessly out of form Sergio Garcia after being one up with two to play.
If there is a living symbol of the US futility in recent Ryder Cups, it's probably poor old Jim.
Furyk, of course, is on the Task Force, as is Rickie Fowler, whose case for a pick diminishes by the week. A US Ryder Cup team without Rickie seems unthinkable until you realise he's yet to win a full point in two appearances.
Task Force members shouldn't automatically get selected, of course, but you're not telling me Phil Mickelson wouldn't have got a pick had Troon not happened and he needed one. It's an awkward situation to be sure.
But four picks makes for just unnecessary (but welcome for journalists) intrigue and the chance of a gut choice from Davis – never a good thing, as he proved when three of his four wildcards at Medinah returned him one solitary point.
I've heard even Kevin Na quoted, at 20th on the standings. He'd certainly annoy the Europeans but probably also his team mates (Snedeker, a very quick player, has been highly critical of Na's pace of play) and we might not get the fourballs finished in daylight.
No doubt beyond Tokyo, surely
The women had always embraced the Olympic ideal better than the men and they didn't disappoint in Rio.
But for some pace of play issues on the first day, it was a first class event. When the Games re-admitted golf, we thought there might be a runaway winner but most thought it would be Tiger, or maybe Rory. Instead it was Inbee Park, now a national heroine in Korea.
Peter Dawson of the IGF seems pretty confident now that golf will be in beyond Tokyo in 2020, the second of golf's trial runs at the Games.
TV figures for the event worldwide confirmed the Olympics has a far greater reach than golf can ever get alone. The sport can embrace that, or keep being snottily self-important.
The Olympics doesn't have to be the premier event in golf (it isn't in a whole host of sports in the Games). But it can be something different, unique and still valuable.
Get the scheduling sorted, and I bet everyone shows up in Tokyo.