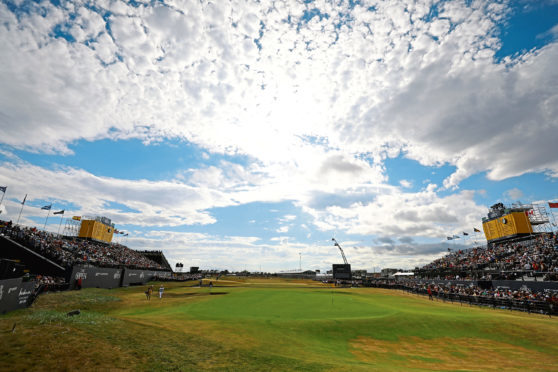 Carnoustie 2018: so much to say, so little space. And as the sports editor said witheringly while assisting me at the Open last week, brevity is not one of my strongest suits…
Francesco/Frankie/Chicco
Whatever you call him, and he's so humble he accepts them all, the new Open champion has always been a fighter.
His beloved brother, Edoardo (or Dodo) always seemed to be the one with the natural talent, the elan, the charm when they came through the amateurs together. Chicco was in the shadows, just as he was for much of Sunday.
He probably likes it that way. And the situation on Sunday was made for him – what Carnoustie required, turning tougher, windier and almost taking revenge for the indignities inflicted on it the first three days, played to the strengths of his game.
No bogeys on Saturday, as Jordan Spieth joked later, was no big deal. No bogeys on Sunday was a huge deal. No bogeys and the fortitude to stay strong while 1) everyone else was collapsing in flames around him and 2) playing right beside the inevitable Tiger circus was donwright heroic.
Who knows how long this incredible streak of form will continue for him? It hardly matters now anyway, the first Italian to win a golf major, and the manner in which he did it, defines his career.
The start of something, or maybe the missed last chance?
Once we've put aside the still-amazing fact that this time last year he could hardly walk, we have to treat Tiger Woods challenging for a major again dispassionately and without the almost inevtiable hero-worship.
The most misleading stat of the first three days at Carnoustie was his leading the field in driving accuracy. Players of his calibre tend to hit the fairways when all they hit off the tees are mid-irons.
The greens, playing slow – quite correctly, this is links golf, not Augusta – helped him as well.
So I'm sceptical to those who suggest that his weaknesses during this comeback year are now behind him. This could easily have been a special set of set-up circumstances that were in his favour.
What does mean something down the line, however, was how he faltered when he took the lead. Two terrible decisions on the 11th, and with the pressure on he missed a series of routine shots right from the 8th tee to the 12th.
As Michael Geller said to his boss Jordan Spieth when Woods' name went to the top of the leaderboard, it was the first time Tiger had dealt with this in 10 years.
The idea that he won't – even can't – have forgotten how to win, doesn't exactly stand up to scrutiny on this year's evidence. This is a new scenario and a very different Tiger.
Firestone and Bellerive will offer very different challenges to Carnoustie. It's far from inevitable that he'll compete at either, in my opinion.
Rory and Jordan
The World No 1 and 2 missed the cut, but all three of golf's big box office names were in the mix at Carnoustie.
Jordan Spieth, by force of will it appeared, got himself into the lead for the final 18 holes.
But he never looked comfortable, he hit an extraordinary amount of loose shots all week, and his warm-up routine prior to Sunday hinted that his game was unravelling. Not a single birdie came his way on the last day.
The fact he was there at all, I think, speaks to his mental strength. His game, however, is a little frayed. I've no doubt he'll regroup.
I thought as he seemed to flounder in the early part of Sunday that Rory would leave Carnoustie with as much regret as anyone.
Strangely, when he eagled 14 to regain a share of the lead out of nothing, inspired he said by seeing Tiger on the leaderboard – "let's spoil the party" was his thought – he left saying he felt revitalised even though he could find no more strokes.
I'm sceptical about that. He seemed to miss more key putts than I've ever seen him do. He had a habit all week of giving back shots he'd just picked up almost immediately.
He's definitely a player of moods, though. Maybe the sight of Tiger on a leaderboard will be the spark he needs.
Carnoustie's greatness
Not my description; you know how biased I am about what is, in my opinion, the best course on the rota and maybe the best anywhere if you only count what's below your knees.
"Greatness" was Phil Mickelson's description. Matt Kuchar's caddy John Wood, speaking to Golf.com, said it is "the most well-bunkered course on the planet…it tests every part of your mental and physical game".
I won't address directly the murmurs from some "cocktail parties" of golf's snottier elements or even from inconvenienced locals about Carnoustie's future on the Open rota.
I'll just say the world of golf – not just the Open – cannot be properly served or representative without a major being regularly played on this great links.