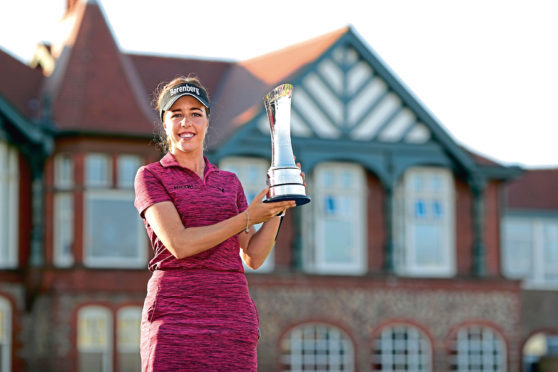 It says all you need to know about Georgia Hall that she was at Gleneagles yesterday to begin preparation for the European Team Championships.
I don't think anyone would have thought ill of the 22-year-old if she'd taken a week off after her outstanding victory in the RICOH Women's British Open at Lytham on Sunday.
But as she said herself, her partner for Great Britain in this new event on the PGA Centenary Course is Dame Laura Davies, and she couldn't let her down.
In truth, you wouldn't want to face the consequences of letting down the formidable Grand Dame of British golf, but that would appear to be the only thing that Georgia fears.
She has a steely resolve that was illustrated best at Des Moines in the Solheim Cup last year, when as a rookie she was Annika Sorenstam's most reliable player, along with the last woman to win the British, Catriona Matthew, 27 years and eight Solheim Cups her senior.
That's been the way Georgia has adapted to any situation that's been put in front of her since she was 16 and started her amateur career in earnest.
Being slightly overshadowed by her more ebullient contemporary Charley Hull has also helped. I'll be interesting to note how her success changes that dynamic – it's always been Charley who got the attention while Georgia just got on with career.
Her win could aso be a massive help for the ailing Ladies European Tour and hopefully for the profile for the women's game here in the UK in general.
But I share the disappointment of some of my contemporaries that a British player winning the major title in this country doesn't appear to have moved the needle.
It's not really a sexism thing, I think – imagine the reaction if Johanna Konta had won Wimbledon, or compare the attention given to our female cyclists or gold medal winning Olympians.
It seems to be a golf thing. Anyone who watched Lytham live or on TV – sadly it was nowhere to be found on free-to-air – saw a quality product.
No-one's saying it would have the profile – or prizemoney – of the men's Open, but it should get more than it does.
Perhaps attitudes are entrenched. I was at the Scottish Amateur at Blairgowrie last week, because it was a historic championship being staged within this area, but I had reservations that I maybe should have been at Lytham.
Not shared by everyone. A friend – another journalist, in another sport, and no sexist – texted me to ask why I was the only Scottish golf writer covering the Scottish Am and why the rest were at Lytham. "I'd have thought that there was more interest where you are", he wrote.
Even taking it from a purely Scottish perspective, that's surely not true.
The schedule still needs sorted
Perpetual clashes between events like the Women's British Open and the Scottish Amateur don't help. The clash of the Senior Open with the Ladies' Scottish Open the previous week was even worse.
The LSO unquestionably suffered at the gates as a result, even though entry at Gullane was free. It was another example that desire for attending live golf in Scotland, while considerable, is not insatiable.
T2G bemoaned this desperation to cram every national championship into July this time last year, and if anything it was worse in 2018.
I still think there's no good reason for the Open and the Seniors to be in consecutive weeks in July, and even less reason for hosting the championships at venues as close as Carnoustie and St Andrews – that's twice in three years we've had that happen.
Short of giving control of the scheduling to the Association of Golf Writers – you could do worse actually – some joined up thinking from the various governing bodies, or maybe a few more mergers, is required.
Thankfully the schedule set in stone for so long seems to be shifting with the women's events moving towards the slot vacated by the PGA Championship next year. Fewer clashes are good for spectators and golf, not just the media.
The last of Glory's Last Shot
The promotional tagline for the PGA Championship was always sort of amusing, provoking none of the drama it suggested. This week at Bellerive is the last time it completes the major championship season as it moves to May in 2019.
To me the PGA is really only enhanced when it's won by a previous major winner; when it's part of a career rather than the defining moment. It's notable that in the 21st century only one player who broke his duck at the PGA – Martin Kaymer – has gone on to win a second major title.
10 of the last 18 PGA champions have been first-timers. So the odds look good for a Xander Schauffele, or Tommy Fleetwood, or maybe even Rickie Fowler at long last.
Bellerive is a driver's track, so forget Tiger. Carnoustie was a set of circumstances he will struggle to find again.
I'd load on Dustin Johnson – the MC at Carnoustie seems a blip – or Justin Thomas and his habitual season curve; strong until April, quiet through to July, then a late season surge.
Rory? It's just not happening for him.