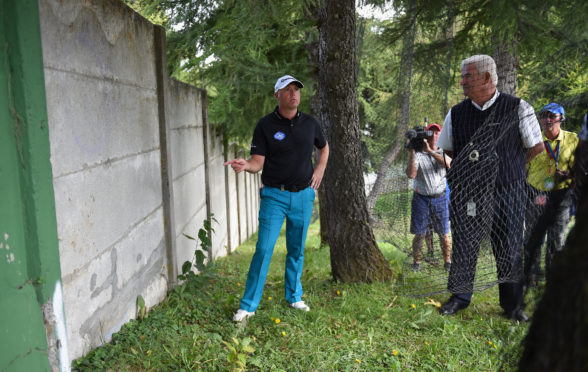 It's not too dramatic to state the European Tour's announcement yesterday is the most significant move against slow play in modern golf.
The Tour's decision to not only impose shot penalties on repeated miscreants but also to pilot a monitoring system which should be both accurate and deliverable, changes the narrative.
Because while there has been some progress in the amateur game on this side of the Atlantic at combating slow play, the professional game has been slow to respond.
Not anymore. The Tour, through the vehicle of the player-led Tournament Committee, is taking real action.
The headliner, obviously, is the immediate one stroke penalty for two bad times. Fines remain, and have been made more severe for regular offenders, but everyone acknowledged that with the levels of money in the game the only way to get a positive reaction out of slow players was to penalise them shots.
But the tour are going further. Reducing field sizes "where appropriate" is going to bite some of the tour's rank and file but dropping from 156 to 144 on occasion is to commended as a practical method to speed up play.
What's even more intriguing is the plan to use technology, starting at next month's BMW PGA Championship.
A system to monitor the time of every group, with on-tee displays to show players exactly where they stand will be piloted at Wentworth, with the intention to roll it out to most of the bigger events on all the Tour's operations.
The technology is already there – a version of it is already used on the PGA Tour and at the Masters to track player progress for their website users.
The European Tour say this is not a knee-jerk reaction to Bryson DeChambeau's antics last week at the Northern Trust, which made slow play the hot topic in golf.
The Tournament Committee asked officials to come up with a package back in May, it was presented in July, and the final package approved this week.
It's a coincidence of timing, then, But the onus is now on the PGA Tour, who in the light of the public furore over DeChambeau have gone away to "reassess" their own slow play policy.
I'm absolutely sure Keith Pelley and the European Tour didn't want to heap extra pressure on their friends at Ponte Vedre Beach by making this policy announcement (well, perhaps a little) but it does serve to do just that.
If the PGA Tour doesn't act, it will be shown to be just sweeping the issue under the carpet, and if they don't match the European Tour's measures, they'll be accused of soft soaping it.
Maybe with their millions they can afford to ignore the groundswell of public opinion. I doubt that's a sound tactic moving forward.
Stop tinkering with the Tour Championship
Last year was the greatest finale the PGA Tour have had since they went to a playoff system. Tiger Woods, with thousands of excited fans of all ages in attendance, won at East Lake to end his long exile from the top of the podium.
It looked magical, and it was fantastic PR for the Tour. Only they'd already ruined it all.
Under their ludicrous new points system, Justin Thomas starts this year's event at Atlanta already at -10 by virtue of being the FedEx Cup points leader.
Second placed Patrick Cantlay is at -8 (he's won one tournament this season) while Brooks Koepka (three wins, including a major and a WGC, World No 1, and nearly $2m in prizemoney ahead of the next best) is somehow third.
It's nonsense, obviously. The previous system to determine the $10m FedEx bonus was not perfect but it did have a frisson of excitement. Justin Rose needed a rearguard action to pip Tiger to the windfall last year.
The PGA Tour is continually falling over itself trying to make their season's end something more significant than it is. But it's just a cash-grab, and now it's a stupidly unfair cash-grab.
Hill climbs the mountain
With month of outstanding play that reads 1st-7th-1st-7th, Perthshire's Calum Hill is now top of the Challenge Tour rankings.
This time last year he'd just become a tour member by winning in Northern Ireland. He's now the in-form player in Europe; -71 for his last five events.
It was interesting to speak with a former Scottish Golf official recently who admitted that Calum hadn't really been on their radar as an amateur.
His development seems to have taken off in the most unlikely of locations – during five years at Western New Mexico University.
That's okay, we'll take them any way they come. He and his pal Connor Syme – sixth on the rankings right now – look secure for their cards for the big tour next year.
Pia's a new star to watch
What a lovely gesture by Panmure Golf Club to give their first honorary female membership to Slovenia's Pia Babnik after she won the Girl's Amateur there last week.
Just 15, Pia's an incredible talent and had already won the Scottish Ladies at Troon this season by seven shots. She's worth watching now and in the future.