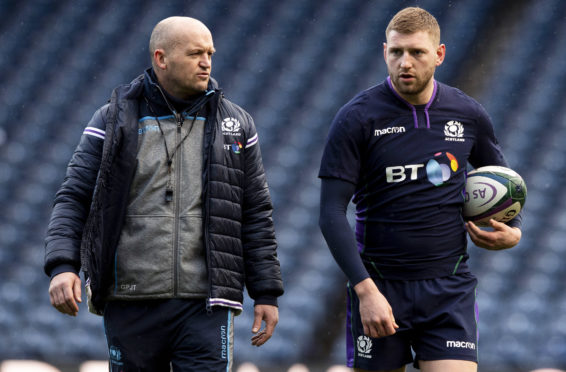 Even the heavy rains of Storm Ciara this weekend won't be enough to douse the flames from Finn Russell burning his bridges with Scotland head coach Gregor Townsend.
After Saturday 13-6 defeat to England Townsend seemed positive about re-admitting the star stand off to the Scotland squad for the game against Italy in Rome in two weeks.
However, Russell's interview with the Sunday Times published yesterday will probably have changed his mind. The player revealed the long-running fractious nature of his relationship with Townsend, basically accused the SRU of spinning the narrative of "late night drinking sessions" and questioning his mental stability, and indicated that he couldn't play under the current regime.
"The current situation, set-up and environment, I don't think I want to play in that. I don't think it's good for me as a person or as a player," Russell told Mark Palmer. "I've felt like this for more than a year, and the last three weeks have shown me that it doesn't seem to be changing at all.
"I'd love to play for Scotland again because I love playing for my country. But until I see or feel the big changes that I need to get back playing my best, it's going to be very hard for me to do it."
In no matter what context you read that, it sounds like Russell is refusing to play for Scotland until he gets a coaching regime he likes. And whether his issues about Townsend's tactical direction are valid or not – and one can have sympathy with him there – he doesn't get to pick the head coach.
Russell's comments do seem to suggest that he was willing to stay with the squad and the breach in team protocol that led to him being omitted from the squad before the game against Ireland was relatively minor.
An extra beer at 11pm when he was not due to train the following day because he'd played earlier on the Sunday is not a banning offence, and certainly not nearly as serious as Murrayfield has been suggesting in their version of events.
Indeed, privately expressing concern for Russell's well-being – and insisting he see a psychologist before leaving camp, to which the player agreed – also creates a false narrative suggesting the player isn't quite in control of himself.
"This whole situation with Scotland has been made out to be about me wanting to have a drink, when in actual fact, it's about control, respect and trust, on and off the pitch," says Russell in the article.
Russell adds that he had been similarly frustrated even before last year's Six Nations. It's not a secret to anyone who has been around the camp throughout last year, and particularly during the World Cup in Japan, that he was railing against the tactical direction of the team.
"What I said to Ali (Price) was, 'make sure the boys know it's not anything to do with them. I'm not turning my back on my country or the boys, this is a personal thing between me and Gregor. I want to be with them. But just now it's not really possible for me to be involved."
Price, his former flatmate and best friend on the team, spoke after the Calcutta Cup on Saturday, and seemed to largely confirm this discussion, although he chose his words carefully.
"I speak to (Finn) every day," said the scrum-half. "It's a tricky situation, he loves Scotland, he loves playing for Scotland. He supports me, he supports the team.
"I've read a lot of stuff, as I'm sure everyone has, there's a lot (more) in it. That's all I can say on this."
Russell will have supporters within the squad who are also unhappy with the tactical direction of the team and Townsend's control, but there are also others unhappy with the stand-off for escalating the dispute before a key Six Nations campaign, and who feel he breached their collective responsibility.
Previously his beef was just with Townsend, but now he's added some squad colleagues, and the SRU hierarchy he criticises, although again, not without foundation.
Russell's frustrations might have been overwhelming, but the direction he rails against is not producing results and, without at least two wins in the remaining three Six Nations games, Townsend could well be removed. It seems an odd time for Finn to take a stand.
It seems impossible that Russell will play under Townsend again now, but if such a scenario plays out and the coach is axed, does Russell expect to have approval on a new man?
Or perhaps the new man might think that such a recalcitrant figure, even as gifted as the stand-off, might not be worth the trouble?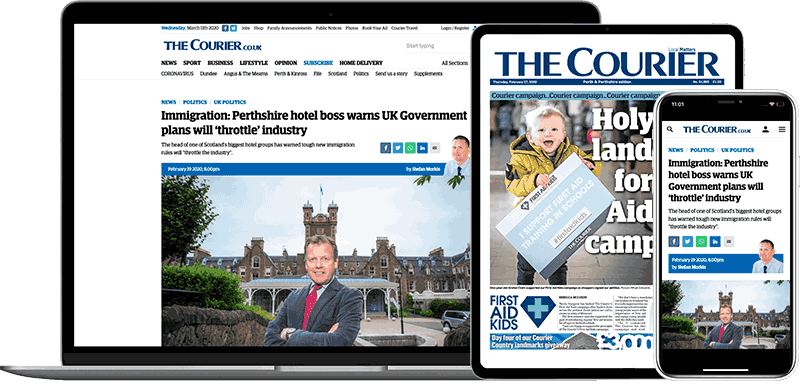 Help support quality local journalism … become a digital subscriber to The Courier
For as little as £5.99 a month you can access all of our content, including Premium articles.
Subscribe