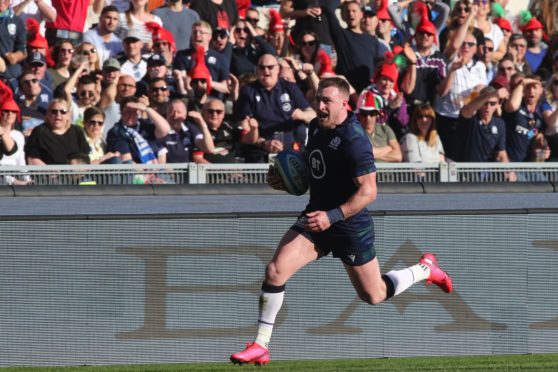 At various points during Scotland's laboured 17-0 win over Italy on Saturday, you had to glance at the clear, blue sky over the Stadio Olimpico just to check some freak storm hadn't materialised without warning.
But no, it was perfect. Everything in Rome was perfect, the weather, the food and drink consumed in vast quantities by over 10,000 Scots in the city. The only awful thing on the weekend – okay, maybe the queues at St Peter's weren't the greatest – was this game.
Make no mistake, this was by design. Having excused themselves from the lack of flair in the Calcutta Cup because of a wintry typhoon, Scotland played almost exactly the same way against Italy in perfectly dry, 20 degree heat at pitchside. They played that way this time because they wanted to.
"We have a theme of staying in the fight this year," said head coach Gregor Townsend. "We don't want to give the opposition easy chances to get in the game."
Now, the team were guilty on occasion of being flagrantly generous to the opposition during a poor 2019 and in the two key games of the Rugby World Cup, so it's certainly a valid re-calibration of the playing style. Only, it seems to have been implemented at the expense of any attacking rugby.
Stuart Hogg's magnificent first half solo try lit up the day even more than the blazing Roman sunshine. It was one of the full-back's best and something of a catharsis for him for what he later bemoaned was "negative over-attention" on a couple of slips he'd made in the first games of the championship.
But it was just the briefest glimmer of light. As much as you admire Scotland's resilience and the brilliance of the back row, particularly Jamie Ritchie and Hamish Watson, as much as the scrummage is a force now that they've finally appointed an assistant coach to focus on it, Scotland's deliberate style is frustrating even to the endlessly faithful who travelled to the Eternal City.
Adam Hastings had a difficult game at 10, and with the Finn Russell issue still hanging like a cloud over the squad – no matter what they say publicly, it definitely is – there will be a lot of attention on the young 10 today after his succession of poor kicks from the tee and from hand.
But Hastings can only play with the plan he's given. He's under clear instructions to play so deep that he has little chance to run himself and when he moves the ball on to the centres they're facing charging defenders targeting them at full pace.
He's under instructions to kick ball to pressure the opposition, but as often as not the team are on their heels when the time comes and it's simply a meek transfer of possession. Pressure was relieved on a tottering Italian side in the second half instead of being imposed.
Townsend attempted to suggest the laboured play was down to poor decision making by the young half backs, rather than by his diktat.
"We don't want to give the opposition chances and if that means more kicking then that's the decision the 9 and 10 have to make," he said.
"I just felt at half-time that we weren't as decisive in our actions, whether that was passing or kicking or running, as we could have been. We were really decisive for that 10-minute period after half-time.
"A lot of it is dependent on what the defence gives you. If the defence is narrower then it easier to go wide against them. Italy have a wider defence so it was easier, or certainly more effective, for us to go between defenders.
"As long as we're decisive in our actions and we're producing quick ball – which wasn't always the case today – then it's up to the half-backs to play for where we will get space and opportunities."
Townsend didn't try to claim the win as some massive tipping point – "we played better against Ireland", he admitted. He also couldn't help but concede that France, the only team now with a chance at the Grand Slam, were an entirely different proposition to an Italian team as hapless as they've ever been in 20 years in the Six Nations.
"France have young players who have played really well at age-grade level and have come into international rugby and played fantastically well," he said. "We saw a few of them in the (RWC warm-up) game in Nice. (Charles) Ollivon was outstanding that day.
"They are a really dangerous side. After winning in Wales and on the back of the two home games, they are going to be full of confidence, believing they can win a championship and a Grand Slam with two games to go."
France will assuredly not allow 17 phases on their line without turning over possession the way Italy did. France will counterattack poorly kicked ball with organisation and intent, not the Italians' harum-scarum and inaccurate offloading game, which more often than not ended with a player isolated and feasted on by Ritchie and Watson.
Any win in the Italian game was never going to be enough to satisfy Townsend's growing band of critics. France and Wales are to come, and you still feel the head coach needs another win to hold on to his job.
There was a little in Italy to encourage it might be found. But not enough.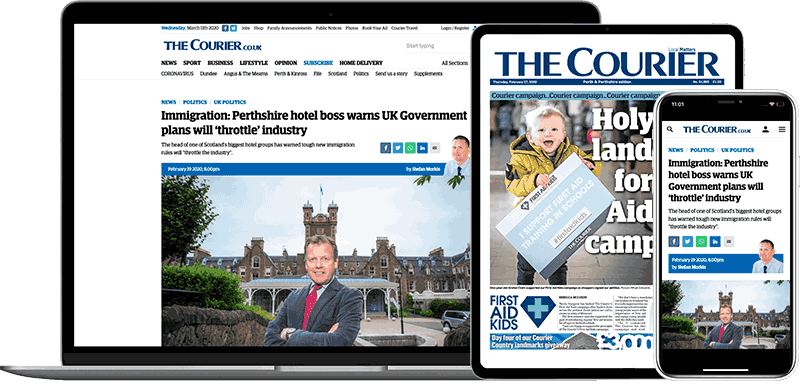 Help support quality local journalism … become a digital subscriber to The Courier
For as little as £5.99 a month you can access all of our content, including Premium articles.
Subscribe