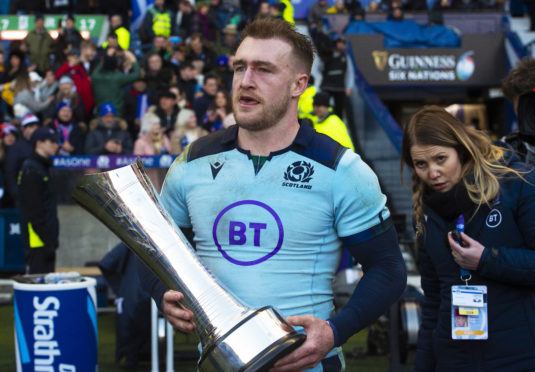 Stuart Hogg said Scotland turned France's "strengths into weaknesses" to end their Grand Slam hopes with the 28-17 win at BT Murrayfield yesterday.
The victory meant more to the Scotland captain than his tour-de-force performance against the French four years ago, he said, leading his country to victory at home for the first time.
"We said before the game – great memories are made by great opportunities," he said.
'Today was a great opportunity for us as a 23 and as a country, to achieve something special. I believe we've done that.
"We worked incredibly hard we took it to France. The strength of theirs, we really turned it into a weakness."
The red card to Mohammed Hauoas just before half-time after the prop landed a punch on Jamie Ritchie didn't really change Scotland's approach, he said.
"We wanted to be physical up front and exploit their blitz defence as a back line, and we stuck to our plan," he said. "Just after the red card, we could have gone for the corner but we took the three (points) and backed ourselves to get back down there and score a try.
Hogg paid tribute to Adam Hastings, who bounced back from a tough game against Italy with an assured display.
"Adam is a class act," said the captain. "He works incredibly hard to drive standards around the park.
"You could see that in today's performance. He's adjusting really well, not overplaying, and he put us in good positions."
Head coach Gregor Townsend was never discouraged by Scotland's slow start to the championship, but thrilled to see the promise fulfilled in part.
Townsend might have been under real pressure if Scotland went to Wales in the final game – if coronavirus events allow – still seeking a second win in the championship, but this pivotal victory means he's likely to remain Scotland's head coach for at least another year.
"I've been really encouraged right the way through the campaign," he said. "Yeah, we didn't win (the first two games) and left a few tries out there, but we've been consistent throughout.
"We've defended well and we've been tough to play against, and we've learned and improved as a group. It was great to see how much energy and physicality the players played with today.
"These last two wins showed the mentality and confidence to get out and find a way to win, but there's more to come, more defensively even though we're doing that area well.
"You get confidence when you see the rewards you get for doing something, and the way we're training, it really gives me a lot of encouragement."
Townsend conceded that the red card was important, but felt his side were on top even before that advantage came their way.
"I thought we played better in the first half when we were 15 versus 15 than the second half," he said. "We had France on the back foot and we turned them over nine times in the first half in the way we defended, and we had opportunities getting in behind them.
"I was really pleased we made the most of that in the next few minutes, three points straight after and then got back down there and scored a cracking try. So that was great to see, players came in really confident with how they were playing."
Scotland head to Wales with just a six-day break, but they're prepared for that, said Townsend.
"We had experience at the World Cup when we had a four-day turnaround and we had only one training session. We're planning for one and a half this week.
"Our opponents had a tough game yesterday as well, so even though they've got an extra day I'm sure there is some tired bodies in the Welsh camp.
"We just have to go down there and show the fight and consistency we have shown here, but also a little bit more quality and learn from our game today to take that to another level, because we'll have to do that next week as Wales are a very good side."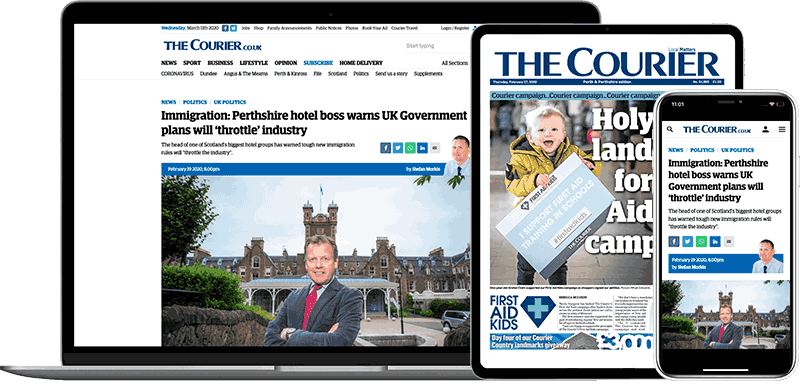 Help support quality local journalism … become a digital subscriber to The Courier
For as little as £5.99 a month you can access all of our content, including Premium articles.
Subscribe