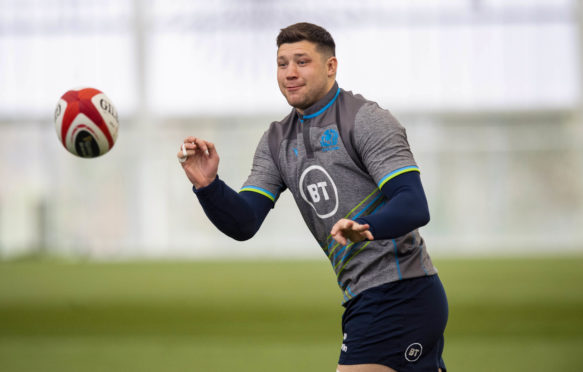 From wondering if a win was even going to come, to equalling a record that has stood since 1996 –and Grant Gilchrist believes Scotland can seize the opportunity to make a bit of history in Cardiff this weekend.
It's been 24 years since Scotland won three successive games in the championship – meaning they've never done it in the Six Nations.
Perhaps fittingly, present head coach Gregor Townsend was the star of the team in 1996 that eventually played for a Grand Slam and triple crown after beating Ireland, France and Wales in succession, only to lose to England in the decider.
Now, after victories over Italy and France, the Scots have the chance of making what could have been a disastrous campaign into a hugely successful one.
"To win three in a row would be something for us to be really proud of," said Gilchrist, who returned to the starting team with one of his best Scotland performances against the French.
"There are no bigger games than cup finals and this is like one. It is a straight shoot out against them. If we lose they finish above us in the table, if we win we finish above them.
"It is an exciting time to go down there and leave nothing out there at the end. A chance to win three games would help us build so much momentum."
The short turnaround of just six days comes with the territory and Scotland know the score after previous Six Nations and the Rugby World Cup, when the gap between games was just three days.
"I don't think that's a big challenge, in the Six Nations you know you'll get those short turnarounds," added Gilchrist. "But what a great opportunity this is, we've won two in a row so let's go win three in a row and make a success of this tournament.
"If we finish with three wins in a row that's a marked improvement from the World Cup. We know the size of the challenge and that's what excites us and for me, it's never an excuse, short turnarounds or whatever.
"Training will be a bit less this week, so we're fresh. It's about our mindset and mentality being right."
Scotland's record in Cardiff isn't exactly much to write home about, with only one win – in 2002 – since the Arms Park became the Millennium and latterly the Principality Stadium.
"We haven't been good enough down there, but we've proved we can win away from home," said Gilchrist. "The size of the task still remains the same.
"You will always have to deal with that atmosphere and the Welsh will always come out firing. It is the size of the challenge we have to meet and it is also a great opportunity for us after two big wins."
Scotland's defence will have to watch for Wales' new wide game under new coach Wayne Pivac, but one of the new tweaks to the defensive system has been to trust in it and not worry about what the opposition are doing, he continued.
"Wales are moving the ball a lot, and they're much more ambitious than before, so we have to be ready for that," he said.
"Before you knew it was a straight up man-on-man, they'd come round the corner and they just tried to bully you, or kick it and try to hit you somewhere else.
"They've got another dimension under Pivac, they'll look to play to the width and offload. They've got their traditional strengths, but I'd be expecting we'll have to fill the field better and defend wider attacks rather than blunt force up the middle."
The adjustment from France's more restricted style on Sunday – at least until they went behind – shows Scotland will be able to cope, he added.
"Italy changed their gameplan completely and they played pretty expansively against us, or tried to," he pointed out.
"We know we're going to stretch a bit more width to cover but what we've done well in this championship is look to ourselves in defence a lot more than always think about the opposition.
"Yeah, they've got threats wide but it's about how well we defend as a unit and how well-connected we are and how we can stay together. Although we can see Wales are slightly different to the way they were before and we take that on board, we aim to defend better than we did against France, better than we did against Italy, just be better week on week.
"That's a mindset that's worked well for us so far."