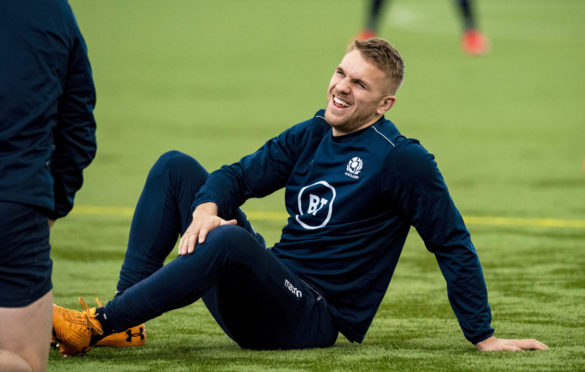 Chris Harris doesn't ever want to get comfortable in the centre for Scotland, because he always wants that edge to drive him on.
The Gloucester centre played in the final game of the World Cup against Japan, but had to wait through the first two tests of the Six Nations to get his place back from Huw Jones. Even though the two games since have been wins and the big Carlisle-born man seems like a fixturenow , he would never think so.
"I'm happy with how I've played," he said. "There's always room for improvement. You always look back at your game and see where you can get better, you never just accept your performance – well I don't anyway.
"The competition for places, especially in midfield where there are plenty of players to step in, it's more that than nervousness about Gregor (Townsend) will do. It keeps you on your toes and keeps you performing."
Harris isn't that fond of comfort zones anyway.
"I would never say that I am comfortable…maybe I'm a bit more mentally comfortable, I guess. That's a big side of the game I've had to work on. But it's the biggest step.
"I think I've always had the ability to play at this level, it has just taken me a couple of goes to get it right.
"I've never doubted myself. It is just a big stage now, international, and it is another step up. It was the same when I was playing club rugby and I moved to Tynedale, it was another step up. You've got to be pretty mentally strong to play at any level.
"There's nerves, there is the fear that you are going to make a mistake – but you just can't feel that. You've just got to have confidence in yourself that you are going to go out and perform."
Even last summer, moving from Newcastle to Gloucester, was partly Harris trying to find motivation.
"I don't think you can get comfortable. I think it at Newcastle I was comfortable, and I probably would have just ended up plateauing.
"Going somewhere else freshens you up and give you a little spark. And I think if I had stayed at Newcastle, playing in the championship, I wouldn't have been sat here, so I think it was a good move for my career."
Chris is renowned as a solid defender, but he scored against Italy and showed some skill with ball in hand against the French.
"Attack has been a bit of a work-on," he admitted. "But I'm backing myself and getting more touches.
"I think our defence is the best in the championship at the moment. That just proves where we've come. We are improving and the exciting thing is that there is so much more to give as we continue to get better.
"Everyone is buying into it, that's the key."
Harris' first cap was in Wales and a heavy defeat two years ago, but it's a nightmare he won't repeat and has removed from consideration.
"It always seems to crop up, doesn't it?" he said. "I don't think I've mentioned it for a year and a half.
"It was a game that didn't go well for the team. I'm not really thinking about it. We're just going to go down and play the game that is ahead of us as opposed to thinking about what is in the past.
"For myself, I think I've come on leaps and bounds since that first start. I'm just looking forward to the weekend.
"I've been involved in all the games so far and I just want to keep playing and enjoying myself. I'm loving every minute of it."