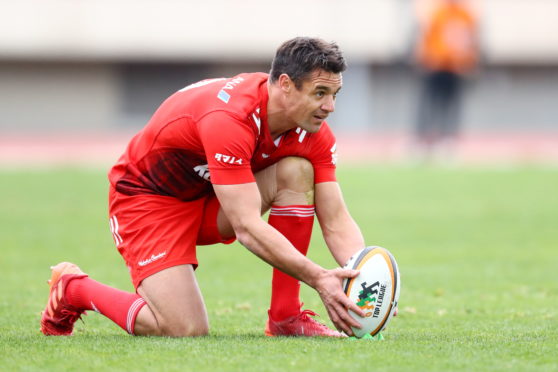 By virtue of having a government with a coherent, competent and effective strategy against the COVID-19 pandemic – 1154 cases and 22 deaths only – New Zealand is able to relaunch rugby next week.
Being the only game in town – actually, the whole world – you won't be surprised that the self-described "spiritual home of rugby" has taken the opportunity to fiddle a little with the game's laws for Super Rugby Aotearoa, the 20-match competition between NZ's five teams.
It's a rare occasion the Kiwis can get some of their multitude of ideas in action without those dinosaur diehards in the north spoiling the fun by insisting on keeping the same old laws.
With Super Rugby doing modestly at the gate even in rugby-obsessed NZ in recent times, the NZRFU are pushing out the boat to make this return a major spectacle. Hey, there's even a rumour that Dan Carter, no doubt still a specimen at 38, will play a few games for Auckland's Blues.
But to the laws. There's three added to the optional list given by World Rugby last week of note; a "golden point" during ten minutes of extra time if scores are tied, a crackdown on breakdown interpretation and procedure, and allowing a replacement of a red-carded player after 20 minutes has elapsed.
The first is, to be honest and pardon the pun, kind of pointless. Draws at the end of 80 minutes are exceptionally rare in rugby – the penalty shootout introduced to European competition has been used just the once, famously in the 2009 Heineken Cup semi between Leicester and Cardiff.
As soccer and the NFL have found, instant sudden death deciders are often completely unfair. If the golden point is used once, and it's a completely fair cop when it does happen, I'd be surprised.
One considers the fact that it's the New Zealanders clamping down on the breakdown with an ironic smirk, but good for them. Among elements outlawed will be crawling on the ground, tacklers pretending to get out of the way when they're really not, and an absolute, super-strict interpretation of the offside line. It's a shame that Richie McCaw is now retired.
The last one, on red cards, is one I hate. I get that New Zealanders are kind of still miffed at Sonny Bill Williams' early dismissal in the second Lions test of 2017 and how it changed the course of that series, but there's no need to take it quite so personally.
The whole point of the upsurge of red cards and the willingness of refs to show them was to eradicate elements from the game that were dangerous. And it worked; the number of blatant high tackles is down, as is taking out of players in the air, and spear tackling has been almost entirely eliminated.
Yes, there's been some miscarriages of justice – not Sonny Bill – and yes a red card often imbalances the game in its aftermath to a significant degree. And to me that's good – the punishment fits the crime much more than it doesn't.
Sebastien Vahaamahina's outright bampottery of elbowing Aaron Wainwright in the head during the France-Wales RWC quarter-final last year changed the course of that game, yes. And it was absolutely right that it did.
If we're serious about eradicating dangerous, potentially debilitating play from rugby then we can't mitigate the effects of a red card. At the moment teams prepare to play a man down for 10 minutes on a yellow, and they'll just adjust to cover 20 minutes.
World Rugby's package of law changes for play during the pandemic are merely "optional" but I can see some territories – England and Ireland particularly – not liking them, although we at the Breakdown are heartily enthusiastic.
Firstly, it appears to be the temporary end of the choke tackle, which will be mourned in its spawning grounds in Ireland but cheered everywhere else.
It should have been banned when Mark Bennett, playing for Glasgow against Ulster in the mid 2010s, actually passed out when held in a choke tackle.
This utterly negative manoevre was diminished by proper implementation of the "knee down=tackle" law, but you still see players held up, mauls called and the defending team getting the ball even if the maul is shoved 20 yards towards their own line. This will not be missed.
No re-sets at scrums – Gregor Townsend, who bemoans the time spent on this in every game, will be delighted. It's an extension of the "if it's there at the back, play it" rule which more refs have been keen to implement.
It also seems that the maul has been further diminished, with no backs joining and only one shove allowed. I thought we'd reached a happy medium when it came to the maul in recent times, but I'm not against anything that reduces the steady, dull stream of kicks to the corner.
The "Use It" demand of refs is now reduced from five seconds to three. Connor Murray and Henry Pyrgos better start working on their internal clocks, because sadly we've not banned or diminished the box-kick.
It's all in the current mood of reduced contact exposure, for however long we need it. Maybe some of it will stick if we ever are free of COVID-19…hopefully.