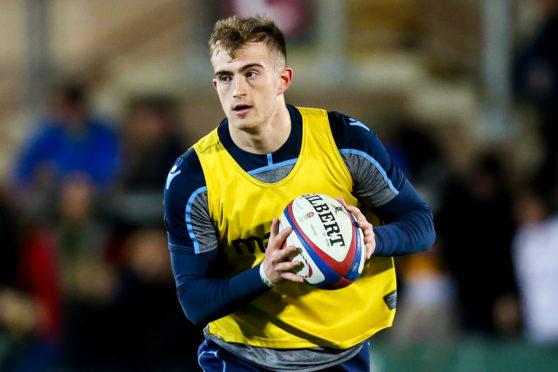 Edinburgh coach Richard Cockerill is ready to "roll the dice" on his untested new stand-offs – although the coronavirus lockdown has given him no choice but to gamble.
The collapse of the deal to bring Australian Jonno Lance from Worcester and a freeze in budget for Scotland's pro clubs means that Cockerill has just newly recruited Scotland U-20 stand-off Nathan Chamberlain and his age-group deputy Cammy Scott as cover for Jaco van der Walt.
Van der Walt qualifies for Scotland this autumn by residency meaning that the young pair could be pressed into duty if the plan for an extended international window in October and November goes ahead.
When Lance's deal broke down because of visa requirements, the budget was already frozen and the money was no longer there for a replacement.
"Everyone always cries out for 'let's roll the dice and give the young lads a go'," said Cockerill. "Well, we're going to have to roll the dice and the young lads will get a go.
"We've got Nathan, who played really well for the Under-20 sand we've got Cammy Scott, who sat on the bench for the 20s.
"We will look into the Super6 as well to see what is there. There is one Scottish qualified 10 who has come into there who we will have a look at.
"It's not the perfect scenario. Nathan has not played a huge amount of first-class rugby, or any at this point, and one niggle for Jaco and he could be starting at Murrayfield against Glasgow on August 22nd.
"Sometimes young players come through that and show you that they just need the opportunity, as Adam Hastings has done at Glasgow since he came from Bath."
Stand-off is not the only issue facing Cockerill for next season, as the club's success in providing more players for Gregor Townsend's national team is a double-edged sword.
"There are going to be more test matches this year because of creating more revenue (after the lockdown)," he pointed out. "That could be pretty much our whole pack going away.
"If you look at our back row – (Nick) Haining, (Jamie) Ritchie, (Hamish) Watson, (Luke) Crosbie, (Magnus) Bradbury – they are all going to be playing for Scotland. We could be left with Rory Darge and Connor Boyle, two really good young players, but only two for three positions.
"We know we will lose (Stuart) McInally, (Grant) Gilchrist, (Ben) Toolis, while Duhan van der Merwe will probably go with the national team now he is qualified. Darcy Graham and Blair Kinghorn will go and be away for a long time."
As many as 20 from his squad of 43 could be gone for long spells during the autumn tests and Six nations.
"10 is a difficult one, but say Nathan steps up or someone else will step up if it's not him," said Cockerill. "Hopefully one of those guys will do things that they thought they couldn't, they'll kill it and we'll be sitting here in six months saying 'what were we worrying about?'
"As a coach you would like a little more experience in that position, of course you would. But we are where we are, so we have to prepare all our tens as well as we can."
Cockerill will happily dip into the Super6 competition for back-up, and he doesn't think an PRO14 A team league is realistic.
"I've been involved in those things in England with the A League; in theory it is great, but the reality is it's really hard," he said. "We have 43 or 44 guys, take 23 out of that every week for A games and it gets tricky.
"You'd need a squad of 60 for that. Also, in our case you're going cross-border, travel, hotels, the expense becomes high.
"The Super6 was shortened this year but you have to give it the opportunity to grow and get as many pro players playing in that to give them game time.
"I've seen a bit of criticism of Super6 over the last week or so – I think it's been a bit unfair. It's a new competition and it's one that will grow and get stronger and better.
"We're six months into it. It could be stronger but that will develop over time and the only way to see if there's players there is to go and find them and bring them out and give them the opportunity."