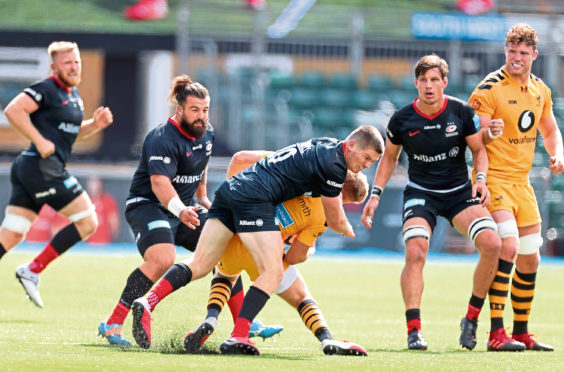 Owen Farrell, England's captain, is an exceptional rugby talent and at 28, probably at the peak of his powers right now.
Farrell is one of the best kickers from hand and off the deck in world rugby. He's a good distributor, tactician and runner. But his biggest strength is the physical presence he brings to 10 and 12, not always the most physical positions on a rugby field.
The power and commitment Farrell brings to defence in midfield has no peer in the game. Unfortunately, his commitment often borders on the uncontrolled.
Last week's Gallagher Premiership game between Saracens and Wasps saw one of these instances, Farrell levelling Wasps' teenage stand-off Charlie Atkinson with a reckless and dangerous hit about the neck. Referee Christophe Ridley showed a straight red card – there was no other option.
A few days later Farrell was up before the beaks at an RFU disciplinary hearing. Here was a tricky one; England's captain facing a long ban when his presence at the international restart in a month's time is kind of essential.
Given the hit was to the head and neck and the fact Atkinson is now out for a fortnight, Farrell faced a ten-match ban if the panel considered the offence to be in the "high range" of seriousness, six matches if it was in the mid-range.
One short examination of TV footage confirmed to the panel that this was clearly a high-range offence. Then the inevitable horse-trading that makes a mockery of rugby's disciplinary measures everywhere – not just the RFU and cases involving the England captain – took full effect.
Farrell's past disciplinary record was obviously brought up, and he had prevously had one short ban four and half years ago. I, like many seasoned rugby observers, was amazed at this; Farrell has a reputation as a serial high and no-arms hitter and it seems incredible that he's only been sanctioned once before.
Furthermore, Farrell benefitted from testimonies from Saracens chief Mark McCall AND England coach Eddie Jones. What on earth was Eddie doing involved in this, and what relevance does an instance in a club match outwith Jones' remit have? Oh, England have five international matches coming up, as if that's even a reasonable excuse.
Ludicrously, even Farrell's record of good charitable works was admissible at the hearing, even thought it surely has zero bearing on his judgement in pulling out of dangerous tackles.
Of course, there was the usual "biscuits" as some in rugby derisively call the workings of the panels. This is in the belief that if a player turns up with something nice – maybe Marks and Spencer double-chocolates – to go with the panel members' coffee, he'll get off lightly.
Thus Farrell's "remorse" – come on, no-one has ever gone before a panel saying "I'm glad I did it and he deserved it" – was taken into account, as was his "good conduct" at the hearing.
Equally no-one has ever stood in front of a disciplinary panel sullen, mumbling and wearing a vest and shorts. That they get credit for basic politeness is almost beyond belief.
Anyway with this tsunami of good works and good behaviour, Farrell's ten match ban was halved to five. He didn't even get the six-match "mid-range" punishment, and low and behold, he's eligible for most of England's autumn tests.
We're told the panel's findings were consistent with their usual operations. Does everyone in front of the panels get their national coach's glowing testimony? Are they all able to exploit their well-publicised charitable good works?
The excuse that Farrell gets more intense focus because he's England captain won't wash either. It comes with the territory, and in any case as the highest-profiled rugby player in the country, what he does and how he acts has a huge bearing on the reputation of the sport.
I don't think Farrell is bad lot or a headhunter, I just think his drive and commitment means he plays on a dangerous edge too often. He'd be just as great a player if he learned to tackle lower and use his arms properly.
But it's almost incumbent on the authorities – and I would say the same about Stuart Hogg, Alun Wyn Jones and Jonny Sexton – to make an example of the highest profiled when they commit offences as heinous as this one.
Instead, the disciplinary panel looks toothless and rugby's ability to police itself comes into question again.
And seeing what's tolerated in the game, parents everywhere find something safer for their kids to do.
Well done Ulster, but…
Oh, the but isn't for quality or merit. Ulster were full worth for their defeat of Edinburgh in last week's PRO14 semi-final.
It's just that they don't have a hope in hell against the Leinster invincibles in this weekend's final. Well, some hope – for my money Leinster's supposed first XV doesn't look as good as their IIs, who have been largely responsible for their 100% record.
When this column was advocating the end of the current season during lockdown, we said Leinster would win it whatever, and of course they will.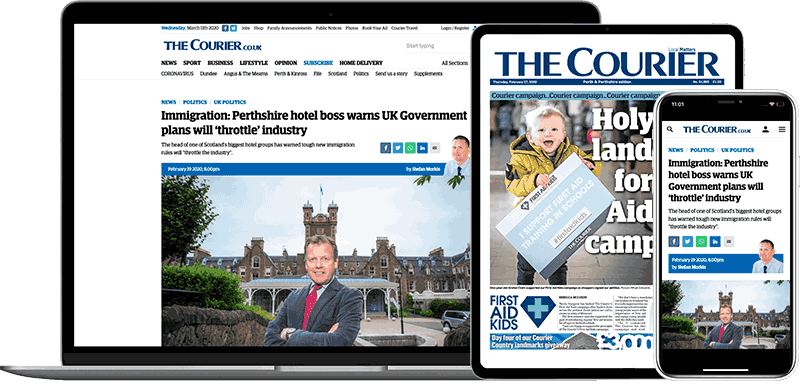 Help support quality local journalism … become a digital subscriber to The Courier
For as little as £5.99 a month you can access all of our content, including Premium articles.
Subscribe