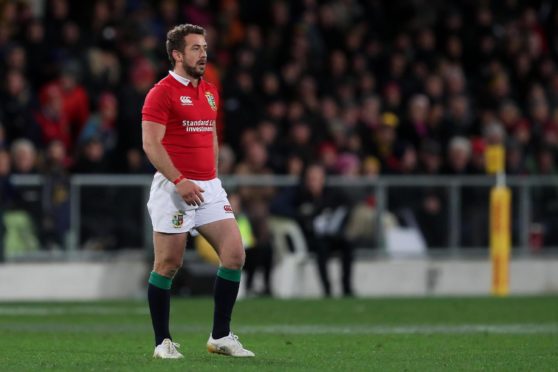 Even in these uncertain times when it's possible that the Tour to South Africa might not actually take place at all, the British and Irish Lions will get prime billing throughout this season.
It's got to the stage that we in the media are even informed every game (club or country) Warren Gatland – head coach for the third time – is attending. There are no interview opportunities, it seems just his very presence is news and enough to start discussions on who exactly he's gone to run the rule over.
Whenever any player stars in a game – take Jamie Ritchie for Scotland or Ben Youngs for England at the weekend – their Lions credentials tend to be the very first thing deliberated. Youngs pulled out of the last tour, you'll recall, due to the grave illness of his sister-in-law – although happily she later recovered – and as a result Greig Laidlaw went to New Zealand.
That selection was a sore one for Scots. After a reasonably successful Six Nations season in 2017, beating Wales, Ireland and Italy at home, we thought that the succession of Lions tours with just a light sprinkling of Scots was about to end.
Scotland hadn't been particularly good over a complete cycle of Lions from 2005 to 2013 and didn't really deserve any more than the handful of tourists they got.
2017 felt different, though. Only when the squad came to be announced, just Stuart Hogg and Tommy Seymour were in Gatland's selection.
Laidlaw joined on Youngs' withdrawl, while Finn Russell and Allan Dell got a brief look at tour life, but no Scots got in the test team during the tour.
Gatland is still defending this decision four years on, in recent interviews. He says he has nothing specifically against Scots – although it sounds like he does, continuing to question their ability to to win away and making some vague remarks about mental toughness.
Gregor Townsend, a proud Lions tourist on one of the most successful campaigns in 1997 is questioned about the Lions credentials of his players almost at every press conference he's doing at present.
The matter has been discussed among the present squad, he said, but his stock answer is that Gatland will likely pick his squad on the performances this season, rather than those in the past.
Well, that might be the way that Gregor would do it – some people think he might have a shot at the post in the future – but it is not the way Gatland has done it, specifically in 2017.
There were a number of players who were at best marginal choices, and in almost every situation Gatland went with players from his day job at Wales, or who had done him a job on previous tours.
And until one hears otherwise, we have to assume he'll do the same on this occasion. Which means the intrigue about whether this or that player is Lions-worthy seems to be entirely incidental, at least as far as Scotland is concerned.
An admission: as regular readers will know and you might have gleaned from the general tenor of this piece, I've fallen out of love with the Lions over the last 12 years or so. It was the pinnacle of the amateur game in that time and it retains a certain romance from then, but the modern tours have become big business and massively over-commercialised.
I won't deny that the lack of Scots in Lions tour has tarnished my view of the brand. There is a thistle on the badge but sometimes it seems as if it's there for tokenistic reasons, like the dark blue in the socks.
But what really rattles my chain is this constant seeking of approval for our best players by way of a Lions measurement, especially when the measuring is being done by a man who clearly has no respect for our game.
Scotland have got themselves to a decent spot at the moment, with a run of four wins in succession, just one off the best during the pro era and two away from the best of all time (the Grand Slam teams of 1925 and 1990 won six in a row).
We shouldn't be slavishly seeking Gatland's approval. If he picks Scots next spring, we know for sure they'll have merited it, at least.
Don't write it off South Africa in the Six Nations yet
News out of SANZAAR's meeting yesterday is that all the countries in the Rugby Championship have signed an undertaking to play in the competition for another ten years.
This would appear to have put the kibosh on the idea that the Springboks were almost inevitably drifting towards competing in the Six Nations, either enlarging the event or replacing Italy.
Yet their provincial sides are joining the PRO14 in the spring or soon thereafter, and with a restructuring of the international schedule of rugby being blocked by the English and French, it's hard to see how it all fits together.
Effectively, New Zealand summarily chucked South Africa out of Super Rugby, tearing up signed agreements in the process. One would assume the same could easily happen again, and I still expect the South Africans to continue their steady drift towards the Northern Hemisphere scene.