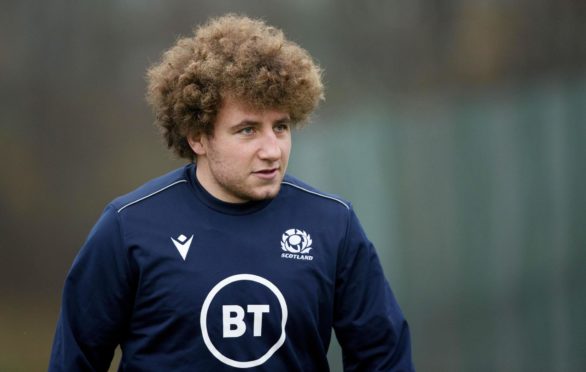 A mature and more controlled Duncan Weir means Scotland can shrug off the injury loss of Finn Russell and Adam Hastings for this week's visit to Italy and the remainder of the Autumn Nations Cup, believes Gregor Townsend.
The head coach made four changes from the starting team that defeated Wales in Llanelli two weeks ago, and as expected recalled Weir to start for the first time under his reign, the first since Dublin in February 2016 with Russell (groin) and Hastings (shoulder) out until the New Year.
Here's Townsend's comments on Weir – who he coached at Glasgow but let go – and other key pointers from the team selection.
The game has slowed down for Dunky
"He is playing great rugby and it is a bonus for us that with Finn and Adam injured we can call on somebody playing at Premiership level and who is confident at what he is doing," said Townsend of Weir.
"(He has) control of the attacking play and is not rushing things. His passing skills have always been pretty good but now we are asking more of the tens to be connected to the forwards, I have seen that much more (from him) in the last couple of seasons and the last few months with Worcester.
"It is about knowing you can make the right decisions and have the skills to do it. That has been a great development with him.
"His kicking is a huge strength. He still wants to improve, but he is probably not kicking himself now when the pass doesn't go to the right person or he misses an opportunity. Those are always going to happen when you're stand-off because you have so many decisions.
"It is great that he now gets the reward of playing for Scotland, something he has been desperate to do for the past few years."
Fraser Brown is under concussion protocols, but Stuart McInally would have started anyway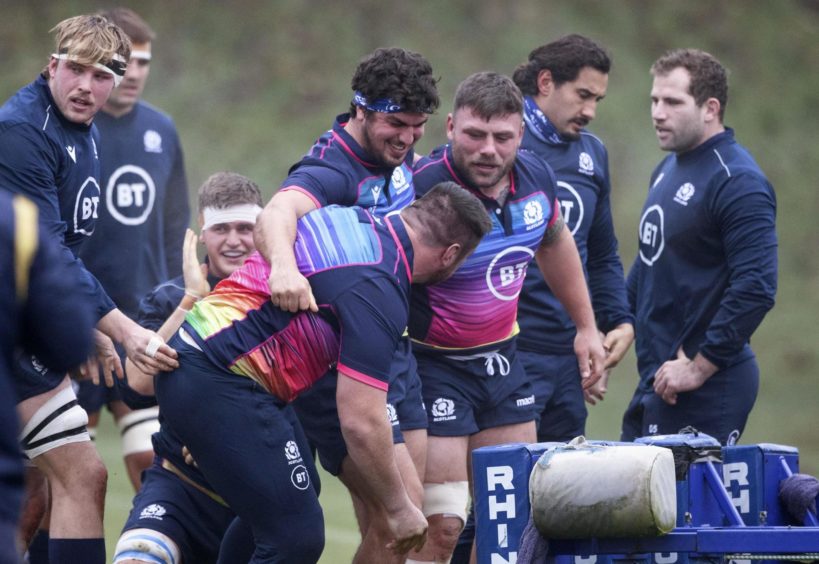 "Fraser Brown picked up a head injury yesterday, a scrum collapsed and he had symptoms with a headache so that ruled him out for the weekend, but he seems to be in a better place today," continued Townsend. "We hope he'll get through the protocols and be available next week.
"Stuart Mcinally was always going to start this weekend. He's trained really well and the scrummaging side of his game has really improved, we know that's a big part of our play."
George Horne has a toe problem which shouldn't be long term while Matt Fagerson is close to being fully fit again and will "definitely be in the mix next week".
Duhan van der Merwe for Blair Kinghorn is an Italy-specific selection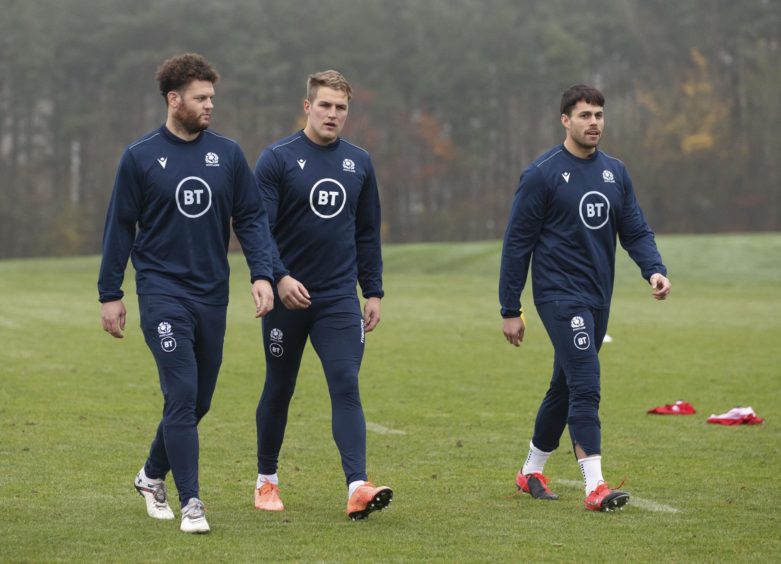 "Now we've got four quality wings with Sean Maitland back in our squad," added the coach. "Sean scored two tries against France back in March so we know what a quality player he is.
"We'd like to see Duhan get another opportunity to start, but there will be opportunities for all four of them over the next few weeks – we think with this opposition, the way we're looking to do things in attack suits Duhan and Darcy (Graham) this week. It's supposed to be good weather, so we can expect more ball in play."
Maitland's omission is for rugby reasons rather than disciplinary ones, but missing two weeks because of his part in the breach of coronavirus protocols with the Barbarians means he will have to "train his way into the team."
Townsend is confident Sam Johnson is back to full pace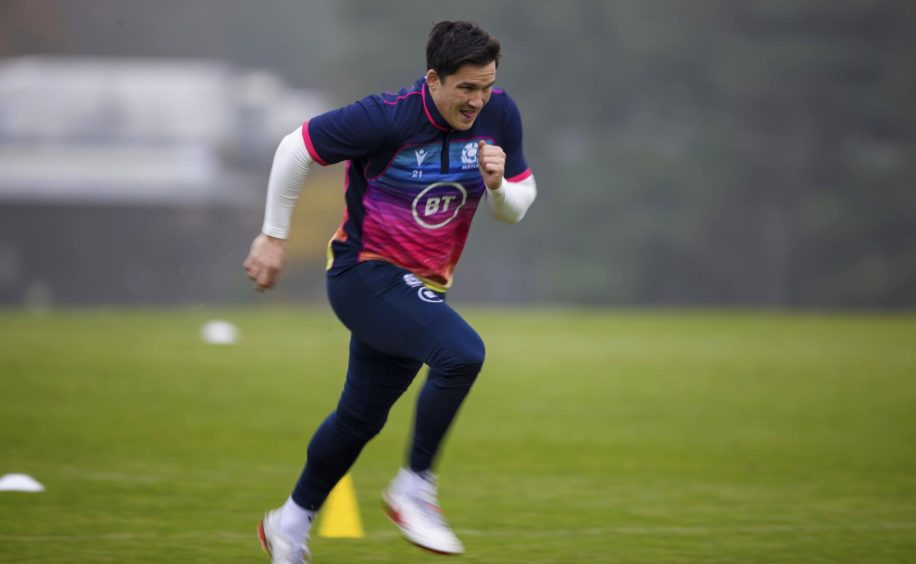 "I think it was always going to be a challenge for him that first game for Glasgow, having not played since March and coming in on the back of rehabbing a knee injury and not a long pre-season," said the coach of Johnson, who replaces James Lang at inside-centre.
"I thought against Leinster he worked really hard, he got a few ball carries, tackled well. He had trained with us leading up to that, so he knows what we want to do in attack and defence, he's played a lot of games for us so he's looking more comfortable this week."
Scotland can compete for the new trophy, but they have to win every game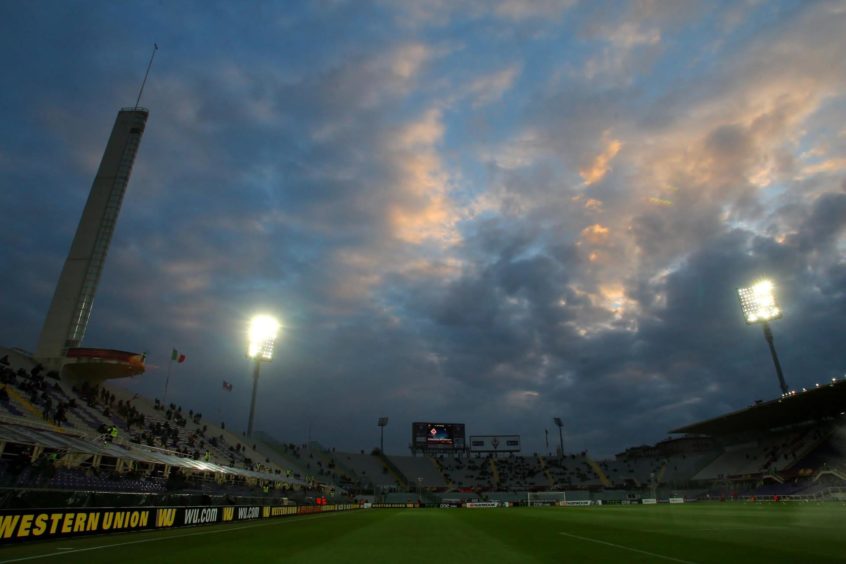 "We know this game is massive because it's the first one, it's an away game and if we don't win this weekend I don't think we'd get through to the top two game.
"You've got to win your three games and we believe this squad are going to be able to do that, but we need to play better than we did against Italy back in February (when they won 15-0 in Rome).
"Italy are battle-hardened, they are playing in a stadium that has a tight pitch which suits their physicality. It's a stadium they've won before, one of their biggest-ever wins against South Africa."
The pitch at the Stadio Artemio Franchi – home of Fiorentina – is 65 metres wide by 95 long, five metres shorter and narrower than Murrayfield.
The team will be watching the Scotland's crucial football game against Serbia

"We are sharing a hotel although we don't share the same training pitch," said Townsend. "I think it is a great thing for Scottish sport for football and rugby to come together and be preparing for games in the same environment, even though we have to be separated right now.
"We love the fact they have been on this unbeaten run and it gives the country a lift, just like us winning down in Wales a couple of weeks ago."