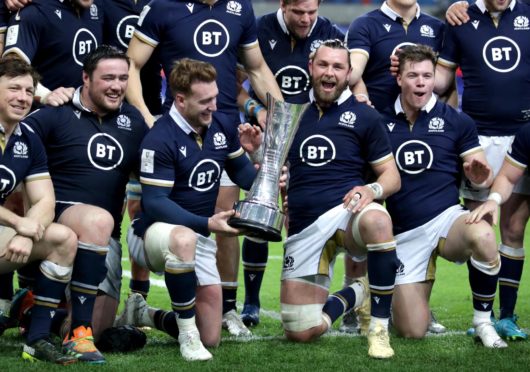 In the end, once the euphoria from winning in Paris subsided with the headache from celebrating it, Scotland's 2021 Six Nations is a bittersweet memory.
Yes, an entire generation that did not know what it was to win in London (maybe two generations there) or Paris got both those rare thrills. And who knows, they might not become that rare with a young team having no fears of Twickenham or the Stade.
Gregor Townsend not only has the best record of any Scotland head coach since professionalism, no-one else has both those notches on their bedpost.
But we're still left with a feeling of what might have been. The home losses to Wales and Ireland were tough to take, allowing arch sceptics of the Scottish game – including maybe Lions coach Warren Gatland – to continue to question the Scot's collective mental resilience.
It was a fascinating and at times brilliant championship, and Scotland definitely deserved better than fourth place. But did they deserve more than three wins?
Two penalties from a Grand Slam?
The bare figures support it. The two matches Scotland lost were by a cumulative four points. Being realistic, the gap was more than just that.
The Welsh game was the coulda-woulda-shoulda to end them all. Scotland were hammering the Welsh line in search of a 24-3 or a 24-8 lead either side of half-time. The margin would be been wholly justified.
The frailties of indiscipline – a problem in Townsend teams his entire coaching career – eventually cost them.
Wales eventually deserved their win and found themselves as a unit that freezing day at Murrayfield. But they could not have complained had they lost to the 14 men, and one point was a slither of a difference.
Townsend mentioned at the weekend that although the Ireland game was eventually close, Scotland really didn't deserve to be. They'd been dismantled at 24-10, and justice was finally served by Jonathan Sexton's late penalty.
The Irish remain a problem the head coach has yet to solve – in his time with Glasgow as well as with Scotland. Doing so is a must if Scotland's aspirations are to be achieved.
Stuart Hogg's captaincy is coming of age
There were many who thought Hogg should never have been captain and no doubt some still think the same thing. A tough opening season on and off the pitch and a perception he'd become over-sensitive to any criticism wasn't helpful.
But this season he's been outstanding in all respects. On the field, he played two of the best games of his long international career in the historic wins in London and Paris, and against Wales nearly dragged his team over the line. He stepped up to 10 when asked in three separate games.
Off the field, he's been even better. There's a genuine feeling Scotland camp is a great place for players to be even in covid lockdown. Hogg struck exactly the right tone prior to the France game – quiet but clear indignation about Scotland being placed at a disadvantage and written off.
The resilience and determination of his team on Friday night showed how right he got it.
Duhan van der Merwe has given Scotland a key cutting edge
Scotland NEVER give up.

Duhan van der Merwe scores with the very last play of the game to secure the win in Paris! 🥳 🏴󠁧󠁢󠁳󠁣󠁴󠁿#GuinnessSixNations #FRAvSCO pic.twitter.com/pIOEbgwbJD

— Guinness Six Nations (@SixNationsRugby) March 26, 2021
Eight tries in nine starts (plus one as a replacement) is an incredible launch to an international career. At this rate the powerful wing will pass Ian Smith and Tony Stanger's Scotland try record in the Autumn Tests of 2022.
Still some will grumble that he's a mercenary, or simply playing for Scotland because South Africa wouldn't have him. Actually, of all the "project" players in Scottish ranks he's the one we've been most responsible for. He came to Scotland as an obvious athlete but with very rough edges four years ago. Now he's a rugby player.
And for those who question his defence, even after being beaten on Friday night – that was only his third missed tackle of the championship.
The much-celebrated Louis Rees-Zammit of Wales missed nine. And Van der Merwe surpassed the youngster in tries scored, metres gained and defenders beaten.
Plugging the leaks upfront
Here are this year's nominees for the eagerly awaited #GuinnessSixNations Player Of The Championship! 🏆

— Guinness Six Nations (@SixNationsRugby) March 28, 2021
Scotland have a solid scrummage, a brilliant back row – perhaps still in need of a standout No 8 – and four quality hookers. Grant Gilchrist and Sam Skinner were magnificent in the second row on Friday, showing a strength there with Jonny Gray and Scott Cummings both injured.
But it's a leaky dyke at times. Against Wales, Scotland's maul – thought to be solid up until that point – was dismantled. Having sorted that, it turned out to be the lineout that was eviscerated by Ireland.
Gilchrist's return as chief lineout nerd sorted that issue against Italy and France. Skinner played out of his skin in his two games. So it is taken as read that Gray and Cummings return when fit?
Do Scotland miss Gilchrist's lineout organisation when he's absent? On the other hand Gilko called a significant proportion of safe throws to himself as front jumper on Friday, and that's never the greatest to attack off.
It's something to exercise forwards coach John Dalziel – who had a great first full season otherwise – during this break.
The cornerstone is the defence
Amusingly, a colleague asked a well-known London-based writer about Steve Tandy when the Welshman was surprisingly appointed Scotland defence coach in January 2020. He'd wrecked the Ospreys, said the journo, and he'd ruin Scotland too.
Well, Tandy turned the Scottish defence into the best of the Six Nations in basically four weeks. They've remained the best in the championship this season.
Scottish fans – this one included – were still a bit indignant this seemed to mean reeling in attacking flair. But now we know different. We've learned to love Chris Harris.
And anyway, Scotland made more metres than any other team this season, breaking most tackles while at the same time having the fewest missed tackles. They can play both ways.