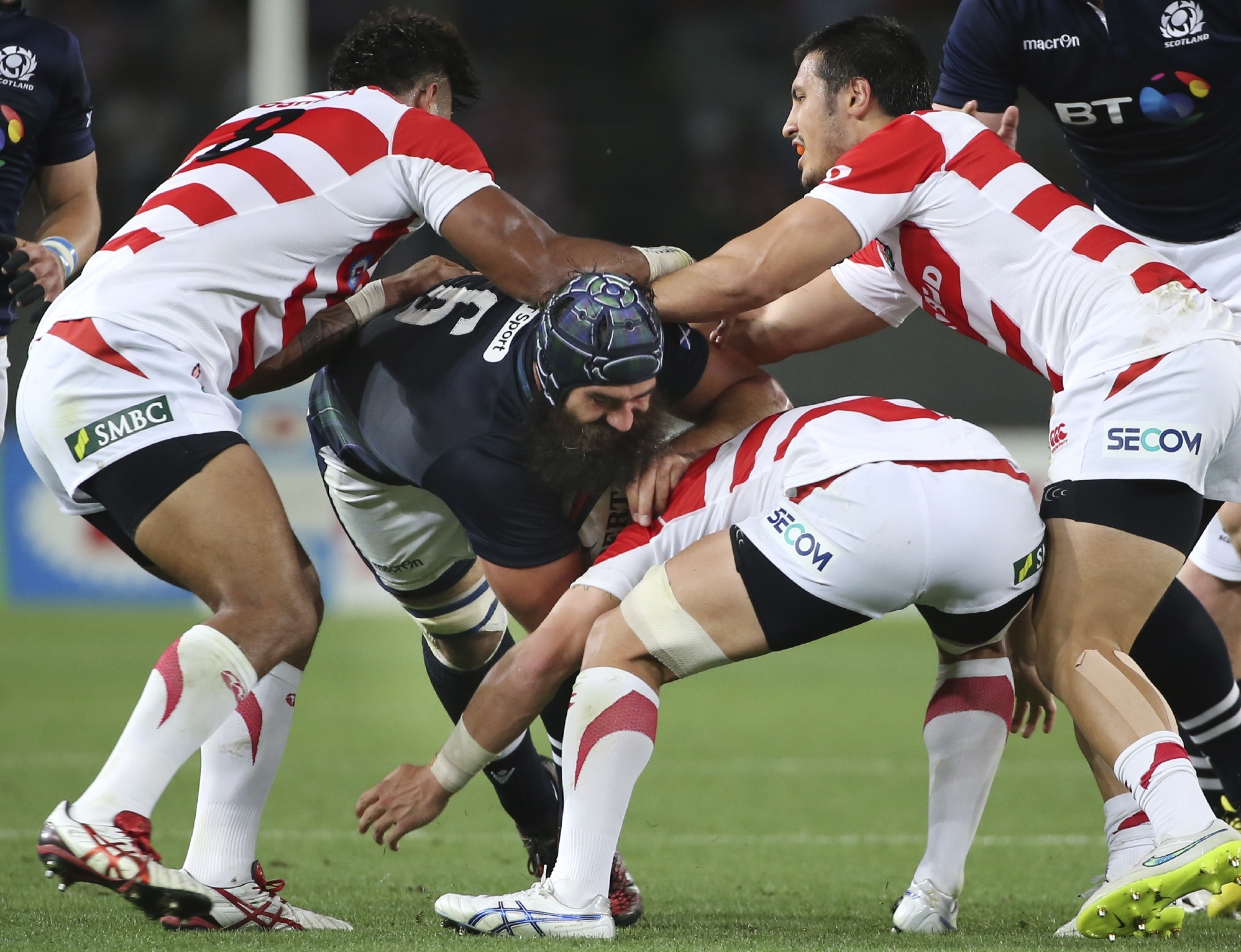 It started on June 15 last year when the Scots gathered for a pre-World Cup training camp involving manoeuvres with the French marines in the Pyrenees.
It ended, mercifcully and with some relief, 375 days later in 90 per cent humidity in the Ajinomoto Stadium in Tokyo in front of the Japanese emperor.
The longest season ended on a winning note when Grieg Laidlaw, part of a reassuring cavalry alongside John Hardie, WP Nel, Fraser Brown and Gordon Reid brought on by Vern Cotter when things were getting just a little desperate, kicked four penalties and Scotland got out of Japan with two wins and a host of precious world ranking points.
In between tramping up the Pyrenees and Tokyo we had the usual mix of sobering moments, crushing disappointment but also some great times so rare in recent years.
For four excruciating minutes, in a blinding Twickenham rainstorm in October, it seemed all things were possible.
In one game, on March 13, the collective face of Scottish rugby lit up with pure joy conjured by an individual performance by our one true world class player, reminiscent of Andy Irvine's famous game in 1980 – against the same opposition – that ended another era of underachieving gloom.
It's far too early and much too presumptious to think Stuart Hogg's sensational Six Nations performance against France will be the catalyst to Grand Slams the way Irvine's was to 1984 and 1990. But at least it's a starting point.
Being Scottish, there has been much navel gazing done over the two recent Japan tests. However, these games can be cheerfully disregarded now they are won.
The lessons from these tests are minimal. We discovered – again – that our strength in depth is not that great. We discovered our players may not be at their best in extreme humidity. We discovered how important Hardie has become to Scotland in a very short space of time – he showed up at that training camp a year ago, remember, without having as much as caught a rugby ball on Scottish soil.
It was a two test tour the Scots were obliged to take due to World Rugby's statutory fixture list. Scotland went there and won two games at the end of the most gruelling season in rugby history. How they did it doesn't matter, just that they did.
Cotter fielded a significantly understrength team in both tests. With all our best bodies available – never a guarantee, admittedly – Scotland are a competitive outfit against anyone.
Even with a few injuries, we're not far away. Scotland's biggest needs are front row back-up and a reliable reserve stand-off (although I'd be inclined to trust Peter Horne for this role). I'd like it if one of our hookers could actually heel as well, but it seems to be party policy these days that they don't.
In any case, last year at this time we were still aching from a dreadful Six Nations whitewash. During the longest season we got within a couple of minutes of a World Cup semi-final, and with a little more self-belief might have halted England's current juggernaut before it even engaged first gear.
The Calcutta Cup performance is the only one this season – including the RWC quarter-final – I think we'll look back on with real regret. The challenge next year is to make sure that there are none.