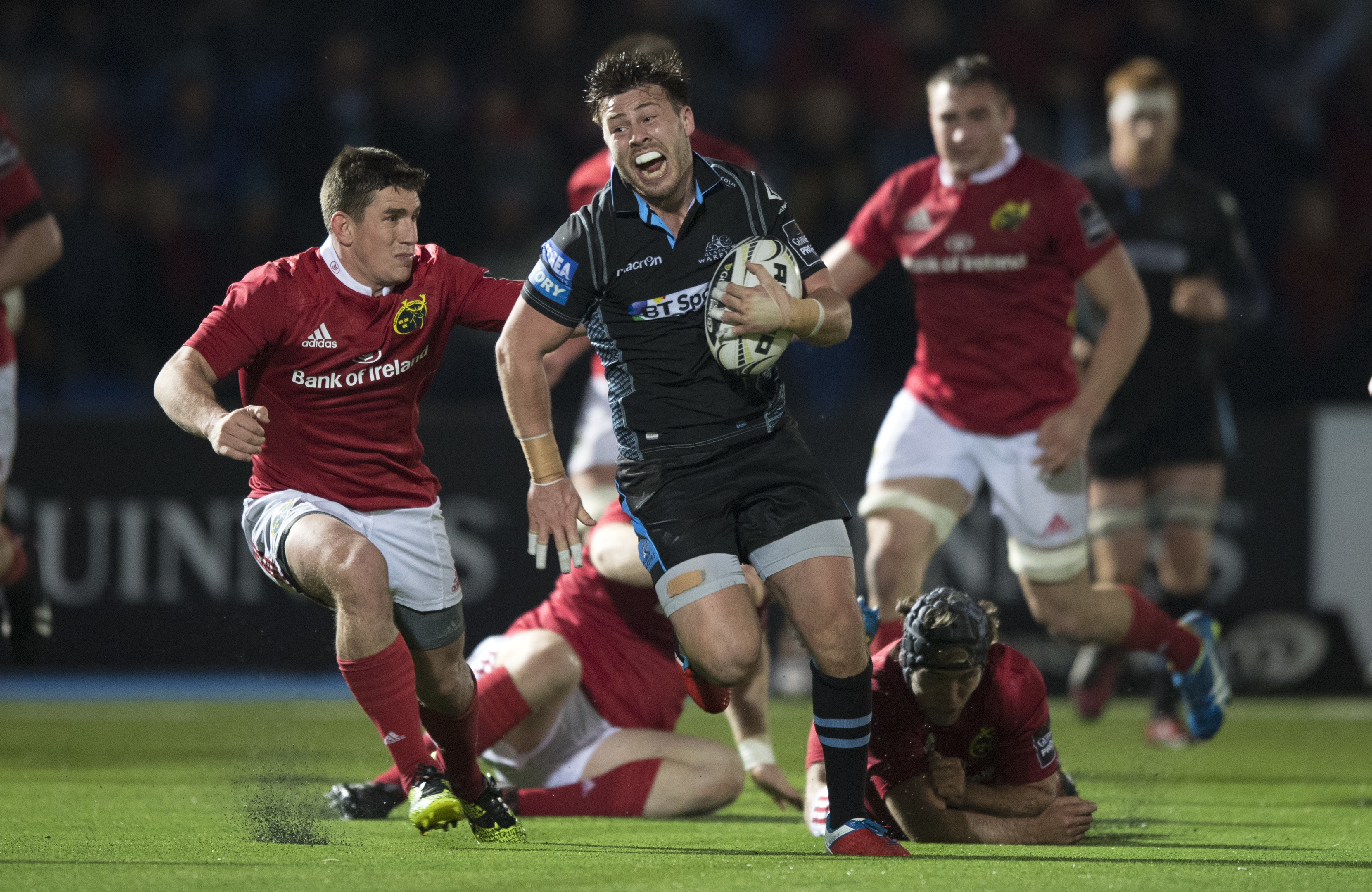 The Glasgow Warriors' next three games – starting with Saturday's Guinness PRO12 home match against Cardiff Blues – "in a way define our season", believes coach Mike Blair.
The former Scotland international believes that the next three matches – the two crunch European games against Munster at Scotstoun and Leicester away follow hard on the heels of the Blues match – will gauge exactly how the rest of the season shakes down for the Warriors, who have won their last four games.
It looks like it could be one of those runs of momentum that has propelled Glasgow to the PRO12 playoffs in seasons past, but the Blues with their full international complement on an artificial pitch they know well as they have a similar surface at their home is a big start to a tough run of fixtures.
"It's a big three weeks for us and in a way they define our season," agreed Blair. "We certainly don't want to drop off the top four in the PRO12 any further, and they've all been playing really well recently.
"We've had a good record at home in the PRO12 up until a few weeks ago, but the crowd at home in the Racing game at home a couple of weeks ago really lifted us.
"It was an incredible atmosphere and there are a few of us who hadn't experienced anything like that at a club game before. But it's a big game this week again and we've got a bunch of players who want to get out there and perform well."
The Warriors had lost three in a row, two of them at Scotstoun, prior to their current run but Blair believes they are starting to get the pace of the new surface, as the blistering start in the Racing game proved.
"That was always going to be a really tough game for us because winning over in Paris we were expecting a reaction from them," he said. "We'd heard that the Racing president Jacky Lorenzetti had been in the dressing room giving their players an ultimatum and telling them their contracts were on the line if they didn't perform.
"So for us to put that kind of back-to-back performances together, the second in front of our home crowd and after a couple of sticky games at home was really big for the club."
Cardiff also prefer the up-tempo game that the plastic pitch provides, and have been playing three open-sides in their back row to make the best use of the speed in recent weeks.
"We train a lot on it and the guys love it because of the tempo it creates, the speed of play," added Blair. "We do a lot of GPS assessment on it and the feedback is that that intensity of the work we do on the 3G compared to the grass is much higher.
"The Blues are playing a good brand of rugby as well, we were on the end of a loss down there earlier in the season and they defended really well against us and we weren't quite as clinical as we needed to be playing them first time around, but we think we have an attack that's capable of taking on their defence."
In terms of selection, Blair in his first season as coach is finding out all about the machinations of head coach Townsend's constant juggling of his team.
"I'm still trying to take on board is the whole rotation side of things; players that are managed by Scotland and that giving other players the opportunity  to come in, it's constantly changing," he added.
"What is brilliant is the trust Gregor and the coaches have in the players. As a young player when you get that vote of confidence that your coaching team thinks that you have the ability to play at this level and the team will still win raises standards across the whole team."
Ali Price's rise this season is a case in point, believes Blair.
"I guess I helped him by retiring from playing and giving him more opportunities," joked Blair. "He's taken his chance really well, with three tries in his last three games, pushing his performances on from where he was last year.
"Last year he was a very talented young player looking to get some game time, but now we are starting to see maturity and experienced game management starting to come in to his style as well."
Price, Finn Russell, Jonny Gray and Alex Dunbar could come back into the side after missing last week's win in Treviso.
Meanwhile rumours that Scotland international Ryan Grant was on his way to Brive in the French Top 14 on a loan spell seem off the mark with the prop still at training at Scotstoun yesterday.
It's understood the club have had no contact from Brive and Grant remains a Warriors player for now.