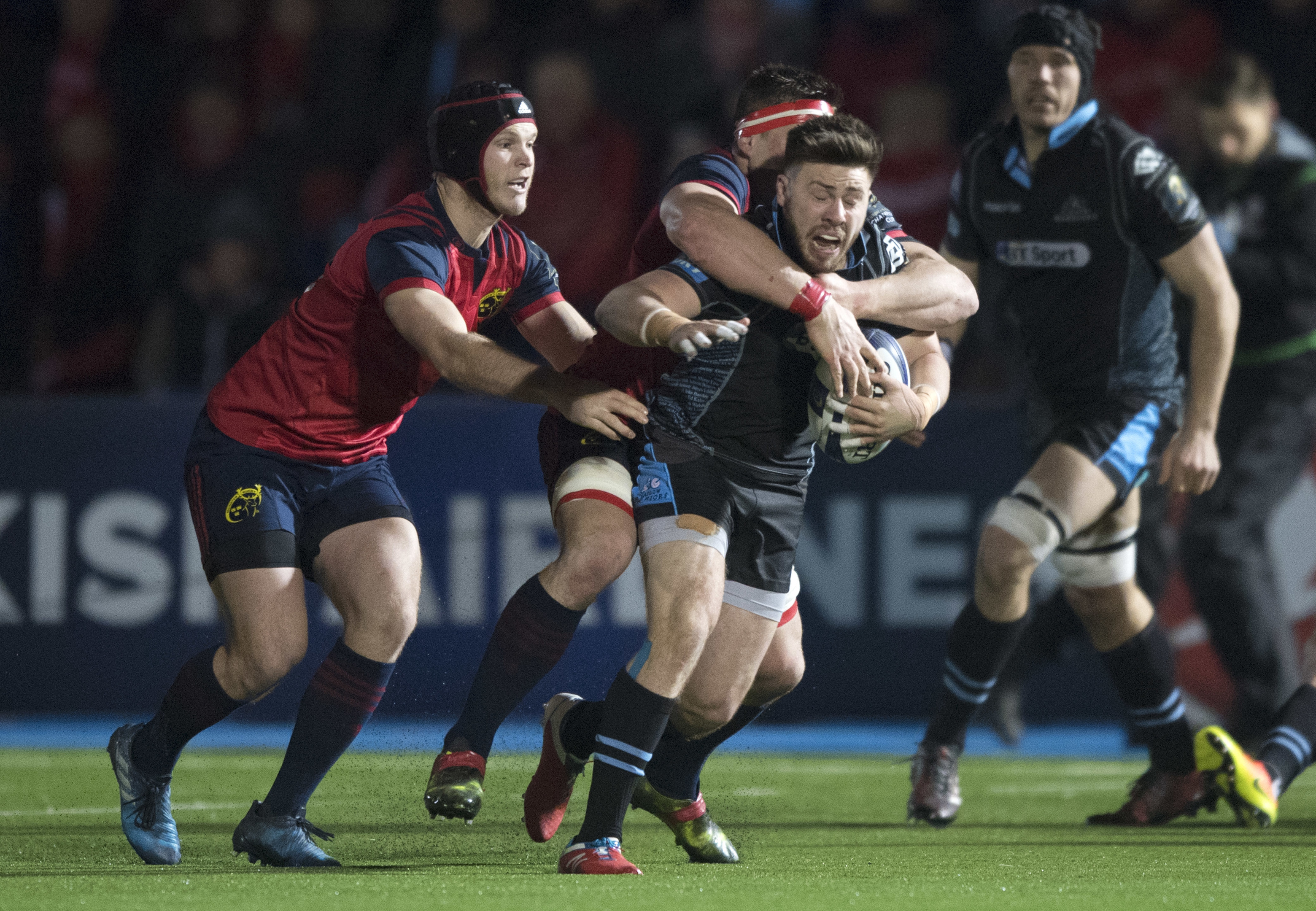 In the end, after the crushing disappointment of the biggest game of their season, Glasgow Warriors have another one of that calibre at Welford Road in Leicester on Saturday.
Any kind of win against the two-time European champion Tigers will be enough to get the Warriors into the quarter-finals of the European Rugby Champions Cup. Leicester's capitulation to a Racing team that somehow discovered some backbone in Paris on Saturday mercifully clarified a confusing situation even before a disappointed Gregor Townsend and the Glasgow coaching team had packed up their laptops.
Any kind of win will take Glasgow to 18 points, more than enough to be one of the three runner-up qualifiers for the last eight from the five ERCC pools. Any regret there should be from Saturday's agonising 14-12 loss to Munster at Scotstoun is that the winning of Pool One and a home quarter-final they should have had at their atmospheric, full-to-the-gunnels little home is now lost.
And the circumstances of that loss should be a concern for Gregor Townsend and his coaching team. While we've grown used to the Warriors becoming a force, a big-time team playing big-time games, they continue to play beneath themselves in pressured situations – especially in this competition.
For all that you credit Munster for their relentless style and fearlessness about playing on the edge, Glasgow had enough ball and territory to put more distance between themselves and their visitors than the precarious 12-9 advantage going into the last ten minutes.
One key error – scrum-half Ali Price's box kick from just outside his own 22 going out on the full – gave Munster their chance. The new rules on head contact gave them a further opening – Stuart Hogg would surely not have been yellow carded for his instinctive, incidental high contact on Andrew Conway three weeks ago – and they seized it with Francis Saili's try.
Still Glasgow had a chance to snatch it with a late charge down in the Munster 22, but didn't seem to be serious about manufacturing the drop goal situation that would have won it.
Price, as honest as he is lively on the pitch, called that one on himself and his lack of experience,  but the lack of composure sometimes in even experienced campaigners in the Warriors ranks remains troubling.
Leicester will be the third game in four years the Warriors have played in England in the final round of the ERCC pool stages with qualification on the line. Last year they blew a late lead to Northampton at Franklin's Gardens, three years ago they led for long spells against Bath at the Rec and were camped on their line when time ran out.
"We are a better team for those experiences, and having been through those games in those environments will help (at Leicester)," said Townsend. "We didn't get over the line in those games, but we did against Racing this year."
Only they didn't in a similar situation on Saturday, he agreed.
"After a game you look at what you could have done better," he added. "We charged a kick down on their 22 and we could have come away with better there.
"We are disappointed not to win, disappointed that we didn't take opportunities that we worked hard to create. I thought the second half was more like us, but there were a few inaccuracies. We've got to work to be better than that next week."
Townsend graciously said the better side had won and was full of praise for referee Luke Pearce, but in review of the game in private he might have cause for contemplation. If Hogg's high contact was a yellow card under the new regulations, then CJ Stander's hauling back of Price around the neck as the scrum-half broke into the Munster 22 certainly was.
Leicester have nothing to play for in terms of the ERCC, but there is the considerable pride in the jersey of the East Midlands giants to protect, however much it's taken a hammering this season.
While dreadful away from home in Europe –they've conceded five tries and not got within 30 points of their opponents in all three – they beat both Racing and Munster at Welford Road.
"Leicester have a different way of defending, a different way of playing the game, but that doesn't make it any easier," continued Townsend.
"We'll be playing at a venue where they have an excellent home record and they pride themselves on the contact area and the set-piece.
"It's a real challenge for our group, but we will be better for this experience. We will give it everything next week."